S&P 500 Extremely Elevated, Sell-Off to Come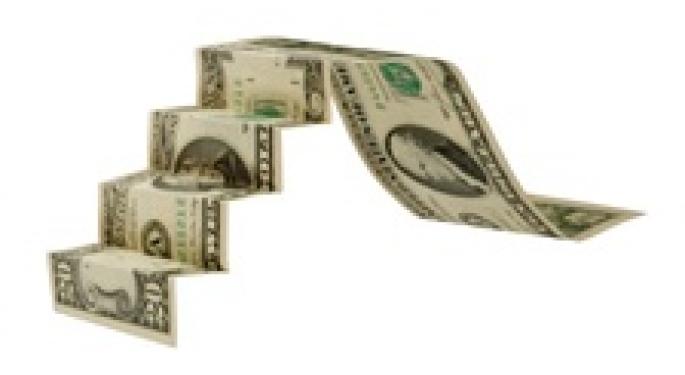 By Sasha Cekerevac for Investment Contrarians
The S&P 500 continues to remain at extremely elevated levels, with many professional and retail investors looking for a market sell-off. What is surprising is that the S&P 500 has risen in spite of general market sentiment that hasn't become overly bullish.
New data from Bloomberg show that the S&P 500 has moved up towards analysts' estimates to such a level that the market is approximately five percent away from the mean forecast. This is the closest the S&P 500 has gotten to Wall Street estimates in the last seven years, with the historical difference normally around 14%. (Source: Rupp, L. and Gammeltoft, N., "U.S. stocks fall as American manufacturing index slips," Bloomberg, April 1, 2013.)
What this means is that the S&P 500 has exceeded the current market sentiment and has continued to rise. At this point, either the S&P 500 has gotten far ahead of the underlying fundamentals, or market sentiment will turn even more bullish, as analysts begin to increase their expectations for this year.
Not only are the pros lagging the market, most retail investors are also underinvested in the market. While there has been a definite shift from cash and money market funds to the S&P 500, the vast majority of investors have not enjoyed the S&P 500's massive upward move.
Two things will occur: either retail investors will look to buy into the S&P 500 on a correction, or the future pullback will indicate a far greater sell-off, as market sentiment shifts into negative territory.
Fundamentally, recent data continue to show conflicting evidence for the U.S. economy. The Institute for Supply Management's factory index for March was 51.3, down from 54.2 in February. (Source: Ibid.)
While a number over 50 shows expansion, the month-over-month decrease in the rate of manufacturing expansion shows a slight slowdown. However, construction spending for the month of March increased by 1.2%, which is greater than expected. Additionally, last week's data showed that both personal income and personal spending were greater than expected, with the University of Michigan Consumer Sentiment Index coming in much higher than expected, as well.
While consumer sentiment appears to be improving, market sentiment regarding the lofty levels that the S&P 500 is currently trading at is quite hesitant and cautious, and with good reason.
Since the low in 2009, the S&P 500 has been an extremely profitable investment. However, at some point, future revenues and earnings will be priced into the market. With the S&P 500 now so close to analysts' expectations, either the market will sell off or analysts will raise their guidance levels, causing an additional upward move for the S&P 500.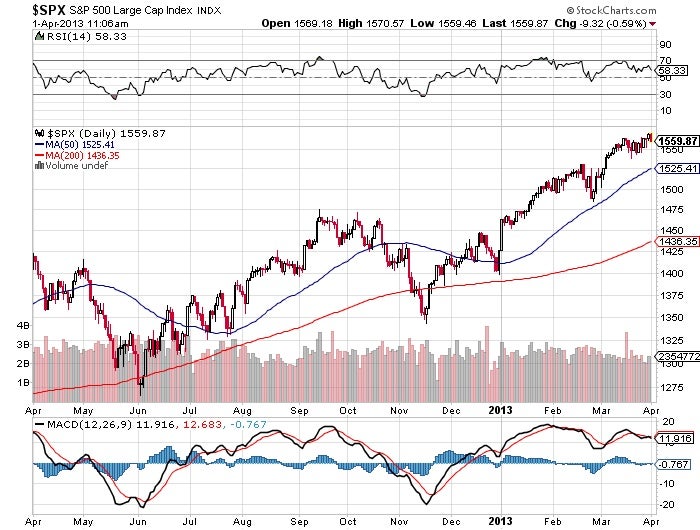 Chart courtesy of www.StockCharts.com
Considering the S&P 500 is up over 22% since last summer, and up over 15% just from November, a sell-off is quite likely. Additionally, many investors who have been investing in the S&P 500 over the past year will look to start taking profits.
How the sell-off affects market sentiment will be key. When the S&P 500 does begin pulling back, it will be very important to determine how market sentiment will shift. One level that I will watch is 1,450. That will most likely coincide with the 200-day moving average (MA), in addition to being a crucial technical level.
If economic data begin to deteriorate, then market sentiment will also turn negative, and substantial selling pressure on the S&P 500 will ensue. However, if economic data improve, the sell-off will be an opportunity for re-entry into the S&P 500.
No one can predict the future; however, we can try to interpret market sentiment to determine what is most likely to occur. By watching key levels in the S&P 500, such as 1,450 and 1,350, this can help guide future investing decisions.
This Article S&P 500 Extremely Elevated, Sell-Off to Come was originally published at InvestmentContrarians
The preceding article is from one of our external contributors. It does not represent the opinion of Benzinga and has not been edited.
Posted-In: Technicals Markets Trading Ideas
View Comments and Join the Discussion!