S&P 1400 ReTest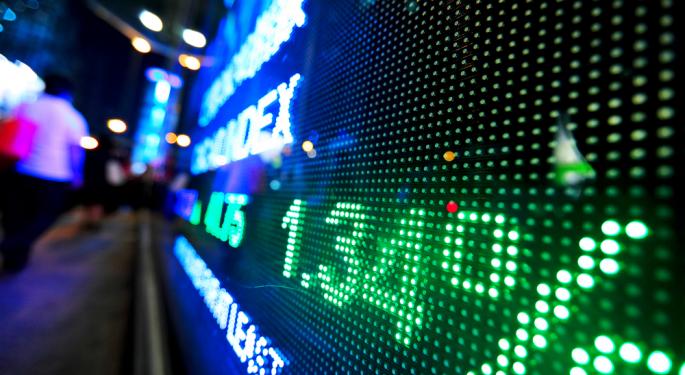 By Danny Riley
Locals on the trading floor of the CME Group in Chicago resumed trading in the S&P 500 futures pit Wednesday after the two-day shutdown of the New York Stock Exchange due to Hurricane Sandy. October closed out the month with all three of the major indices seeing sharp declines. The S&P 500 futures have been down 7 out of the last 9 trading days and declined 2% on the month. The Dow finished the day down 10.75 points, down nearly 2.5% on the month.
The main focus of yesterday's trade was connectivity. With so many outages on the East Coast, the big concern for most trading firms was making sure the markets and trading platforms were working properly. The Oct. 29-30 NYSE shutdown was the first time in more than a century that the exchange had shut down for two consecutive days because of weather.
In New York the stock exchange opened its markets on time by running power from its backup generators. Some NYSE floor traders reported phone problems, but most traders used their cell phones while still trading on the exchange floor. While volumes were low, a lot of that had to do with many of the big accounts hedging in Globex. With the East Coast responsible for a major part of the volumes, you could clearly see many market participants were just not online.
The two-day shutdown: A two-day weather-related shutdown has not happened in 124 years. The shortened week has left many money managers scrambling to adjust their holdings before the fiscal year ends. Generally the funds use the final three trading days of October to book profits and losses. According to Morningstar Inc., the closure of the stock exchanges during Hurricane Sandy occurred during the last week of the fiscal year for 1,521 U.S. mutual funds.
The big talk on the floor: With just 6 days before the presidential elections, most traders were talking about the ADP September revision of 365k jobs and what the effects will be on this Friday's October jobs numbers. From the trading floor, Brian Shepard of MrTopStep said, "Our S&P desk was busy for the first hour or so, but things quieted down after that. It looks like the S&P futures want to retest the 1400 level. If they don't hold there, it could be a quick drop down to 1385."
Many of the traders who deal with our desk came in for the open, but many said they were still contending with power outages and that they were not sure when the power was going to be restored.
S&P FUTURES: Out of the last 10 trading days the ESZ has been down 7, up 2 and unch'ed 1.
Our view:
The first trading day of November has been down 4 out of the last 6, but it also starts the best 6 months for stocks (November to April). Today's big concern is the ADP downward revision and how that will affect the markets today and during Friday's jobs report. Yesterday we said to sell the early rally and to look to buy weakness after the ESZ sold off, but it really never bounced much. While we still maintain the ESZ is trying to hold 1400, we also cannot rule out some type of flush down through that level. There are a ton of sell stops that begin at the 1400 level down to 1396, and last night the ESZ made a low at 1398.50. We want to get to the trading floor and get a handle on the price action and how all the numbers play out before jumping in. Today we have two Fed governors speaking, 13 economic reports and 2 T-bill announcements. As always, please keep an eye on the 10-handle rule and please use stops.
■ It's 6:00 a.m.and the ESZ is down 1.5 handles at 1405.25, crude is up 19 cents at 86.43 and the EC is trading 1.2952, down 15 ticks.
■ In Asia 6 out of 11 markets closed higher (Shanghai Comp + 1.72%, Hang Seng +0.83%)
■ In Europe 8 out of 12 markets are trading higher (CAC +0.56%, DAX +0.62%).
■ Today's headline: "Stocks, Metals Rise on China Earnings as Treasuries Fall"
■ Economic calendar: Today: Challenger job-cut report, ADP employment report, jobless claims, productivity and costs, ISM mfg index, construction spending, auto sales, chain-store sales, Facebook's "gifts" event, Fed's Lockhart speaks, Fed's Rosengren speaks; earnings from ExxonMobil, Royal Dutch Shell, Cigna, Kellogg, AIG, Chesapeake Energy, Hartford Financial, Newmont Mining, Starbucks, Open Table, WebMD, Yelp. FRIDAY: Non-farm payrolls, factory orders, Fed's Williams speaks, Wynn shareholders meeting; earnings from Chevron.
■ VOLUME: 1.75mil ESZ and 13.5k SPZ traded
■ SPREADS: 50 SPZ/H spreads traded
■ FAIR VALUE: S&P -2.50, NASDAQ +2.00
MrTopStep Closing Print Video:http://www.mrtopstep.com/closing-print-10-31-2012/
Brian's Wednesday recap: Globex was trading modestly higher in the premarket on light volume as the CEO of the NYSE and all his men and women were sorting out any last-minute glitches following the historic two-day closure of the iconic NYSE. Not one to miss a political Kodak moment, New York Mayor Mike Bloomberg rang the opening bell amid a fair amount of praise for handling of the evacuation preparations and the cleanup. The preemptive planning by Mike Bloomberg and Chris Christie as well as many others certainly helped to save the lives of countless people. For that, Mayor Bloomberg suggested that President Obama should take a pass on visiting the carnage due to limited personnel for a protection detail. Kudos to Bloomberg for that too! After all, there is a huge amount of accountability as well as credibility at stake. The NYSE appeared to be behind in the electronic foot race as the month and fiscal year end was coming to the finish line and they opened on a timely and professional way under extreme circumstances. Conditions being what they are in that region, transportation to and fro will be a challenge – let alone climbing multiple floors in the stairwell just to hit the pavement or put your feet up after a hard day. Rinse and repeat…So, questions of productivity, growth, unemployment and the 4th Qtr GDP could be suspect as Japan's PMI disappointed and the rest of the field is about to report. Traders will look forward to China's PMI report, Eurozone's unemployment rate tonight and tomorrow's ADP report.
Morning observations: Stock exchange opened, but much of the region remains in cleanup mode without power or water and 25% of all cell towers in Sandy's path were knocked out during hurricane. There were reports of trading groups closing early for the day do to intermittent service. To us, what this means is the "A" team is not at their desks as many in the region are shutout with the PMI's, ADP, jobs number, presidential election and the fiscal cliff. Chatter of ADP coming out worse than expected was making the rounds at midday.
In the spoos, the 1407 is a congestion area, we continue to look at 1410.50 as pivotal and the 1417 area as first resistance above that. On the downside, 1397 area followed by 1391/93 and then 1387.
MTS video: http://www.mrtopstep.com/10-31-12-tim-haefke/
Thursday started with 240k ESU and 1.9k SPU traded on Globex, trading range 1408.00 – 1418.20 / Monday night –Tuesday mornings Globex range was 1412.25 – 1393.00 and settled at 1407.60. The RTH's gapped 4.5 handles higher to 1412.50 – 1411.70 and traded down to 1411.00 and up to 1413, then 1414.50 HOD before stepping lower through the European close and double bottoming at 1400.70 LOD by 11:30CT. The midday session was spent in light volume, trending up to sideways in the middle of the days range. The closing imbalance showed a small $360M to buy and traded 1407 area on the cash close before settling at 1407.50 down 5.50 handles on the 3:15 close.
________________________________________________________________________
CONTRIBUTORS' CORNER
ES CHARTS
Richard Chappell, Channels & Patterns
(Wednesday) A double-bottom target at 1432 has been triggered by the break over 1413. As with NQ there is a possible IHS forming, marked on the chart, and the ideal right shoulder low in this case would be in the 1402-5 area:
____________________________________________________
YOU WANT A LOOK AT WHAT OUR TRADERS SEE EVERY DAY? SIGN UP FOR THE IM TRIAL AT http://mrtopstep.com/free/ IT'S THE REAL DEAL!
_____________________________________________________
Follow us on Twitter @MrTopStep http://twitter.com/mrtopstep
Sign up for our free mailing list at http://mrtopstep.com/ for full report.
DISCLAIMER: The information and data in the following report(s) were obtained from sources considered reliable. Opinions, market data, and recommendations are subject to change at any time. Their accuracy or completeness is not guaranteed and the giving of the same is not to be deemed as an offer or solicitation on our part with respect to the sale or purchase of any commodities or securities. MrTopStep, its officers, directors and its contributors may. in the normal course of business, have position(s) which may or may not agree with the opinions expressed in this report.
The preceding article is from one of our external contributors. It does not represent the opinion of Benzinga and has not been edited.
Posted-In: Technicals Trading Ideas
View Comments and Join the Discussion!