3 Semiconductor Stocks With Big Swings In Short Interest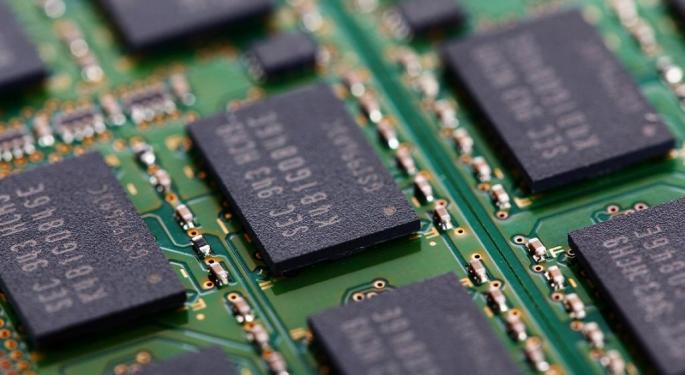 Short sellers appear to remain selective when it comes to the leading semiconductor-related stocks. Between the July 31 and August 14 settlement dates, they retreated particularly from NVIDIA Corporation (NASDAQ: NVDA) and QUALCOMM, Inc. (NASDAQ: QCOM), which like many of their peers have significant exposure to China.
On the other hand, short interest in Skyworks Solutions Inc (NASDAQ: SWKS) was up sharply again during the initial two weeks of the month.
Below is a closer look at how these three stocks have fared recently and what analysts expect from them. That is followed by a glance at the short interest moves in other key chip stocks.
See also: Stress Testing Apple's Bear Case
NVIDIA
Short interest in this Santa Clara, California-based company tumbled more than 22 percent during the period to almost 37.21 million shares. That was the smallest number of shares sold short year-to-date, and it represents more than 7 percent of the float. The days to cover dropped to about three.
NVIDIA has considerable exposure to China. It also has a market capitalization of less than $12 billion and a dividend yield near 1.8 percent. The return on equity of this S&P 500 component is around 12 percent, and the forward earnings multiple is less than the trailing price-to-earnings ratio.
For at least three months, the consensus recommendation of analysts surveyed by Thomson/First Call has been to hold shares. A move to their mean price target would be a gain of more than 7 percent for the shares; Note that shares traded higher than that consensus target earlier this month.
Short sellers watched the stock climb more than 17 percent and cross above the 50-day moving average in the short interest period, but it has pulled back since. Over the past six months, the stock has outperformed larger competitors Intel and Qualcomm, as well as the broader markets.
Qualcomm
The number of shares sold short in the San Diego-based company shrank more than 23 percent to around 33.29 million in the first weeks of August. That was about 2 percent of the float, as well as the lowest level of short interest since May. It would take more than two days to cover all short positions.
Qualcomm's dividend growth has impressed some investors. The company has a market cap of about $89 billion and a dividend yield of about 3.3 percent. The operating margin of this S&P 500 component is greater than the industry average and the P/E ratio is less than the industry average.
Of the 36 analysts polled, eight rate the stock a Strong Buy, and 14 more also recommend buying shares. They believe Qualcomm shares now have some head room, as their mean price target is about 31 percent higher than the current share price. Shares traded higher than that back in April.
Short sellers watched the share price retreat more than 3 percent during the two-week period, and another 12 percent or so since. It is down more than 23 percent year-to-date. The stock has underperformed smaller competitor Broadcom, as well as the Nasdaq, over the past six months.
Skyworks Solutions
After a 28 percent jump in the previous period, short interest in this Massachusetts-based integrated circuit maker rose another 21 percent to about 10.40 million shares. That was more than 5 percent of the float, as well as the most shares short in the past year. The average daily trading volume hit a four-month high.
This Apple supplier also has big exposure to China. The company has a market cap more than $16 billion and a dividend yield near 1.3 percent. This S&P 500 component has an operating margin that is better than the industry average, as well as a return on equity of more than 26 percent.
For at least three months, the consensus recommendation has been to buy Skyworks shares. Only four of the 23 analysts polled do not suggest acquiring shares. Based on the mean price target, they believe the shares have more than 27 percent upside potential. The consensus target would be a 52-week high.
The share price ended the two-week period down more than 7 percent, and it has pulled back more since, dropping below the 200-day moving average. Yet the stock has not only outperformed the broader markets over the past six months, but smaller competitor Qorvo as well.
See also: Tullo Still Short Netflix, Says Media Is Wrong About International Exposure
And Others
Avago Technologies, Linear Technology, Micron Technology, ON Semiconductor, Qorvo and Xilinx also saw some gain in the numbers of their shares short in early August.
The short interest in Maxim Integrated Products was essentially flat over the two weeks.
Short sellers retreated from Advanced Micro Devices, Altera, Analog Devices, Applied Materials, Broadcom, Intel, Marvell Technology and Texas Instruments more modestly in the period.
At the time of this writing, the author had no position in the mentioned equities.
Keep up with all the latest breaking news and trading ideas by following us on Twitter.
Posted-In: NVIDIA Qualcomm Skyworks SolutionsShort Ideas Tech Trading Ideas Best of Benzinga
View Comments and Join the Discussion!