Chevron May Have A Rough Ride To Endure In The Short-Term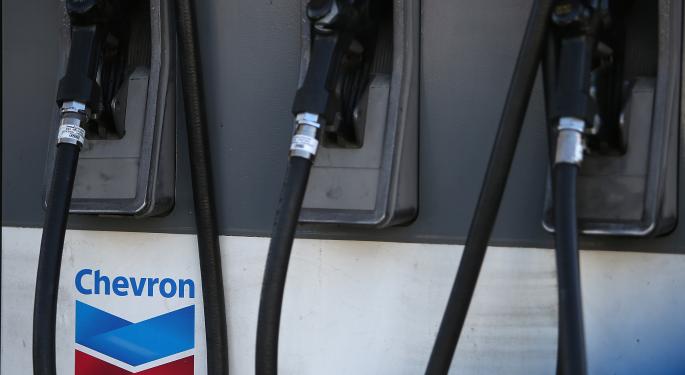 Chevron Corporation (NYSE: CVX) shareholders have had to endure some fairly tough times in recent months and years as crude oil dropped from just under $100 per barrel to just under $50 in a hurry.
CVX stock obviously took a hit right along with the underlying commodity. Recently, however, a bounce in crude led to a bounce in the stock. The question now is whether crude will be able to proceed past $63 on the upside – and whether CVX will be pulled up as a result.

If crude can't break out and instead plummets back down to below $50 per barrel, how far will CVX shares drop in sympathy? Below is a look at the technicals for Chevron to get a better idea.
What the bulls see in CVX
A very healthy 4.3% dividend yield
Very cheap valuations:
$208.6 in estimated enterprise value versus only $187 billion in market capitalization
A price-to-book ratio of only 1.21
A price-to-sales ratio of only 1.08
A PE of 16 versus projected EPS growth of over 60% in the next year
8.38% net margins that spin off over $25 billion in positive free cash flow annually
A fairly clean balance sheet picture:
21.61% debt-to-equity ratio
A current ratio of only 1.4
What the bears see in CVX
Debt of $33.93 billion that easily trumps cash on hand of only $13.11 billion
Negative levered free cash flow of $9.53 billion for the year
The technical take on CVX
Technicians note that Chevron Texaco shares appear destined for a move down to "abc correction" support at $84.18 (from $99.87 heading into last weekend). The stock could easily bounce up to $103.75 without altering the current bearish technical set-up. The support at $84.18 not only represents the "correction support" level noted above, but also long-term uptrend line support.
Overall
Chevron Texaco is likely going to continue to be tethered to the price of crude oil. Some technicians are calling for a move in crude back down to below $50 per barrel.
If that occurs, it is easy to envision CVX shares dropping to or even below the "correction support" level noted earlier. However, with valuations already very compelling and a huge dividend, it won't be long before the buyers of CVX come streaming into the market.
Posted-In: OilShort Ideas Technicals Commodities Markets Trading Ideas Best of Benzinga
View Comments and Join the Discussion!