Fari Hamzei Correctly Predicts S&P 500 Reversal After Alibaba Group Holding Ltd IPO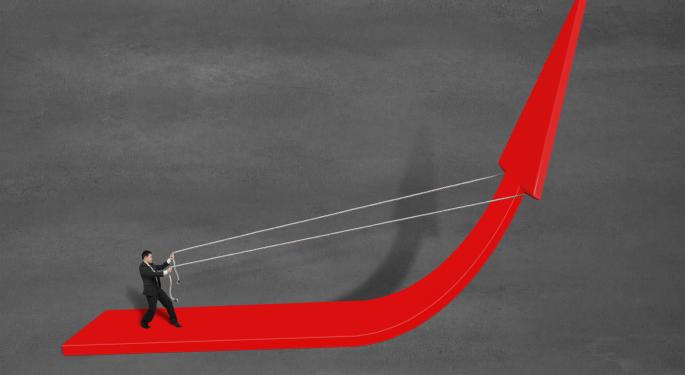 Hamzei Analytics Founder Fari Hamzei accurately predicted an upturn in the market Wednesday when he was a guest on Benzinga's #PreMarket Prep before the open the market open.
The call was following his three-day rule, which correctly identified a decline for three days in a row and then a bounce back up on the fourth day. This timing call was confirmed by Hamzei Analytics' down to up volume ratios and VIX dollar-weighted put/call ratios.
@TripleDTrader @Spus Gents, do you recall what I said today re Martket Timing in your @benzinga #PreMarket interview? #the3dayRule

— Fari Hamzei (@HamzeiAnalytics) September 24, 2014
It started last Friday, Hamzei said, after a week full with a Federal Reserve press conference, Scotland's referendum and the biggest initial public offering in history of Alibaba Group Holding Ltd (NYSE: BABA).
Initially, the market was pushed up.
"Then the Lloyd Blankfeins of the world started selling," Hamzei told Benzinga. "They're not shorting anything. They're just taking selective profits on Friday after BABA open for trading on NYSE."
The S&P 500 (NYSE: SPY) closed on a slight negative. The following Monday, the market traveled four sigma levels in one day. The S&P 500 fell from above the 2003 level to barely over 1994.
"Monday everything went crazy," Hamzei said. "We sold heavy."
It fell even further on Tuesday, Hamzei said, although not as much on Monday, and closed at the -2 sigma level. The market moved from +3 to -2 in just three days, ending at 1982.
After that, Hamzei said the market typically drops one more sigma level, which happened around 10:20 a.m. ET Wednesday morning.
Once that happened, there was a reversal led by the stock index futures, ETFs and big-cap names, and the market shot up to close at the 0 sigma level, or over the 1998 level, up 15.5 S&P 500 handles for the day.
Hamzei made this call at approximately 8:45 a.m. ET Wednesday morning. He said his current upside target now is 2120 (another all-time high), as he sees a confluence of current S&P 500 all-time high at 2019 and S&P 500 +3 sigma at 2021.
Check out Hamzei's full interview here:
View Comments and Join the Discussion!
Posted-In: Benzinga #PreMarket Prep Fari Hamzei Hamzei Analytics S&P 500Short Ideas Movers Trading Ideas Interview Best of Benzinga