3 More Surges In Biotech Short Interest (AMGN, MDVN, PCYC)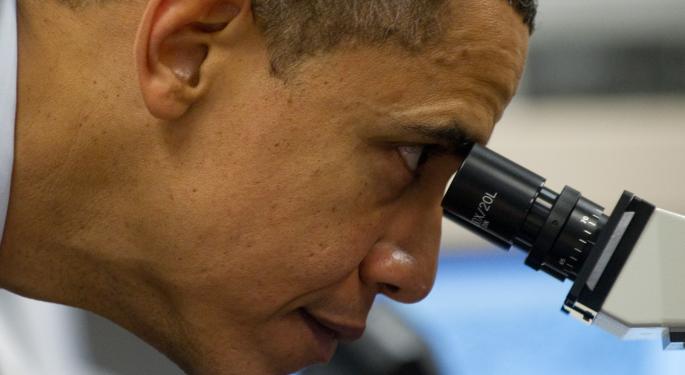 While Amgen (NASDAQ: AMGN) saw a sizable dip in short interest between the April 30 and May 15 settlement dates, short sellers piled on Medivation (NASDAQ: MDVN) and Pharmacyclics (NASDAQ: PCYC).
Among other leading biotechs and emerging pharmaceuticals, gains in the number of their shares sold short were also seen in Alexion Pharmaceuticals, Biogen Idec, Gilead Sciences, Incyte, Questcor Pharmaceuticals, Regeneron Pharmaceuticals, Seattle Genetics and Vertex Pharmaceuticals.
Short interest in Celgene and Dendreon was essentially the same as in the previous period. However, the number of shares short in BioMarin Pharmaceutical and Illumina shrank in the first weeks of the month.
Below we take a closer look at how Amgen, Medivation and Pharmacyclics have fared and what analysts expect from them.
See also: eBay, Groupon And Yelp See Rising Short Interest
Amgen
This California-based biotechnology medicines company saw short interest retreat more than nine percent to almost 8.16 million shares, the lowest number of shares sold short since last July, and around one percent of the float. The days to cover rose to more than two during the period.
The company develops and markets human therapeutics based on advances in cellular and molecular biology for grievous illnesses. It announced a positive Phase 3 trial during the period. Amgen has a market capitalization of more than $87 billion and a dividend yield near 2.1 percent.
Of the 26 analysts who follow the stock that were surveyed by Thomson/First Call, 14 recommend buying shares, and the rest rate it at Hold. The mean price target, or where analysts predict the share price will go, is almost 13 percent higher than the current share price and would be a new 52-week high.
As of the close on Wednesday, the share price is almost four percent higher than a month ago, but in the same neighborhood where it began the year. Over the past six months, the stock has not only underperformed competitor Teva Pharmaceutical, but the S&P 500 as well.
Medivation
Short interest in this San Francisco-based company grew more than 36 percent early in the month to around 5.10 million shares. That was the greatest number of shares sold short in at least a year, and it represents about seven percent of the float. It would take almost four days to cover all short positions.
This biopharmaceutical company offers treatments for prostate cancer. The more than $5 billion market cap company offered a wider-than-expected net loss in the most recent period but it is forecast to swing to a profit in the current quarter. Note that its return on equity and its operating margin are in the red.
Of the 20 surveyed analysts, seven rate the stock at Strong Buy, and eight more also recommend buying Medivation shares. They see plenty of room for shares to run, as their mean price target is more than 23 percent higher than the current share price. That consensus target would be a new multiyear high.
Note that the share price is around 24 percent higher than a month ago, and well above the 50-day and 200-day moving averages. It is more than 13 percent higher than six months ago, and in that time the stock has outperformed competitor Dendreon, as well as the S&P 500.
See also: Short Sellers Take A Shine To SunEdison And SolarCity
Pharmacyclics
Short interest in this clinical-stage biopharmaceutical company surged more than 42 percent during the period to around 4.40 million shares. That is the greatest number of shares sold short in the past year, and the days to cover was more than two. Short interest was more than seven percent of the total float.
This Sunnyvale, California-based company focuses on the development and commercialization of small-molecule drugs for the treatment of cancer and immune-mediated diseases. It reported better-than-expected earnings but offered soft guidance in early May. The $6 billion plus market cap company has a return on equity of about 24 percent.
Of the 17 surveyed analysts, 11 recommend buying shares and none recommend selling. Their mean price target represents more than 38 percent potential upside, relative to the current share price. Note though that the consensus target is less than the 52-week high reached back in February.
Shares have found support near $90 over the past few weeks. The 50-day and 200-day moving averages formed a death cross in late April. Over the past six months, Pharmacyclics has underperformed larger competitor Merck, and the broader markets as well.
At the time of this writing, the author had no position in the mentioned equities.
Keep up with all the latest breaking news and trading ideas by following us on Twitter.
Posted-In: Alexion Pharmaceuticals amgen biogen idec BioMarin Pharmaceutical Celgene DendreonShort Ideas Trading Ideas Best of Benzinga
View Comments and Join the Discussion!