Short Interest Surges in Real Goods Solar and SunEdison (GTAT, RSOL, SUNE)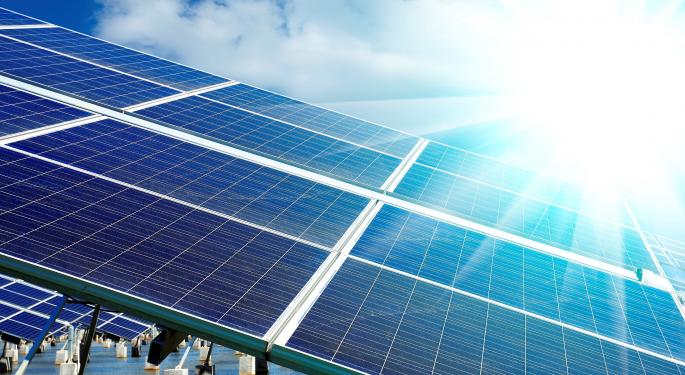 Among U.S. solar-related stocks, GT Advanced Technologies (NASDAQ: GTAT), Real Goods Solar (NASDAQ: RSOL) and SunEdison (NYSE: SUNE) saw significant swings in short interest in the most recent period.
SunPower Holdings (NASDAQ: SPWR) saw short interest in its shares grow somewhat between the August 15 and August 30 settlement dates, while that in First Solar (NASDAQ: FSLR) was essentially flat compared to the previous period.
The number of shares sold short in Advanced Energy Industries (NASDAQ: AEIS) and SolarCity (NASDAQ: SCTY) decreased in the final weeks of August.
Furthermore, the number of U.S.-listed shares (or ADRs) sold short of foreign-based companies Canadian Solar (NASDAQ: CSIQ), JA Solar Holdings (NASDAQ: JASO), LDK Solar (NYSE: LDK) and Yingli Green Energy (NYSE: YGE) grew in the period.
But short interest in China Sunergy (NASDAQ: CSUN), ReneSola (NYSE: SOL), Suntech Power Holdings (NYSE: STP) and Trina Solar (NYSE: TSL) shrank.
See also: Facebook, Zynga Lead Shrinking Short Interest In Social Media
Here is a quick look at how GT Advanced Technologies, Real Goods Solar and SunEdison have fared and what analysts expect from them.
GT Advanced Technologies
This Nashua, New Hampshire-based company saw short interest fall more than 19 percent in late August to 39.53 million shares. That was the lowest number of shares sold short since April, though days to cover remained at more than nine. Short interest was more than 32 percent of the float.
The crystal growth equipment provider for the solar and electronics industries is expected to report a narrow per-share net loss and declining earnings in the current quarter. The company has a market capitalization of more than $820 million. The long-term earnings per share (EPS) growth forecast is only about four percent.
Just two of the 11 analysts who follow the stock and were surveyed by Thomson/First Call recommend buying shares; holding them has been the consensus recommendation for at least three months. The mean price target, which is where the analysts expect the share price to go, is less than the current share price.
Shares are trading near the 52-week high after rising about 25 percent in the past month, and more than 145 percent in the past six months. The stock has outperformed larger competitor Applied Materials (NASDAQ: AMAT) and the broader markets over the past six months.
Real Goods Solar
Short interest in this solar installation services provider rose more than 13 percent to more than 4.06 million shares, or almost 24 percent of the float. That was the highest number of shares sold short in a year, and the days to cover rose to almost four. Note that short interest was less than 4,000 shares a year ago.
Lower prices hurt second-quarter results of this Colorado-based solar energy company, which posted a net loss per share on declining revenues. The company has a market cap of more than $63 million. Its operating margin and return on equity are both in negative territory.
No analysts surveyed by Thomson/First Call follow this stock any longer, so at this time there is no consensus recommendation, mean price target or implied upside.
The share price has retreated almost 30 percent in the past 90 days, despite rising more than five percent in the past week. And note that it is more than 195 percent higher than a year ago. Over the past six months, the stock has underperformed competitor Solar City but outperformed the Nasdaq and the S&P 500.
SunEdison
The number of shares sold short in the former MEMC Electronic Materials rose almost 21 percent in the period to more than 20.44 million, or about nine percent of the float. That was on top of a 46 percent increase in the previous period. Days to cover was more than three at the end of August.
One of the world's largest solar installers and developers, SunEdison announced during the period that it will spin off its semiconductor business. It has a market cap of less than $2 billion. While it has a long-term EPS growth forecast of about 15 percent, its return on equity is in negative territory.
Eight of the 15 analysts surveyed recommend buying SunEdison shares, with two of them rating the stock at Strong Buy. Their mean price target indicates they see more than 23 percent potential upside. But note that the consensus target is less the 52-week high reached back in July.
The share price has yet to fully recover from a more than 36 percent retreat in August, though it is up more than 133 percent since the beginning of the year. Over the past six months, the stock has outperformed the likes of Advanced Energy Industries and Analog Devices (NASDAQ: ADI), as well as the broader markets.
See also: Short Sellers Still Like Real Goods Solar
At the time of this writing, the author had no position in the mentioned equities.
View Comments and Join the Discussion!
Posted-In: Advanced Energy Industries analog devices applied materials canadian solar China Sun Energy First SolarShort Ideas Trading Ideas Best of Benzinga