Short Sellers Load Up More Best Buy and Sears (BEBE, BBY, SHLD)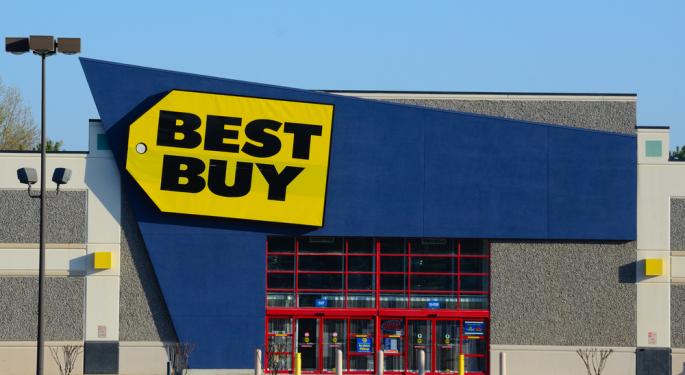 Overall, the short interest moves in troubled retail companies were mixed again during the first weeks of June.
But, Bebe Stores (NASDAQ: BEBE), Best Buy (NYSE: BBY) and Sears Holdings (NASDAQ: SHLD), saw relatively large upswings in the period.
The number of shares sold short in Avon Products (NYSE: AVP), Bon-Ton Stores (NASDAQ: BONT), OfficeMax (NYSE: OMX) and Rite Aid (NYSE: RAD) also increased somewhat between the May 31 and June 14 settlement dates.
But the short interest in GameStop (NYSE: GME) and J.C. Penney (NYSE: JCP) was essentially flat during the period.
Short sellers shied away from Barnes & Noble (NYSE: BKS), Office Depot (NYSE: ODP), Pacific Sunwear (NASDAQ: PSUN), RadioShack (NYSE: RSH) and SuperValu (NYSE: SVU).
Here is a quick look at how Bebe Stores, Best Buy and Sears have fared and what analysts expect from them.
Bebe Stores
The number of shares sold short in this purveyor of women's apparel and accessories rose more than nine percent in the period to 4.78 million, or more than 14 percent of the company's total float. That was the highest level of short interest in at least a year. But the days to cover slipped to less than nine.
Bebe Stores has more the 240 locations, primarily in the United States, Canada and Japan. The retailer's market capitalization currently is near $425 million. Its long-term earnings per share (EPS) growth forecast is about 15 percent, but its return on equity is in negative territory.
Two of the three analysts who were polled Thomson/First Call recommend buying shares, and none recommend selling them. They think shares have some headroom, as their mean price target is more than 11 percent higher than the current share price. Shares have not traded at that level since last August.
The share price has pulled back about 12 percent in the past two weeks, but it is still more than 38 percent higher than six months ago. The stock has outperformed larger competitor Nordstrom (NYSE: JWN) and the S&P 500 in that time.
Best Buy
Short interest in this specialty retailer rose more than nine percent to 27.44 million shares by the middle of the month, on top of a 19 percent gain in the previous period. The number of shares sold short represents more than 10 percent of the float. Days to cover rose from about three to more than four.
Best Buy recently announced plans for Microsoft (NASDAQ: MSFT) mini-stores within its stores. Best Buy has a market capitalization of more than $9 billion and a dividend yield near 2.5 percent. The long-term EPS growth forecast is only about four percent. The forward earnings multiple is about 11.5.
The consensus recommendation of the 24 analysts surveyed is to hold Best Buy shares, and it has been for at least three months. The share price has overrun their mean price target, though the most optimistic individual price target suggests there is more than 22 percent potential upside.
The share price is up about 132 percent since the beginning of the year, when shares were trading near a multiyear low. Over the past six months, the stock has outperformed competitors Amazon.com (NASDAQ: AMZN) and Walmart (NYSE: WMT), as well as the broader markets.
Sears Holdings
The number of shares sold short in this once-venerable retailer jumped more than 19 percent to more than 11.50 million, following a 26 percent rise in the previous period. The mid-June short interest was the highest in almost a year, and it came to about 15 percent of the float. The days to cover was more than 14.
This company operates more than 2,000 Sears and Kmart stores in the United States, and it is expected to report a deeper net loss and declining earnings for the current quarter. Its market cap is more than $4 billion, but Sears does not offer a dividend. The operating margin and return on equity are in the red.
None of the four analysts polled recommends buying shares, and that has been the case for at least three months. It is perhaps no surprise that the current share price has well overrun the mean price target. The street-high target, though, suggest more than 18 percent possible upside.
The share price has pulled back about 10 percent so far this month, and it is now less than five percent higher year-to-date. The stock has underperformed Target (NYSE: TGT) and the broader markets over the past six-months, but it did outperform Walmart during that time.
Posted-In: Amazon.com Avon Products Barnes & Noble bebe Stores best buy Bon-Ton StoresShort Ideas Trading Ideas Best of Benzinga
View Comments and Join the Discussion!