Short Interest in Vertex Rises, in Celgene Falls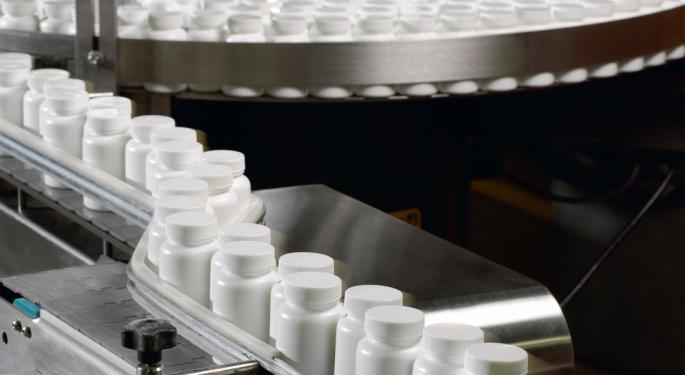 The short interest moves in biotech and emerging pharmaceutical companies were mixed in the latter two weeks of April.
The number of shares sold short in Dendreon (NASDAQ: DNDN), Gilead Sciences (NASDAQ: GILD), Illumina (NASDAQ: ILMN), Onyx Pharmaceuticals (NASDAQ: ONXX) and VIVUS (NASDAQ: VVUS) grew somewhat between the April 15 and April 30 settlement dates.
But and Vertex Pharmaceuticals (NASDAQ: VRTX) saw a significant rise in short interest in that period. Biogen Idec (NASDAQ: BIIB) and Celgene (NASDAQ: CELG) saw the largest percentage declines. We take a closer look at these three below.
Short sellers also shied away from Alexion Pharmaceuticals (NASDAQ: ALXN), Amgen (NASDAQ: AMGN), Arena Pharmaceuticals (NASDAQ: ARNA), Pharmacyclics (NASDAQ: PCYC) and Regeneron Pharmaceuticals (NASDAQ: REGN) somewhat during that time.
Biogen Idec
This S&P 500 component saw short interest dwindle more than 11 percent to 2.37 million shares, on the highest average daily volume since January. The number of shares sold short at the end of April represented about one percent of the float. Days to cover fell to a little more than one.
The company develops and markets therapies for the treatment of neurodegenerative diseases, hemophilia and autoimmune disorders. In April, Biogen Idec posted better-than-expected quarterly results and boosted its 2013 forecast. Its market capitalization is about $50.6 billion and the return on equity is more than 22 percent. The long-term earnings per share (EPS) growth forecast is about 17 percent.
Eighteen of the 30 analysts polled by Thomson/First Call recommend buying shares, and none recommends selling. But they believe the stock has little room to run as their mean price target is just over three percent higher than the current share price. And that target is less than the recent 52-week high.
The share price is up more than 42 percent year-to-date though it has pulled back less than five percent from that recent high. Over the past six months, the stock has outperformed larger competitor Pfizer (NYSE: PFE) and the broader markets.
Celgene
The short interest in this biopharmaceutical company retreated more than 25 percent to 4.31 million shares, the lowest number of share short since mid-February. That was about one percent of the total float at the end of April, and days to cover decreased to a little more than one.
This New Jersey-based maker of therapies to treat cancer and immune-inflammatory related diseases has a market cap of more than $50 billion. Celgene also is an S&P 500 component, and its first-quarter EPS topped consensus estimates. The company's long-term EPS growth forecast is about 22 percent, but the P/E ratio is higher than the industry average.
Out of the 30 analysts surveyed, 13 rate the stock at Strong Buy and 11 others also recommend buying shares. They believe the stock has a bit of headroom, as their mean price target is about five percent higher than the current share price. That target would be a new multiyear high.
Shares are up more than 56 percent year-to-date and ended last week by hitting a 52-week high. Celgene has outperformed larger competitor Johnson & Johnson (NYSE: JNJ) and the S&P 500 over the past six months.
Vertex Pharmaceuticals
Short interest in this Cambridge, Massachusetts-based company gained more than 20 percent to total more than 5.64 million shares. That reversed a similar decline in the number of shares short in the previous period. Short interest was more than two percent of the company's float at the end of April.
Vertex manufactures small molecule drugs for the treatment of serious diseases such as hepatitis C and cystic fibrosis. But falling hepatitis C drug sales resulted in a net loss for the first quarter. Vertex now has a market cap of more than $17 billion. The long-term EPS growth forecast is less than seven percent, and the return on equity is in the red.
Of the 27 analysts who follow the stock, 19 recommend buying shares. Only one analyst rates it at Underperform. Their mean price target, or where they expect the share price to go, is more than 13 percent higher than the current share price. Shares have not traded at that level since 2000.
The stock soared in April on positive drug trial results, but the share price has pulled back about six percent since then. Because of the surge, Vertex has outperformed larger competitors Bristol-Myers Squibb (NYSE: BMY) and Merck (NYSE: MRK) over the past six months.
View Comments and Join the Discussion!
Posted-In: Alexion Pharmaceuticals amgen Arena Pharmaceuticals biogen idec bristol-myers squibb CelgeneShort Ideas Trading Ideas Best of Benzinga