5 Must-Watch Stocks For This Week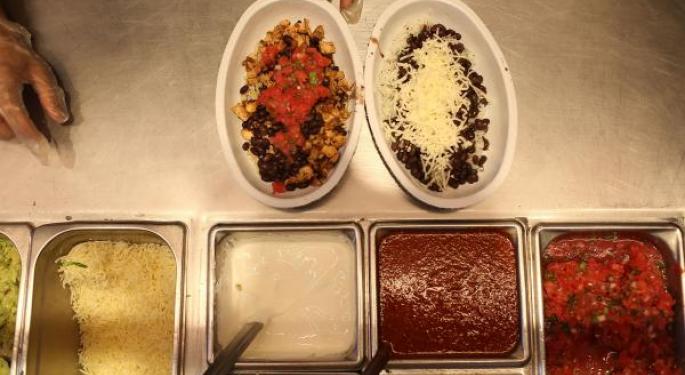 Tuesday, October 20
Wednesday, October 21
Chipotle Mexican Grill, Inc. (NYSE: CMG)
Consumer Discretionary - Hotels, Restaurants & Leisure | Reports October 20 after the close.
The Estimize consensus calls for EPS of $4.65, greater than Wall Street's prediction for $4.62, an increase of 12%. Revenues of $1.221B are slighter higher than the Street's $1.214B, signaling an expectation for 13% YoY growth, continuing the streak of double digit sales growth since the company IPO'd in 2005.
What to watch: There is always speculation that Chipotle's growth is slowing down, with same store sales numbers for the second quarter showing a decline YoY and QoQ, however, the estimates for Q3 still paint an encouraging story. For one thing, carnitas returned to the fast casual chain during the third quarter. At the beginning of the year Chipotle decided to suspend relations with its primary pork supplier because they failed to meet their animal welfare standards. The unavailability of pork was part of the reason for the lower SSS in Q2 (some analysts say it shaved off as much as 2%), but at the same time the move was applauded by loyal customers.
The company in know for it's move toward more organic, sustainably grown or raised, non-genetically modified organisms, and lower carbohydrate ingredients. It recently became the first national restaurant company to use only non-GMO ingredients. In recent quarters the fast casual joint has seen improved guest traffic driven by menu innovation. Chipotle has been doing so well domestically that it is now making a big play for Europe, specifically expanding their operations in the UK.
Yahoo! Inc. (NASDAQ: YHOO)
Information Technology - Internet Software & Services | Reports October 20 after the close.
The Estimize consensus calls for EPS of $0.16, one penny higher than Wall Street, but signaling a 69% decline YoY. Revenues are roughly in-line at $1.02B, falling 6.4%.
What to watch: This quarter Yahoo is readying itself for the long-awaited Alibaba spin-off, expected to take place some time by the end of the year, in which Alibaba holdings and its small business division will be made into a new public company, Aabaco. Yahoo's stock is down 34% this year alone, dipping on news that the IRS would not allow a tax-free spinoff of Alibaba, and due to weakness in the company's core business.
Online ad revenues have failed to impress, the company is heavily investing in mobile, social and native ads with the goal of boosting top-line performance. It's legacy desktop business continues to drag on any progress in those other areas. During the quarter, Yahoo launched a new feature called "Account Key" for its mail service, allowing users to sign into their email account without entering their password… hoping that the ease of access will lure users from other email providers.
General Motors Company (NYSE: GM)
Consumer Discretionary - Autos | Reports October 21, before the open.
The Estimize consensus calls for EPS of $1.16, a penny higher than Wall Street. Revenues expectations from Estimize stand at $38.714B, higher than the Street's prediction of $38.588.
What to Watch: It's no secret that motor vehicles sales in the US have been on a tear, reporting September sales of $18.2M, the highest level since July 2005. While GM has been a benefactor of lower gas prices which have prompted a resurgence in higher margin SUV and truck sales, international sales have offset some of that growth.
Investor's will be looking for management's comments and guidance around growth in China, as well as progress in Europe, a region that has plagued the auto maker for the last several years. GM recently said they expect a return to profitability in Europe by 2016. Any guidance given will surely play into the market's response after the report.
Biogen Inc (NASDAQ: BIIB)
Health Care - Biotechnology | Reports October 21, before the open.
The Estimize consensus calls for EPS of $3.96, 9 cents higher than Wall Street, indicating YoY growth of 4.5%. Revenues expectations from Estimize stand at $2.655B, slightly lower than the Street's prediction of $2.664B, still an increase of nearly 6% YoY.
What to Watch: Biotech names have been the earnings season winners for the last 4 quarters, but stocks continue to get punished. While BIIB is still looking to come out ahead in Q3, the company revised earnings and revenue guidance down for the rest of the year in their latest quarterly report due to weakness in its multiple sclerosis franchise.
The company lost nearly $20M in market cap that day, bringing other biotech stocks down with it. Investors will be looking for signs that this key revenue driving segment is still in tact, starting by analyzing sales of one of it's most popular MS drugs, Tecfidera. Any win here could help lift biotech stocks in general. Also, expect drug pricing to be discussed, a timely topic due to recent outrage over inflated drug prices. Biogen will have to justify why their drugs deserve the higher prices.
Boeing Co (NYSE: BA)
Industrials - Aerospace & Defense | Reports October 21, before the open.
The Estimize consensus calls for EPS of $2.15, six cents short of what Wall Street is expecting. Revenues expectations are also lighter, with the Estimize consensus calling for $24.455B vs. the Street's loftier $24.744B.
What to Watch: Boeing has already announced some of its most important metrics for the third quarter. The aerospace company delivered 199 commercial planes during the quarter, a 7% increase YoY, bringing YTD deliveries to 580 versus 528 in the same period last year. The company is on pace to break its record of 723 commercial jets that it delivered in 2014.
However, offsetting that gain will be the pace of growth in its military aircraft segment which has been trailing the year-ago pace. On Wednesday, Boeing's stock fell after Delta's CEO warned that "low interest rates really have created a huge wide-body bubble in the world." He said that bubble would also spread to narrow bodies. One of the biggest boons during the quarter was orders out of China. Boeing secured a deal to sell 300 aircrafts to three Chinese companies, it's biggest order in that region.
The preceding article is from one of our external contributors. It does not represent the opinion of Benzinga and has not been edited.
Posted-In: Previews Trading Ideas Best of Benzinga
View Comments and Join the Discussion!