The Weak Get Weaker In The Options Market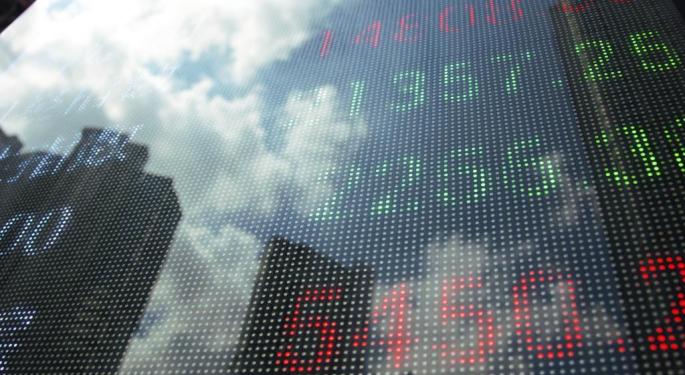 Check out the video below for a full recap of this week's outlook:
Scoreboard
The week ended terribly for the bulls as they lost a 53 S&P e-mini rally off Thursday's low. Markets went red with minutes to close. The Nasdaq was the weakest of the broader indices at -1 percent, while small-caps were the weakest overall at -1.4 percent. The Dow held small greens thanks to a few stocks like Nike Inc (NYSE: NKE).
Here is how Friday's action unfolded (from top left to top right, to bottom left, then bottom right):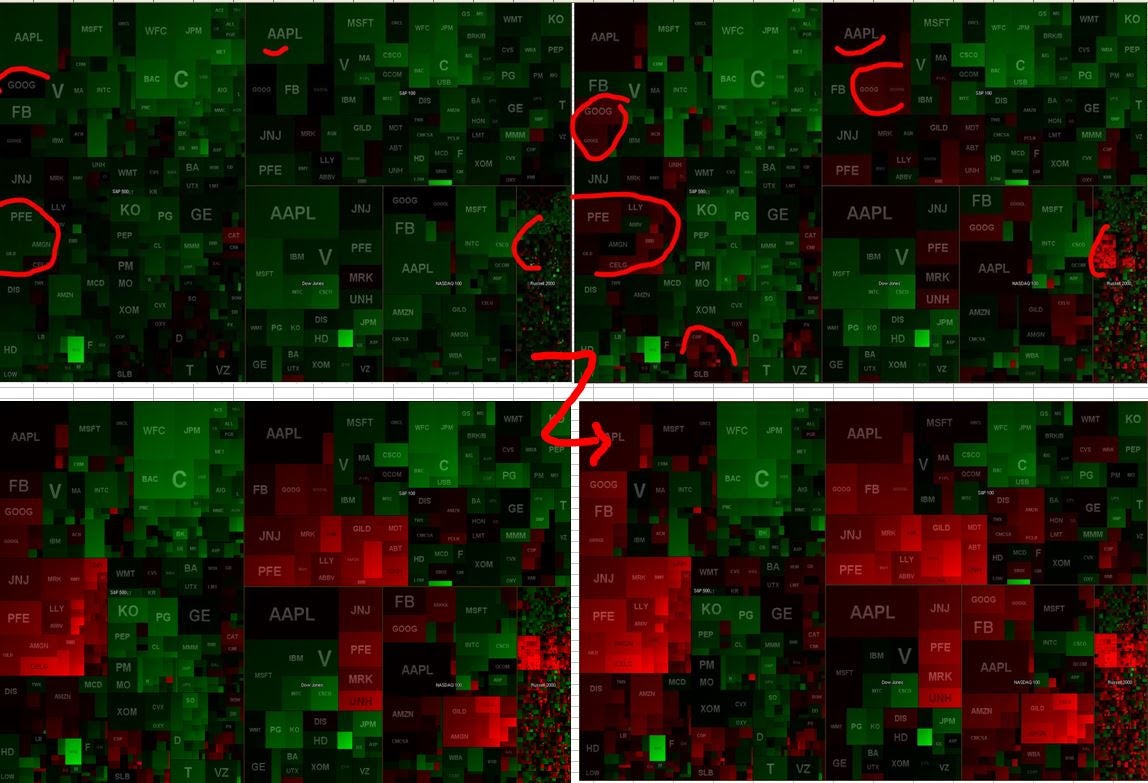 The weekly candles were red, but more importantly, lower highs knocking on floorboard makes for a need to bounce or the risk is that the board will break with a whoosh lower.

Why the drop? Markets suffered tremendously from a decimation of the biotech/healthcare sector, which are heavyweights in the indices, especially in the Nasdaq.
This Week
Friday's disappointment weakened the bulls' resolve, which was already very weak. Rallies will likely be sold in the absence of positive catalysts. One could come from politicians, which could surprise with a resolution of the debt ceiling issue. If not, then the debates could turn into debacles and accelerate the selling. Caution is warranted.
This contradicts the open interest data, which still suggests that options markets are bullish in their expectations.
Apple Inc. (NASDAQ: AAPL) is likely to move on Monday on reports of results of its new iPhone 6s launch. Sales were impressive, but there is a chance that much of the good news is already baked into the stock.
Banks could also cause more pain for markets. On Friday, financials were strong but only because rates spiked. This will eventually wear off and the financials will realign with the general market direction. If so, then this could be incremental weakness to last week's performance.
There could be a negative headline about the German economy and likely to see a cut in the outlook for Germany as a result of the Volkswagen debacle. This will adversely affect the U.S. markets unless European Central Bank President Mario Draghi increases QE (unlikely before ECB's next meeting).
The effects from the confusion that Janet Yellen caused last week could spill into this week. Even traders who were sure of lift-off timing are now in doubt. Yellen contradicted herself saying that she needs to raise rates, but then says she can't only to follow it up by but she will. Don't overthink it: Rates going up soon enough.
Focus point - Apple: Holding up well, but stuck in a rut. Based on Thursday's price action, $113.50 is likely to be a magnet and it was. It tried to rally past $117 on Friday only to sink into red and under $114.
Focus Point - Volkswagen: The German auto industry touches about one in six jobs, so this should have a ripple effect on the economy in Europe and the globe. Eleven million vehicles will cause a lot of financial damage to VW and may spill into other industries. The impact will have a considerable effect on the Eurozone and beyond. This will also complicate the rate hike since it will likely necessitate more euro QE. Raising rates in the US, coupled with more QE in Europe would cause a more dollar strength (bad for U.S. exporters).
Ranges: All the ranges are playing out within expectations. Markets tested the limits. Caution is most definitely warranted for bulls.
Tickers
Novavax, Inc. (NASDAQ: NVAX): September 25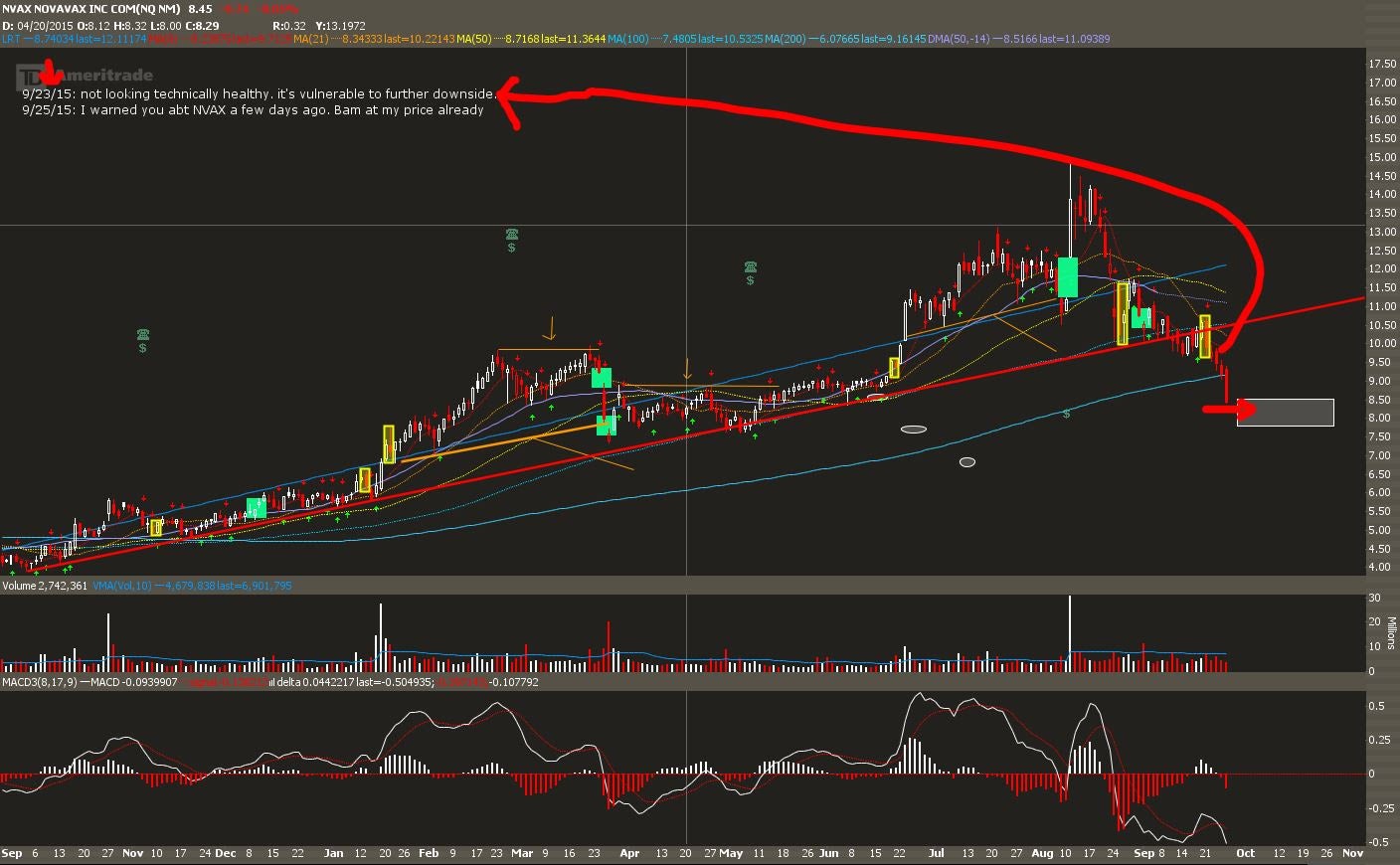 iShares NASDAQ Biotechnology Index (ETF) (NASDAQ: IBB): This week's candle rivals that of the flash crash in amplitude. What's more significant is that it dwarfs it in volume. This highlights the risk in the biotech/healthcare sector. They are in bear territory, but like the China market, this doesn't mean they can't go much lower.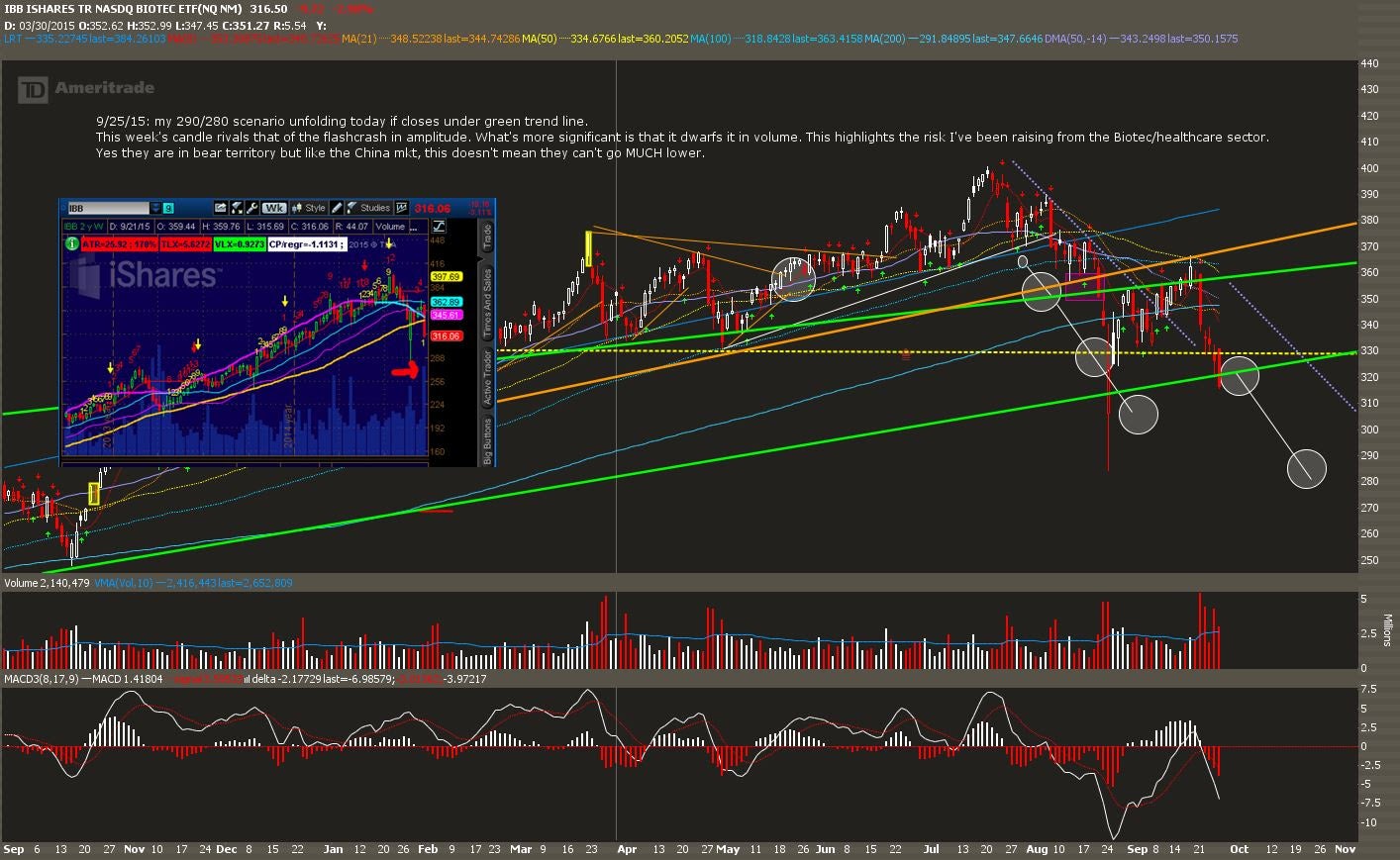 Posted in: Previews Options Pre-Market Outlook Markets Trading Ideas Best of Benzinga