Caution Continues In Options Market This Week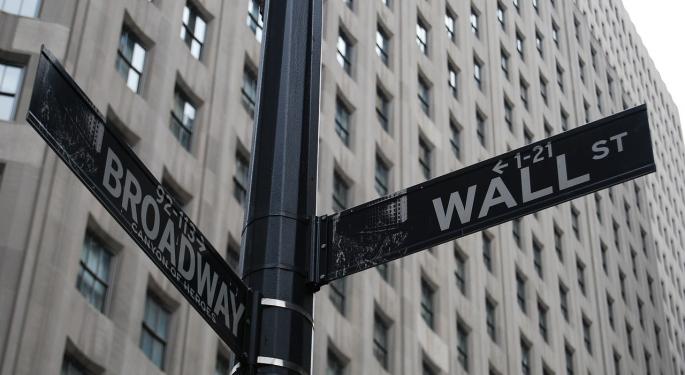 Check out the video below for a full recap of this week's outlook:
Scoreboard
The week not only ended in the red across all indices, but also on a particularly sour note, with markets having dropped at least one percent Friday. Leading down were the momentum biotech and healthcare groups. Collectively, they constitute as big an influence as Apple Inc. (NASDAQ: AAPL) in the Nasdaq.
Also, profit taking in the likes of Google and Priceline added to the market woes on Friday.
Related Link: Last Week Ended With A Green Surprise For Options Traders
Reason For The Friday Drop
Friday's weakness does not appear to be related to fears of the rate hike. The 10-year finished red on Friday. The action in the bond market hints at markets pricing in an event outside of the U.S.
With the Greek situation on track, China was the most likely area of concern. Monday a.m. is confirmation of last week's thesis. Furthermore, the week-prior indices moved on bad breadth, meaning the strength came from a few mega-caps' huge moves.
The flip side is also relevant: Weakness came concentrated in a few mega red Friday boxes like: -21 percent in Biogen Inc (NASDAQ: BIIB), -4 percent in iShares NASDAQ Biotechnology Index (ETF) (NASDAQ: IBB), -3.2 percent in Google Inc (NASDAQ: GOOG) and -2.6 percent in Priceline Group Inc (NASDAQ: PCLN).
Amazon.com, Inc. (NASDAQ: AMZN) managed to close +10 percent, but was +21 percent earlier in the day. It is important to note that these mega moves, both upward and downward, murk up the picture. It's therefore important to zoom out and confirm that nothing has fundamentally changed.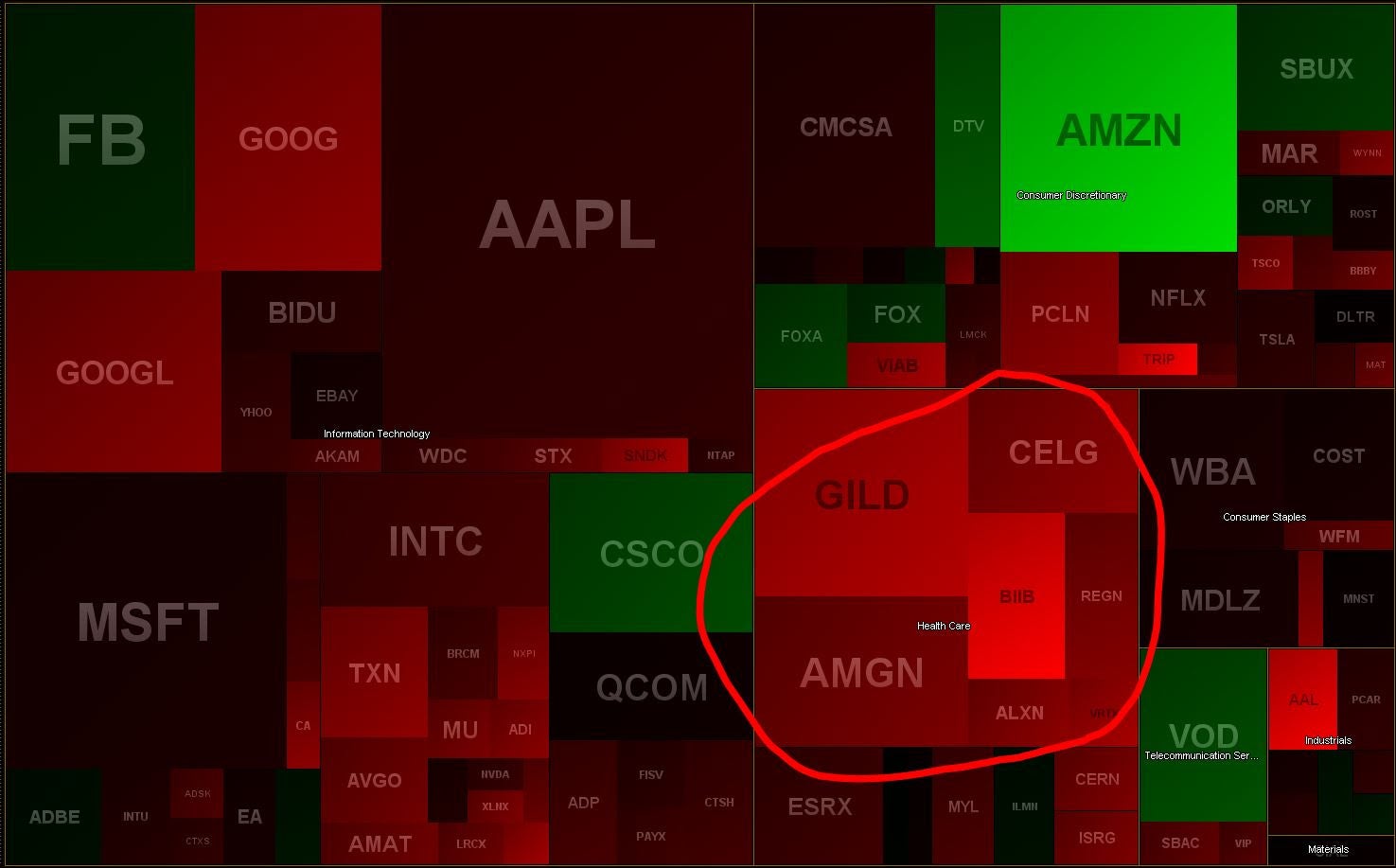 Focus Point: Apple
Apple had a bad earnings reaction that took it down to the recent flash drop of 119. Friday, it retested an important 123.7 area and successfully held. This is a green shoot for stabilization. So, Apple broadly remains in focus, and this 123.7 level specifically is being watched carefully.
Focus Point: The Small Caps
They tried to hold and rally, but the broader indices didn't join the party, resulting in a loss, leading down and closing -1.5 percent on Friday. The small caps are not directly and mathematically influenced by big moves in Visa Inc (NYSE: V), Amazon or Apple.
Focus Point: Biotech And Healthcare
Despite its popularity, the biotech sector is not without possible risks. It has seen massive run-ups based mostly on buyouts and speculation of buyouts. These profits came fast and steep, so they go fast and deep.
Looking Ahead
This week's calendar includes a Fed interest rate event, so markets will focus on the timing of the rate hike, which could cause more unease among traders.
Remember: Don't chase, don't panic, be cautious.
Ranges: All the ranges are playing out perfectly within expectations. The upper limits were tested and resistance lines held, as did the support lines. The recent Greek mess provided lows that could be tradable bottoms soon.

IYT: A bad week for the iShares Dow Jones Transport. Avg. (ETF) (NYSE: IYT), even when oil is under 50. Now, they are left with a bounce situation or risk dropping much lower and dragging markets along with them.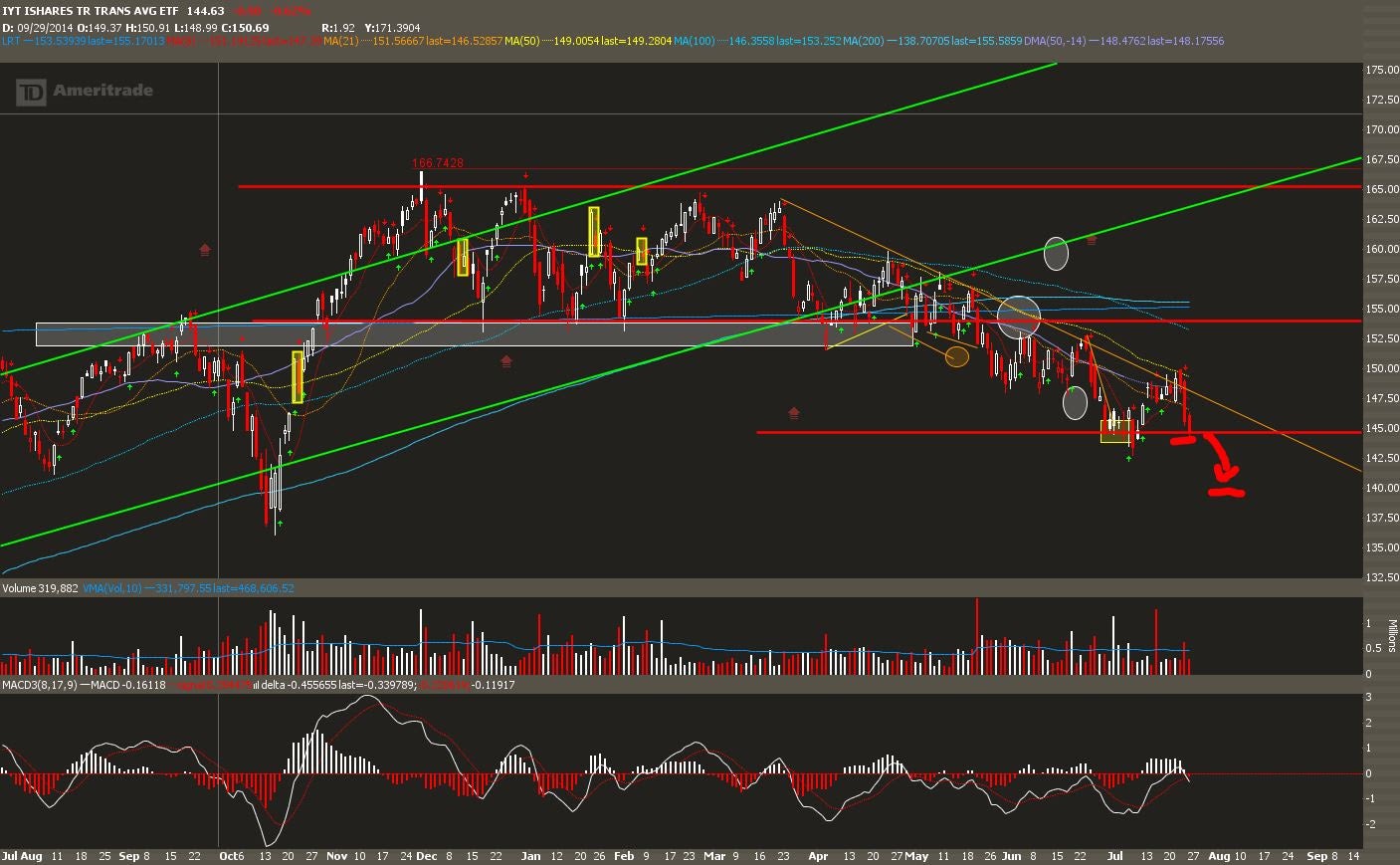 Other Focus Points
Grexit: The scenario seems to be dead for now; however, they still have payments coming up, so issues still loom. That being said, now both sides have an agreement in principle, and it would take someone to break the confines of the terms to derail the process.
Bonds/Rates: This week the bond market acted as if they were pricing on an event outside the U.S. Technically, it's about to break out if it crosses the green trend line. Otherwise, it will revert toward the bounce level (white rectangle).
The Fed event is approaching, so more eyes will be on rate hike.
Dollar strength continues.
China: China's financial markets seem to be highly leveraged and prone to a looming disaster.
Euro Beat: Important economic data regarding the euro is also slated to be released soon, including inflation information.
Image Credit: Public Domain
Posted in: Previews Options Pre-Market Outlook Markets Trading Ideas