Options Traders Still At The Mercy Of Non-Fundamentals This Week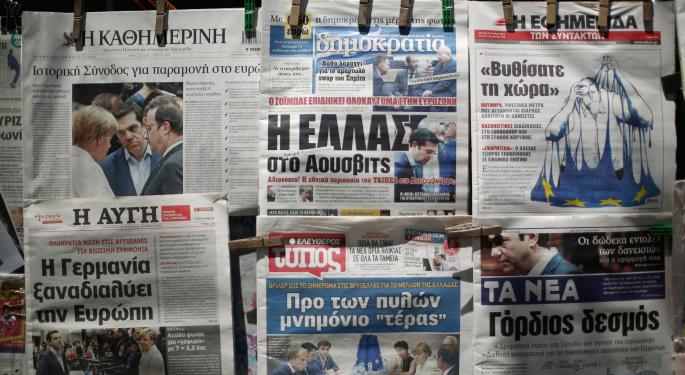 Scoreboard: On the face of it, last week was uneventful, but the internals were tumultuous. Overall, all indices were green but not before they set lower lows and lower highs.
Variables: The most direct cause to the uncertainty continues to be Greece. Last week, the Greek Prime Minister finally caved and now Greece has a deal that is worse than the one that was had late last month.
Second to the Greek headline, markets suffered from extreme market moves in China. Their markets crashed and didn't recover until the government banned selling. Last but not least was Fed Minutes and Yellen's speech on Friday, where she reiterated her opinion that a 2015 hike still looks appropriate.
What could happen: The week ended with a +1.5 percent Friday performance; another positive headline like Greek deal done would cause another rip higher breaking the recent roof. Conversely, a disappointing one could cause markets to retest the lows of the week.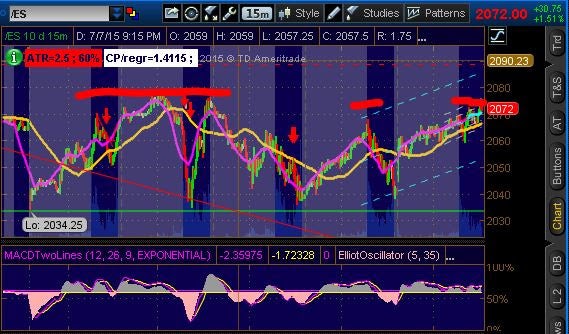 Greece: "Grexit" scenario eliminated from the immediate headlines Focus shifts to other pressing matters like earnings, China and/or US rate hikes.
China: More turmoil is possible, but the government's stabilization effort is so extreme in nature that it looks likely to hold. Furthermore, China economic reports are due and could cause another ruckus if they stray from the expectations, particularly in the GDP realm.
Earnings: These could cause fundamental moves in stocks which could influence their respective industries. For example, Intel could affect AMD, and vice versa.
Apple: There was a strange move in Apple that sold it down to 119.22 in minutes. It's possible the move was related to a trader forced to cover margin requirements from other losses, and not due to any fears over Apple's fundamentals.
Bonds and rates: A Greek deal could lead to a iShares Barclays 20+ Yr Treas.Bond (NYSE: TLT) drop and a sharp rise in CBOE Interest Rate 10 Year T Note (CBOE:TNX).
Ranges: The facts did not change this week -- all the ranges are playing out within expectations, and are in a neutral zone where bulls and bears are free to roam.

Apple Inc. (NASDAQ: AAPL): Reports earnings soon enough. Apple is a money making machine and will need several faux-pas from Tim Cook to derail this train.
Google Inc (NASDAQ: GOOG): Rallied hard on a positive mention.
Posted in: Previews Options Markets Trading Ideas Best of Benzinga