Twitter Revenue & EPS Expected To Beat, But Where Are The Catalysts?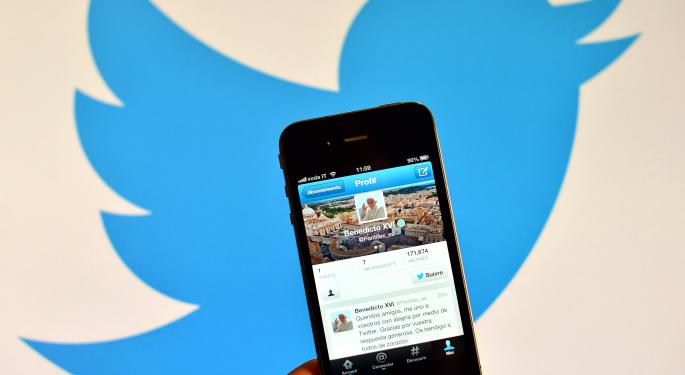 Twitter Inc (NYSE: TWTR) expert Sean Udall expects the company to perform well this quarter, but it's the forthcoming Google Inc (NASDAQ: GOOG) search deal that could move the stock.
"The EPS line is still a little more uncertain because a lot of that just depends on how much Twitter lets flow to the bottom line," Udall, CIO of Quantum Trading Strategies and author of The TechStrat Report, told Benzinga. "It's really more of an expense. Do they reign in expenses and let their huge revenue number flow down?"
Twitter is expected to report earnings on Tuesday afternoon.
Udall said he is "at least" $20 million above consensus on the revenue side. He expects Twitter to report revenue of $495 million.
"The bottom line, I think you see a bigger revenue beat than an EPS beat, which is good," he added. "Cash flow has been pretty good, but there's been a lot of stock compensation expense that kind of muddies that number a little bit. But if you net that out and go to cash from operations, and then free cash flow, I think that number is going to be quite a bit better."
Related Link: Google Search Is Twitter's Plan To Monetize 500 Million Logged Out Users
Catalysts Ahead
Udall said that the forthcoming Google search deal is "what makes the stock work" for Twitter.
"The other factor is Periscope, [which] is going viral," he said. "Periscope probably won't mean much for the actual financial numbers for a while -- it could create excitement for the stock. Now the Google deal, on the other hand, creates leverage to the Twitter model. It creates MAU growth. It creates revenue and earnings growth."
It hasn't happened yet, however -- and Udall is okay with that.
"The beautiful thing about the Google search deal is it basically gets going pretty soon," he said. "So it's not even in the current quarter's numbers. Now people have to look at Twitter and say, 'Here's Twitter standalone, they're still growing huge. No other company of their size is growing at that rate. And by the way, the Google deal is in front of them, which is going to be huge.'"
Is Video The Future?
Sephi Shapira, co-founder and CEO of MassiveImpact (a global performance-based mobile ad platform), told Benzinga that video will be a "major driver" for Twitter.
"While Twitter has under 100,000 advertisers compared to Facebook's 2,000,000 and Google's 4,000,000, Twitter makes more money per advertiser," said Shapira. "Twitter's average revenue per advertiser ranges at $21,000 per annum, which is three times Facebook's $7,000 and 30 percent higher than Google's $16,000."
Shapira said that the focus on bigger brands "will be a major advantage in selling video ads, as large brands consume more media budgets compared to smaller businesses."
Rivaling YouTube
"In many aspects, Twitter and Facebook already rival YouTube," said Shapira. "For example, only 25 percent of YouTube videos are viewed on mobile, compared to over 75 percent of Facebook and Twitter users being mobile."
And that's not the only advantage.
"In the first quarter of 2015, only 21 percent of YouTube video's were posted by users with over 250K users versus 81 percent on Twitter's Vine service and 23 percent on Facebook," he said. "Finally and most striking, in the month of February 2015, YouTube had 2,175 videos uploaded with over one million views versus 3,552 on Vine and 6,814 on Facebook surpassing one million views."
Shapira said that it is too early to forecast the success of Periscope but said that it is "evident the service is a natural extension to Twitter's dominance in breaking news."
"Pulling in top ratings is correlated with higher ad spend for video and is of immense interest to news and other media companies, which currently show little to no interest in Twitter's Vine service," he added. "Twitter's Vine service is similar to its text service that has more narrow user-generated content focus compared to Facebook's video posting. As of Q1 2015, media companies created 25 percent of video posts on Facebook while contributing less than 1 percent of video posts on Vine."
'Not Looking Streamlined'
Patrick Moorhead, president and principal analyst at Moor Insights & Strategy, isn't very excited for Twitter's results.
"Twitter's a bit of a mess right now," Moorhead told Benzinga. "If you look at all the management changes, if you look at them literally springing ads all over the place. If you look at the left rail in terms of the trends bar, it's starting to look like…it's not looking streamlined, it's looking like a mess."
Disclosure: At the time of this writing, Louis Bedigian had no position in the equities mentioned in this report.
Posted-In: MassiveImpact Patrick Moorhead Sean UdallPreviews Top Stories Exclusives Tech Trading Ideas Best of Benzinga
View Comments and Join the Discussion!