12 Charts That May Show A Breakthrough In The Options Market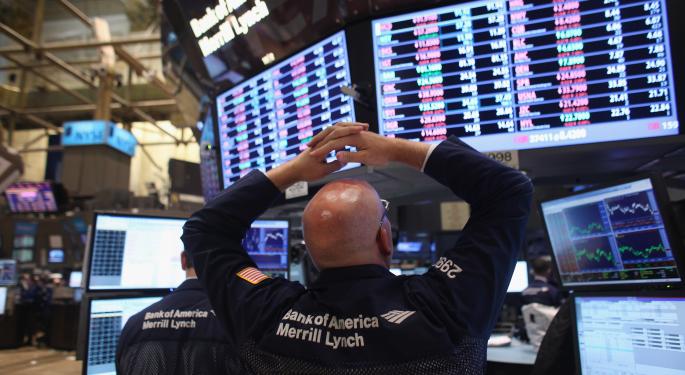 Scoreboard
The week ended strong for the bulls and scored a green week for the broader indices after two red ones. The small caps strung two green weeks in a row, but are no longer leading up like they were up until nine days ago.
The Fed is still raising rates with no QE in the U.S.; Eurozone is still mired and are working with EQE; China still a mystery and now in a bubble zone; Japan is a scary experiment; Oil is still depressed; and the Grexit is looming.
The current situation is starting to feel like when markets broke through the 1999 and into the 2000. The bulls failed several times then busted through it like a hot knife through butter.
Earnings are likely to be okay, but companies are likely to be modest with forward guidance. However, how the markets will react to these earnings releases is anyone's guess. This makes is a coin flip situation with regards to the direction. There may be better clues on the direction once the big tickers (Apple, Google, etc.) start reporting.
Related Link: 13 Stocks To Watch As Earnings Season Ramps Up
Ranges
The author has seen perfect range limits with regards to open interest and trends; still in the neutral zone where bulls and bears are free to roam. Friday pushed markets to the upper range of such limits, so this week could be pivotal for bulls. So far, the meander created a nice iron condor opportunity. Traders are playing chicken with the negative catalysts, meaning they know there is bad news coming but will ignore it until the very last minute. Until then, they are willing to risk it, which could be bad for bears.
The open interest peek into this week's set up suggests another bullish platform from which the bulls can mount another assault at recent and all-time highs. Janet Yellen fueled a spike mid-March, but fizzled.
SPY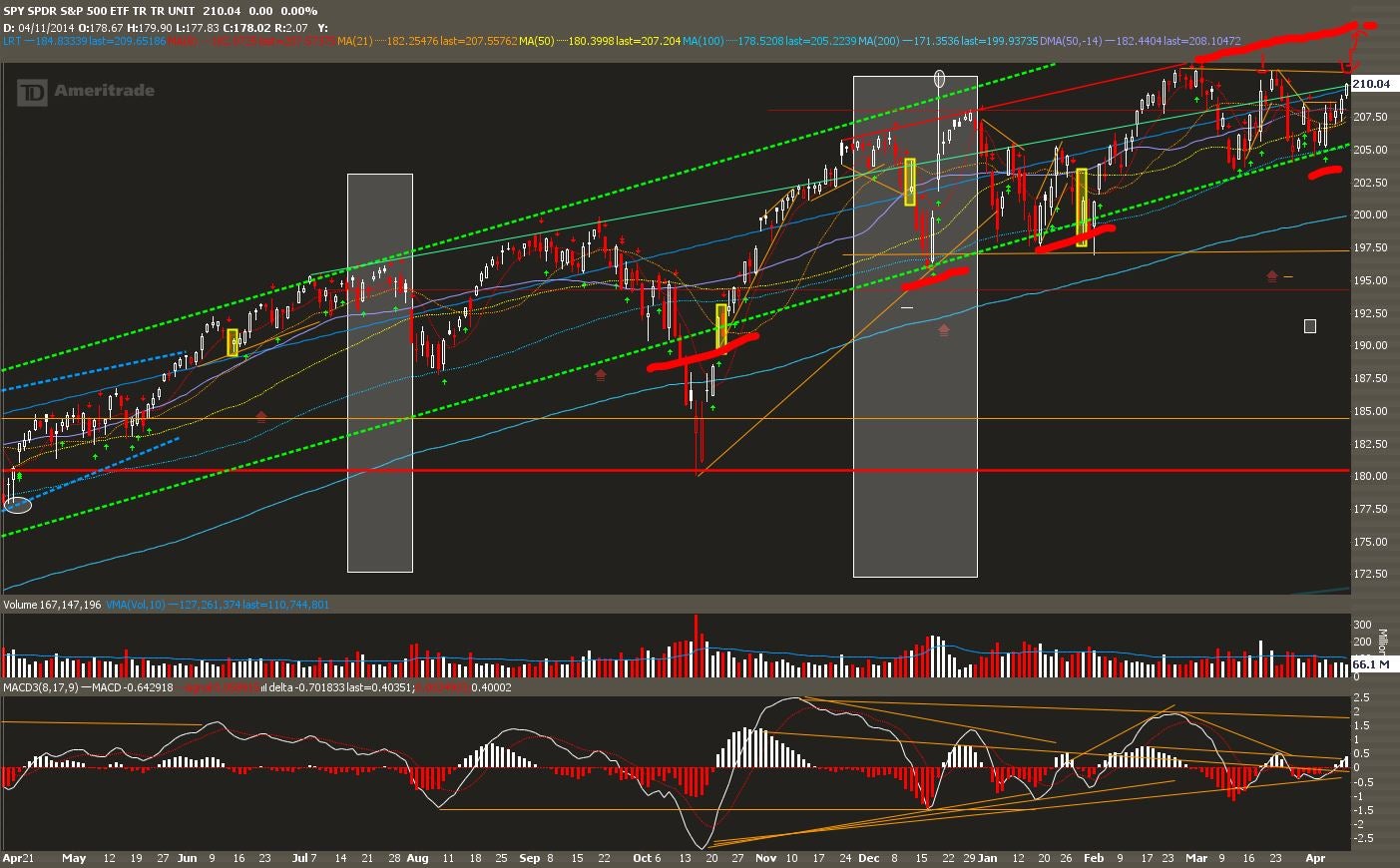 QQQ
The Nasdaq outperformed this week on the backs of concentrated big moves. It would be better for the bulls if the strength comes evenly distributed, but they still threaten to break out.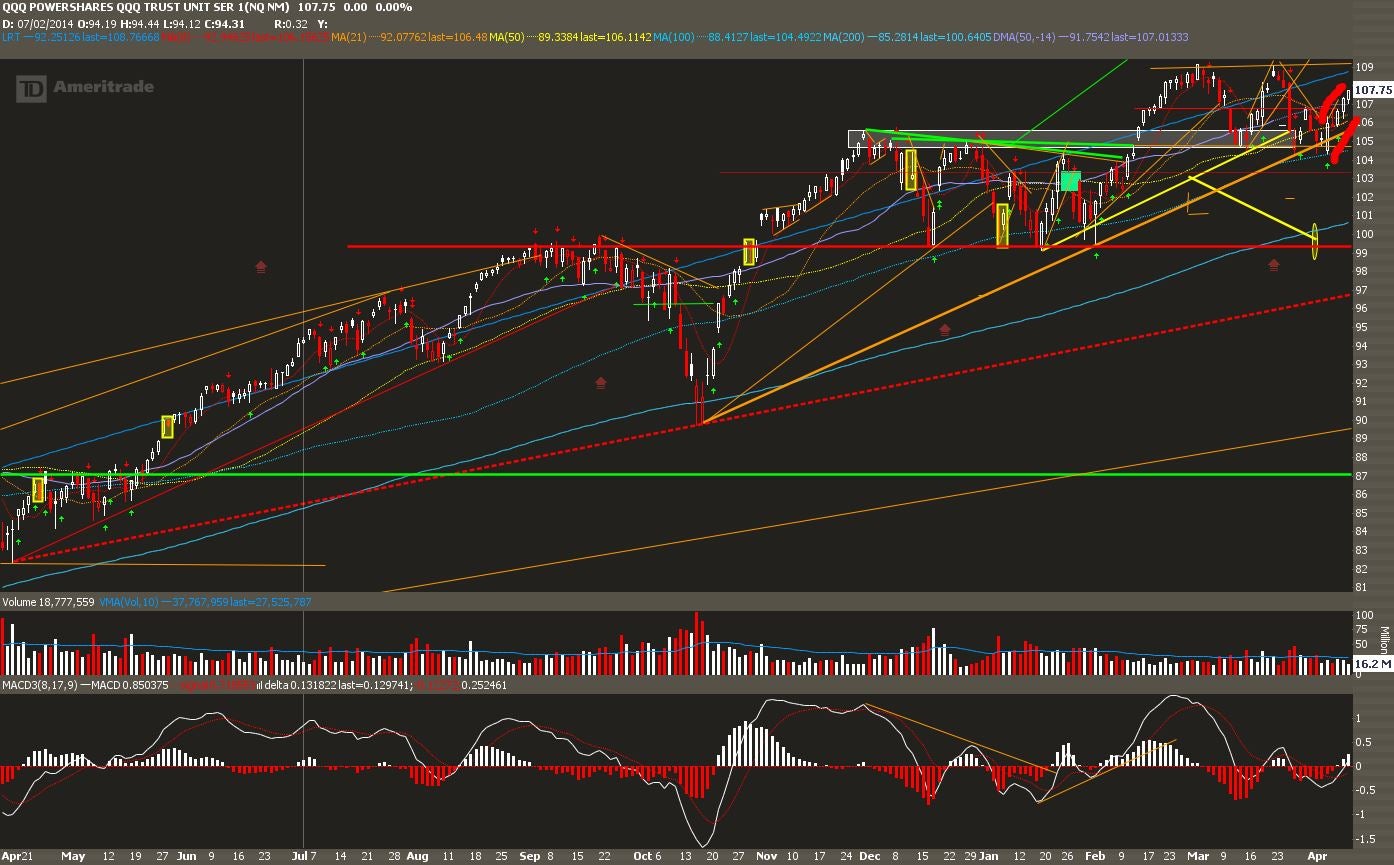 IWM
Up until two Thursdays ago, the small caps were leading up. The small caps have since lagged most of the time and were in line a couple of days. IWM is trading a very tight rising wedge (orange pattern) inside an ascending channel (yellow pattern). Each candle last week touched both upside and downside trend lines of the orange wedge. This makes it dangerous on either side: bulls for a breakout and bears for a breakdown.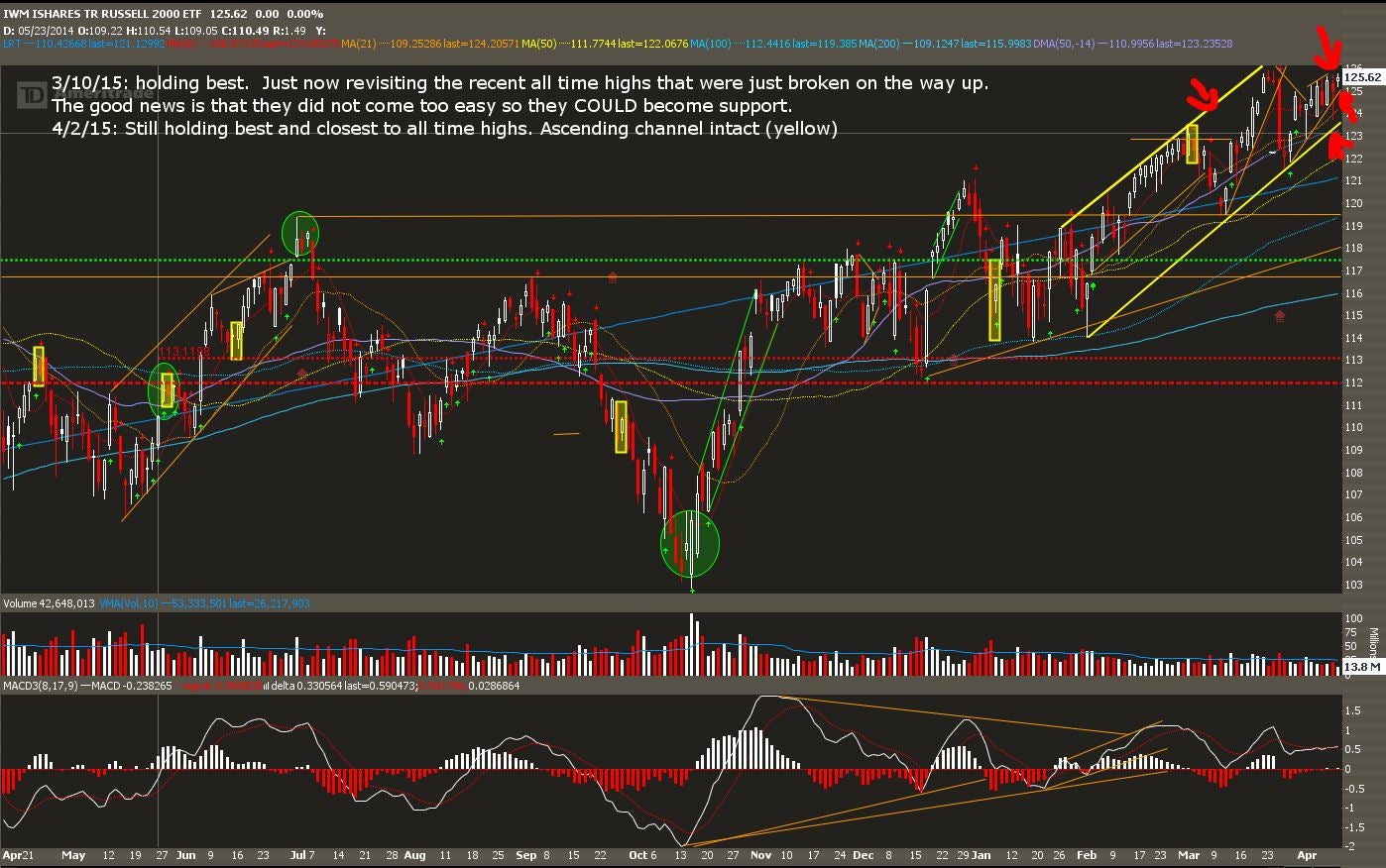 IYT
While it put in a green week, it still set a lower high and lower low. Friday's performance was strong, but not yet out of the woods.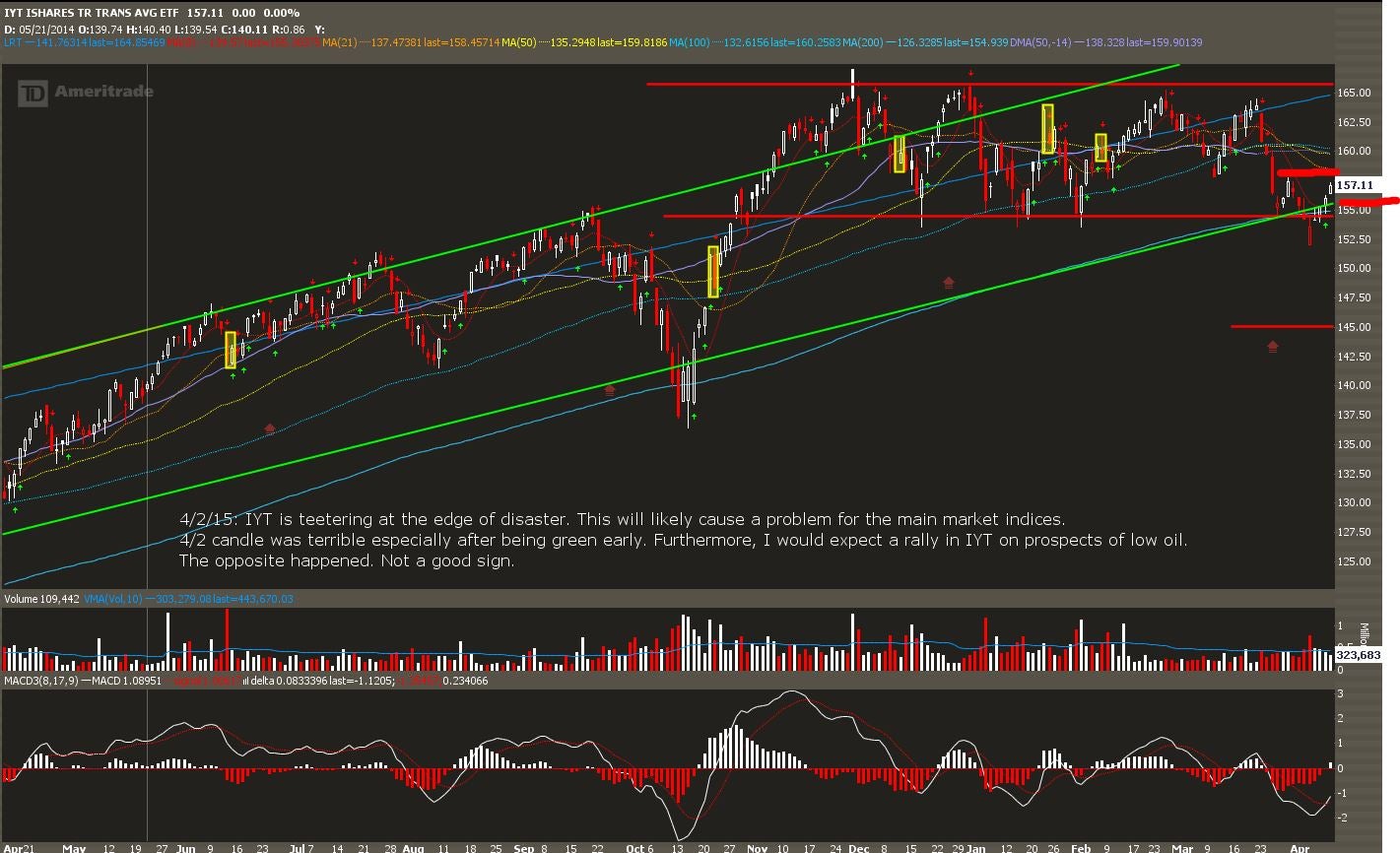 VIX
This level is worthy of note, with option expiration shenanigans this week.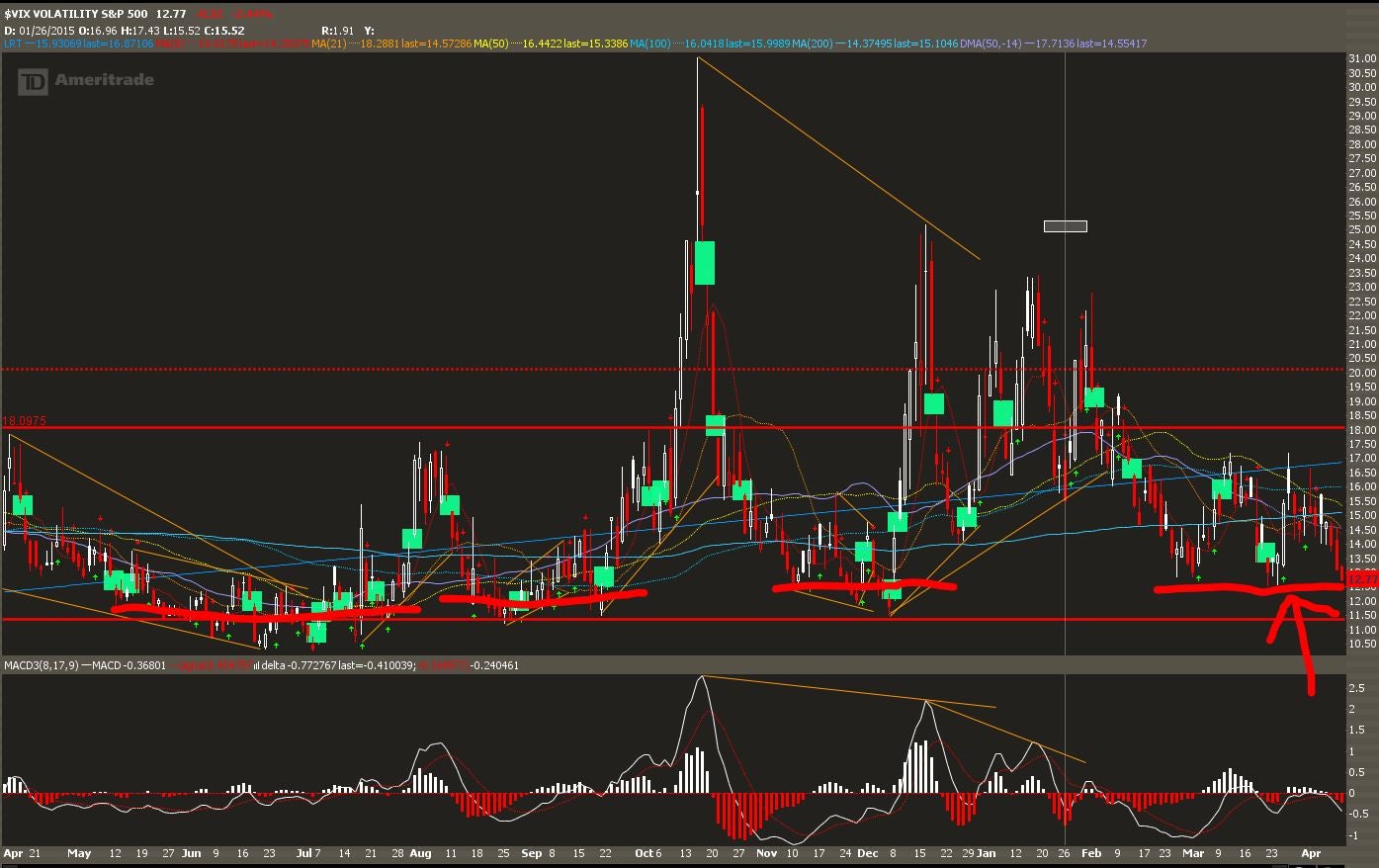 Variables to watch: Politics (Middle East); Fed (too much Fed speak); Currency; EQE progress; Oil; Bonds and 10-year yield (ranges tightening and moves can be coming soon).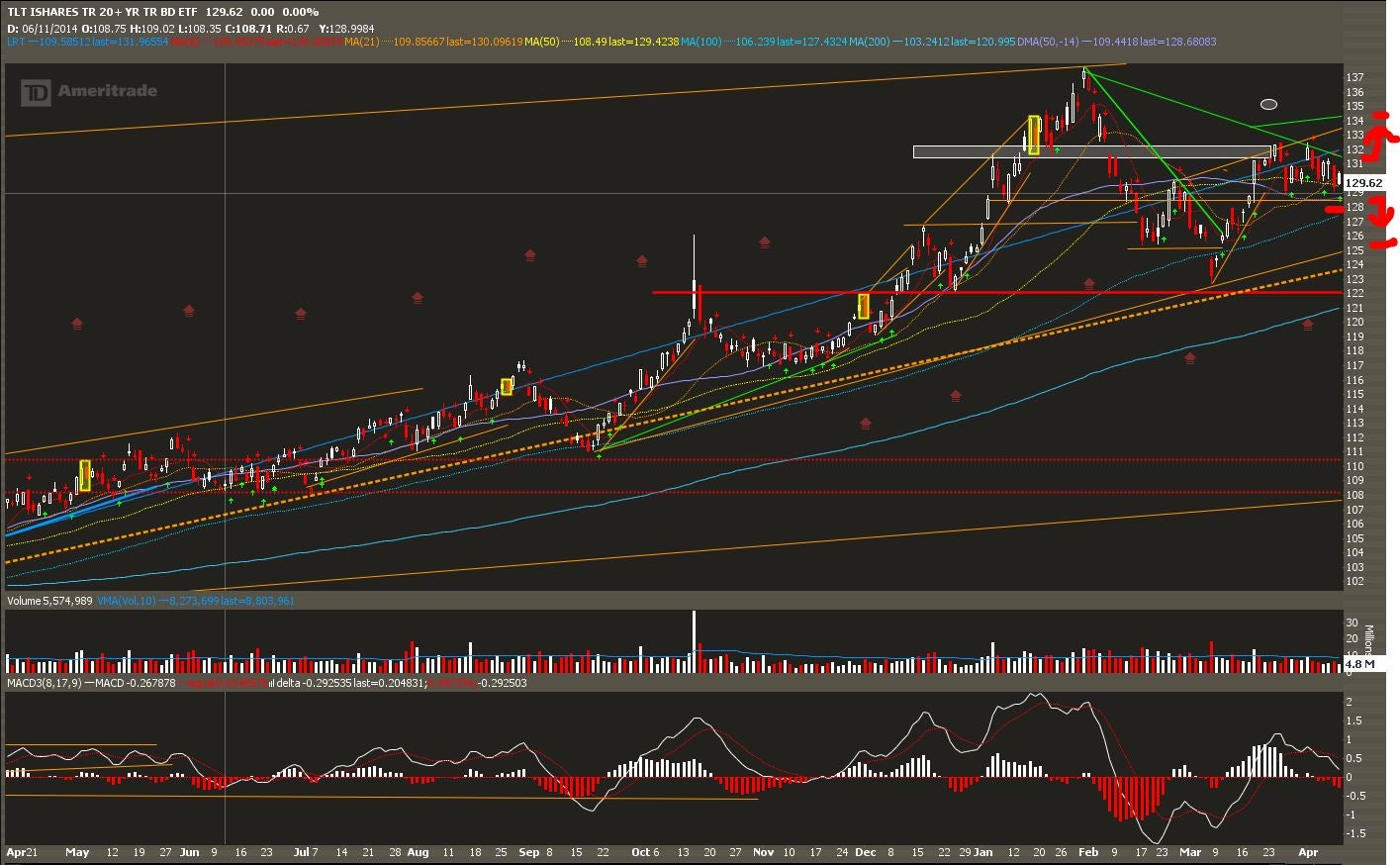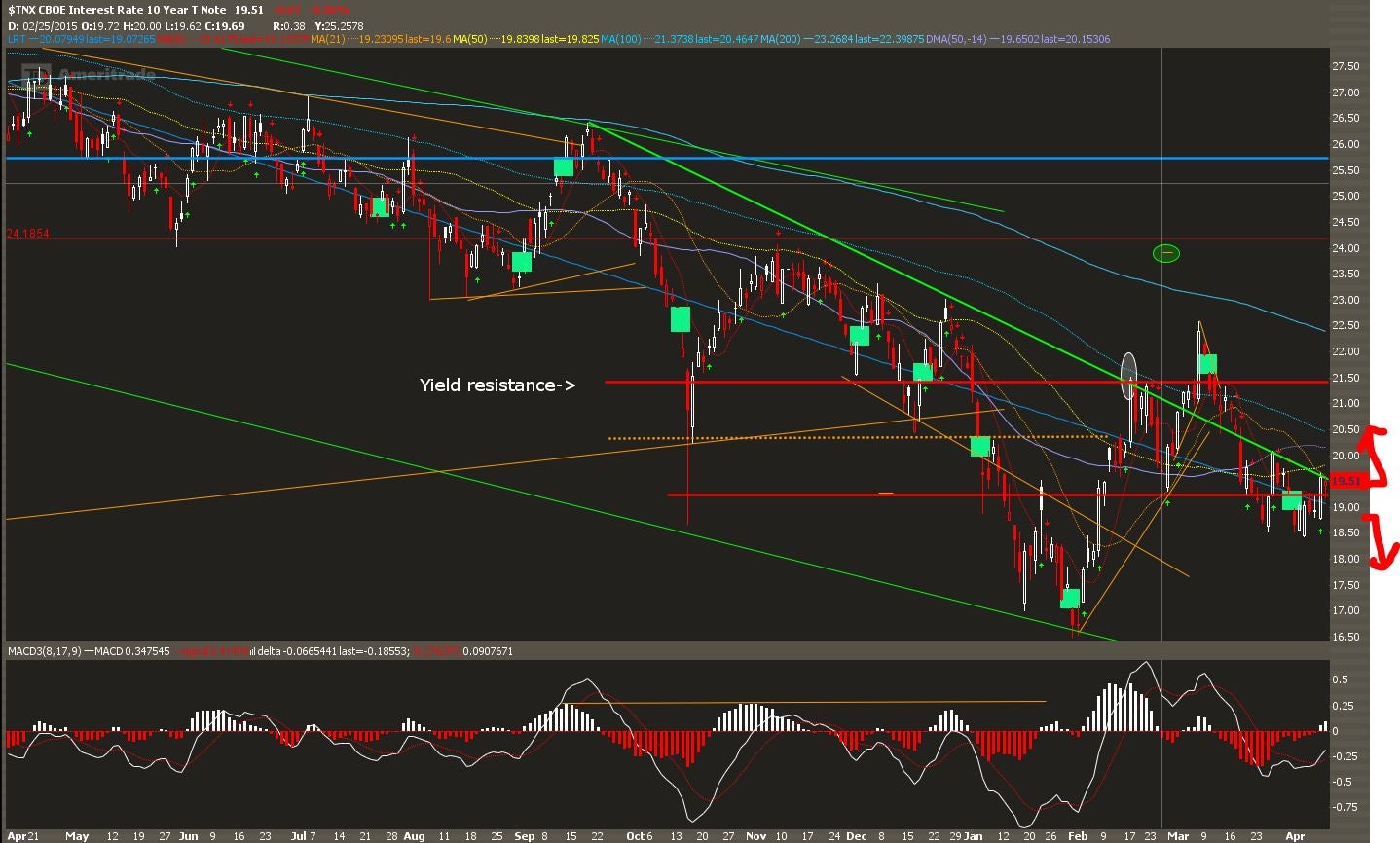 Tickers (some charts are not as of the close)
Caterpillar Inc. (NYSE: CAT): Misplaced strength on back of General Electric "financial engineering" and spike in China perhaps.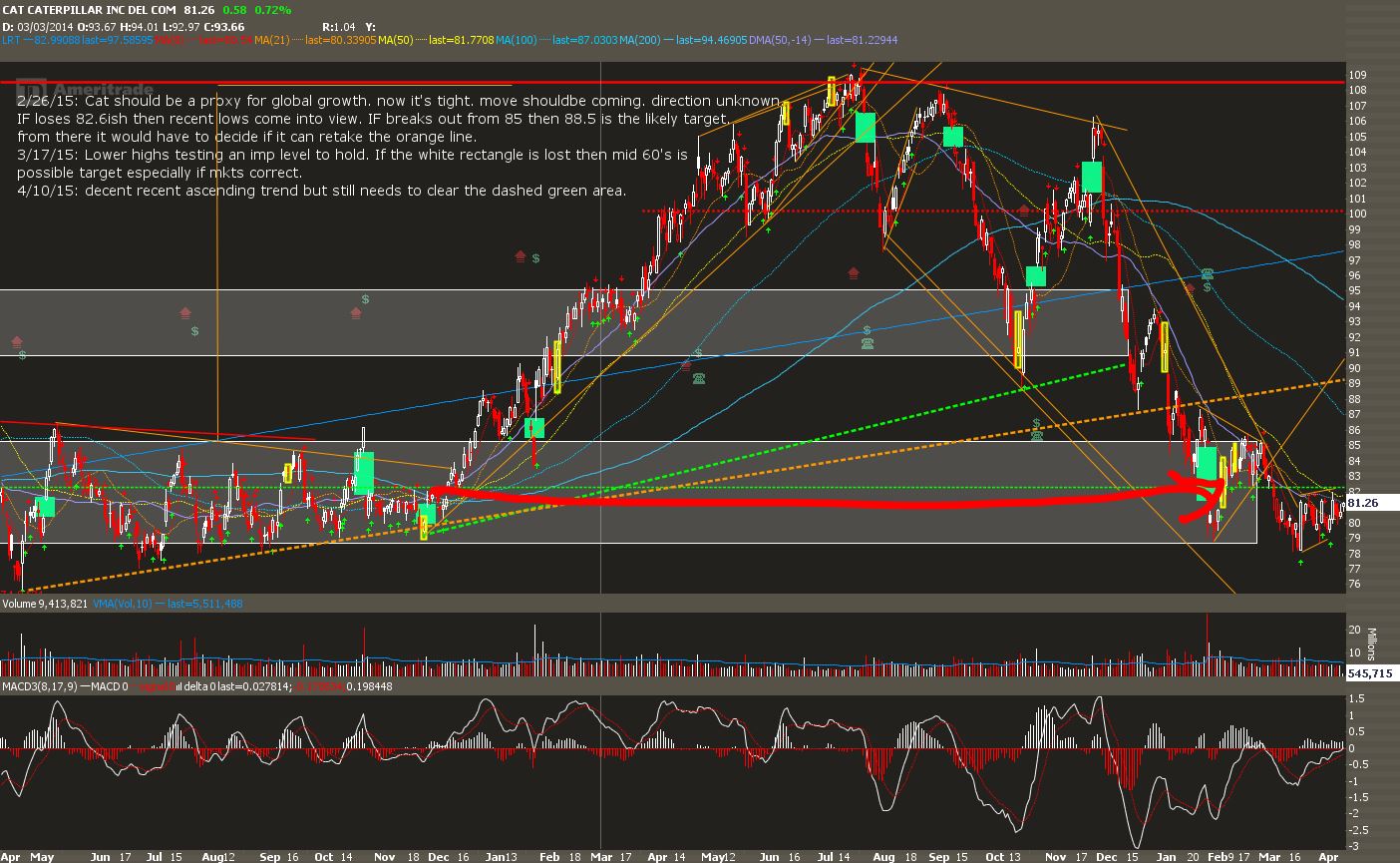 Chipotle Mexican Grill, Inc. (NYSE: CMG): An incredible move (+32) out of nowhere. Broke upper trend limit. Debit call spreads could pay.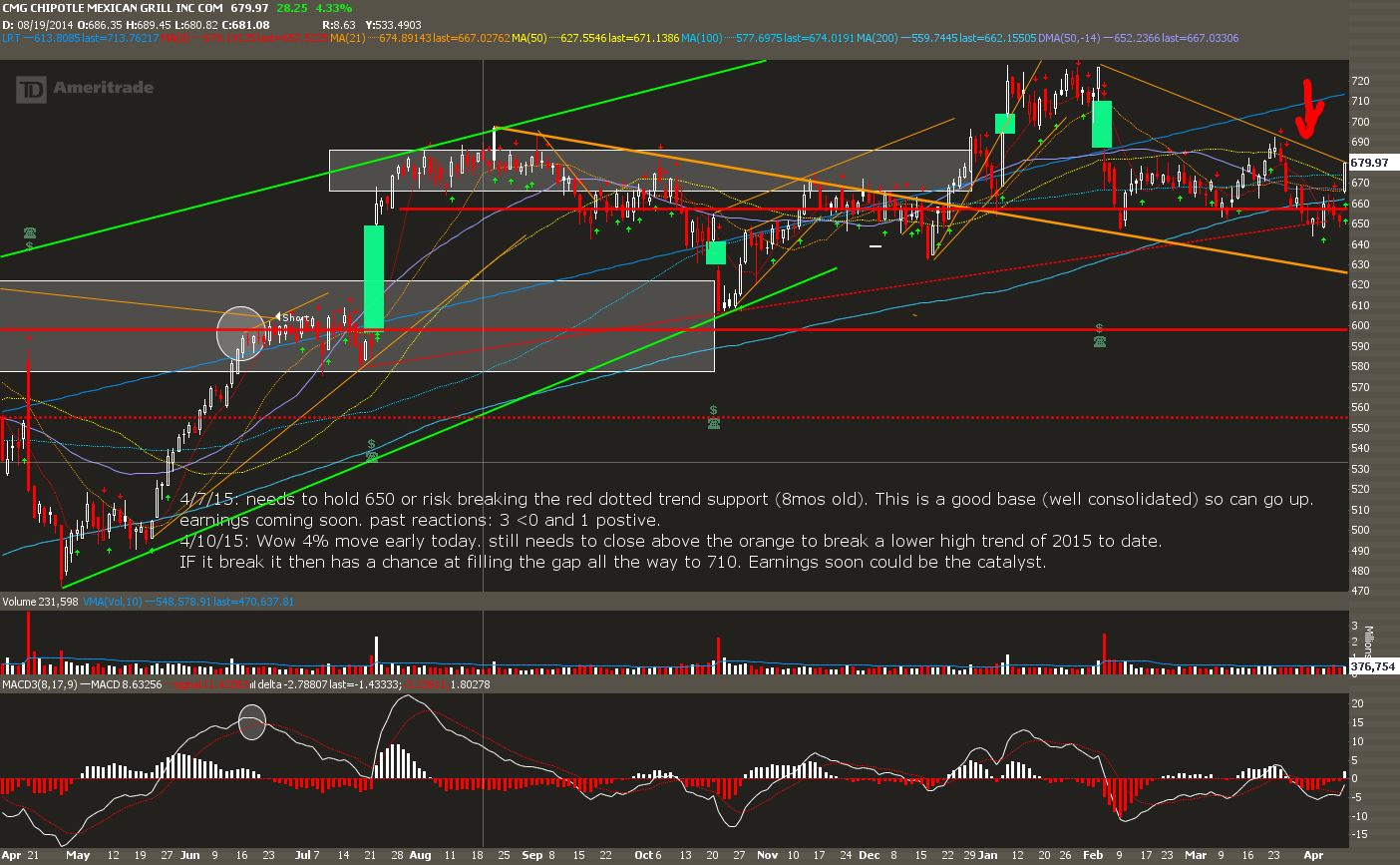 Anheuser Busch Inbev SA (ADR) (NYSE: BUD) and Molson Coors Brewing Company (NYSE: TAP): Puts could pay.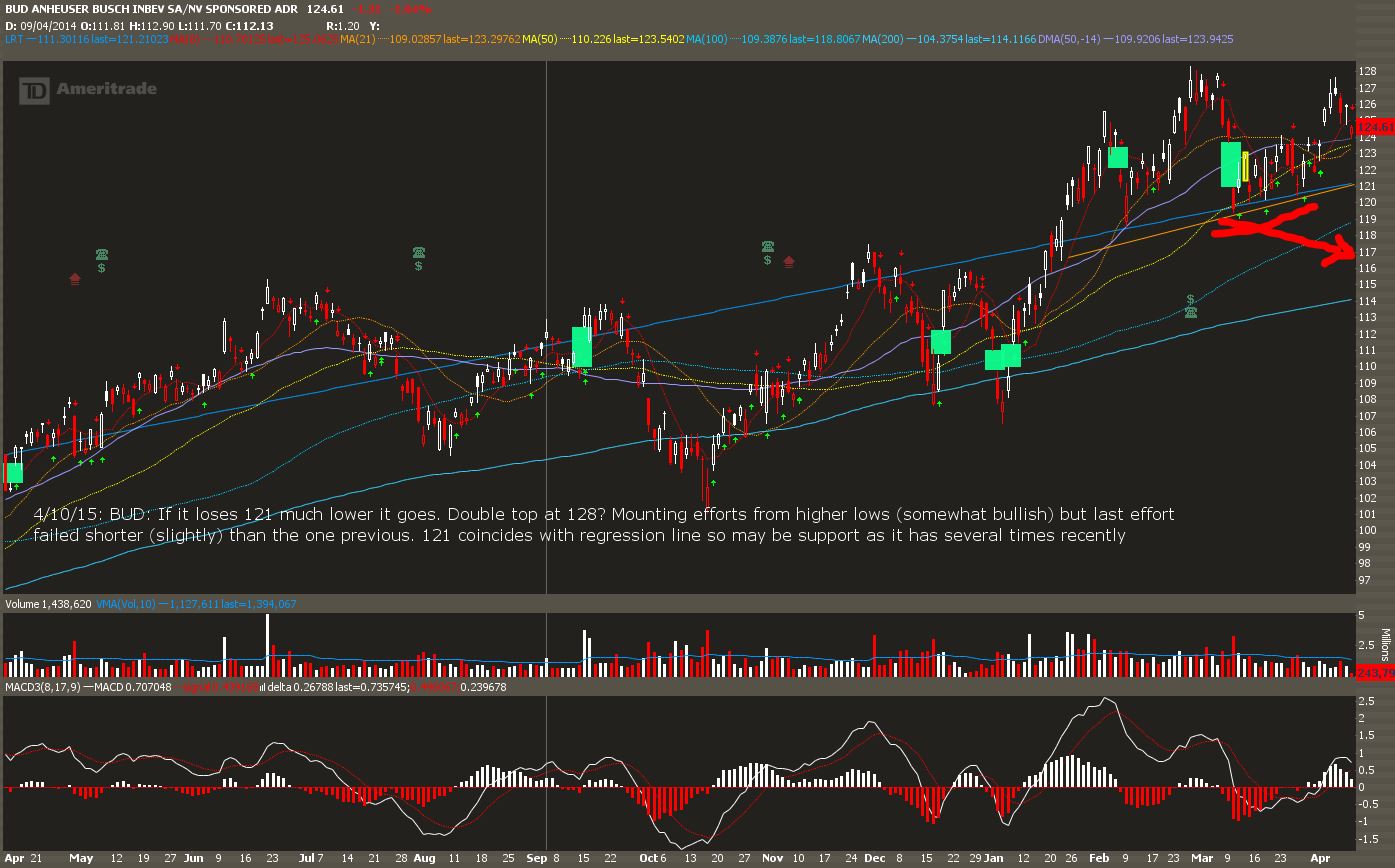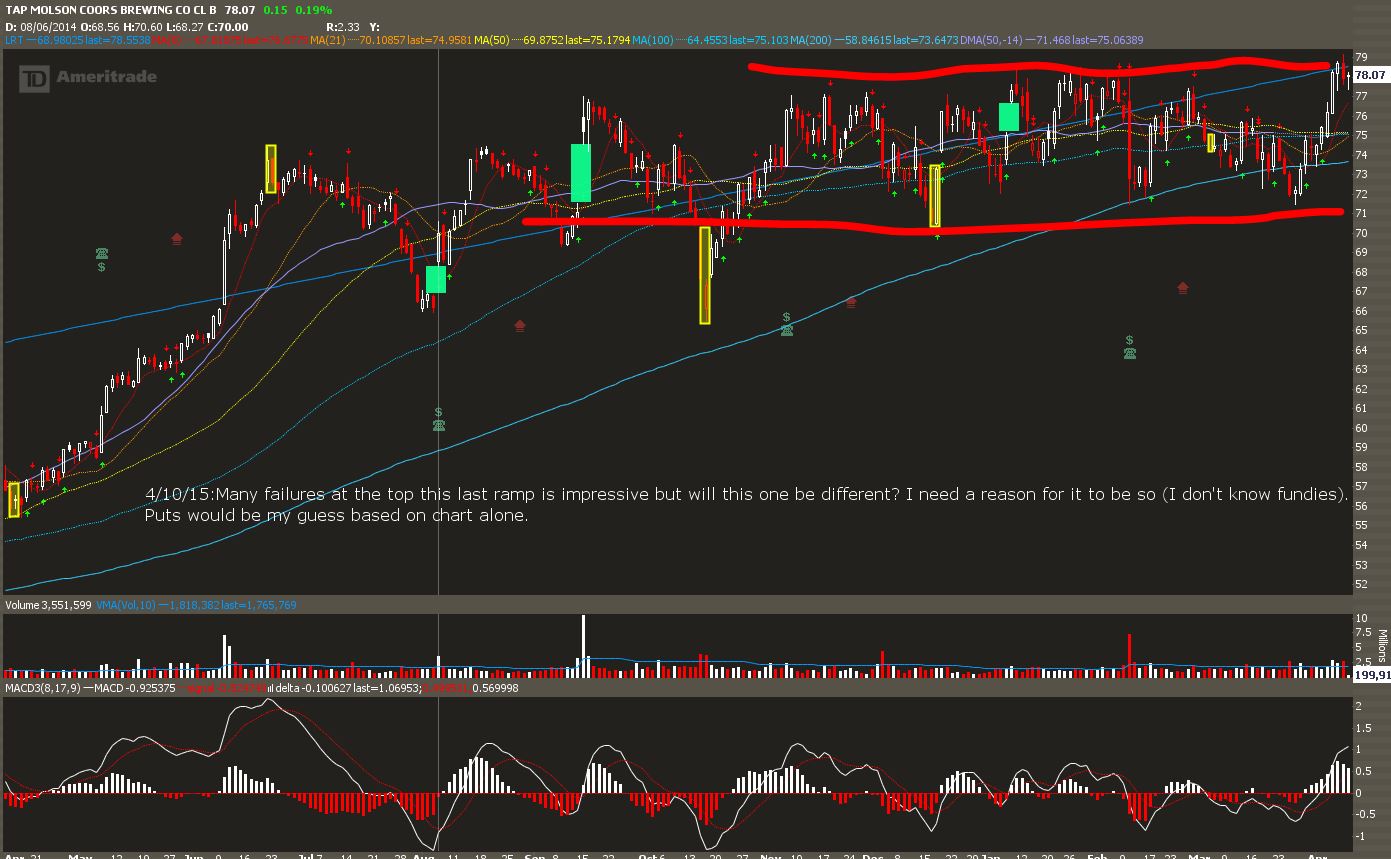 GoPro Inc (NASDAQ: GPRO): If it breaks out of its dashed green line, it can reach for 55+ on technical basis alone.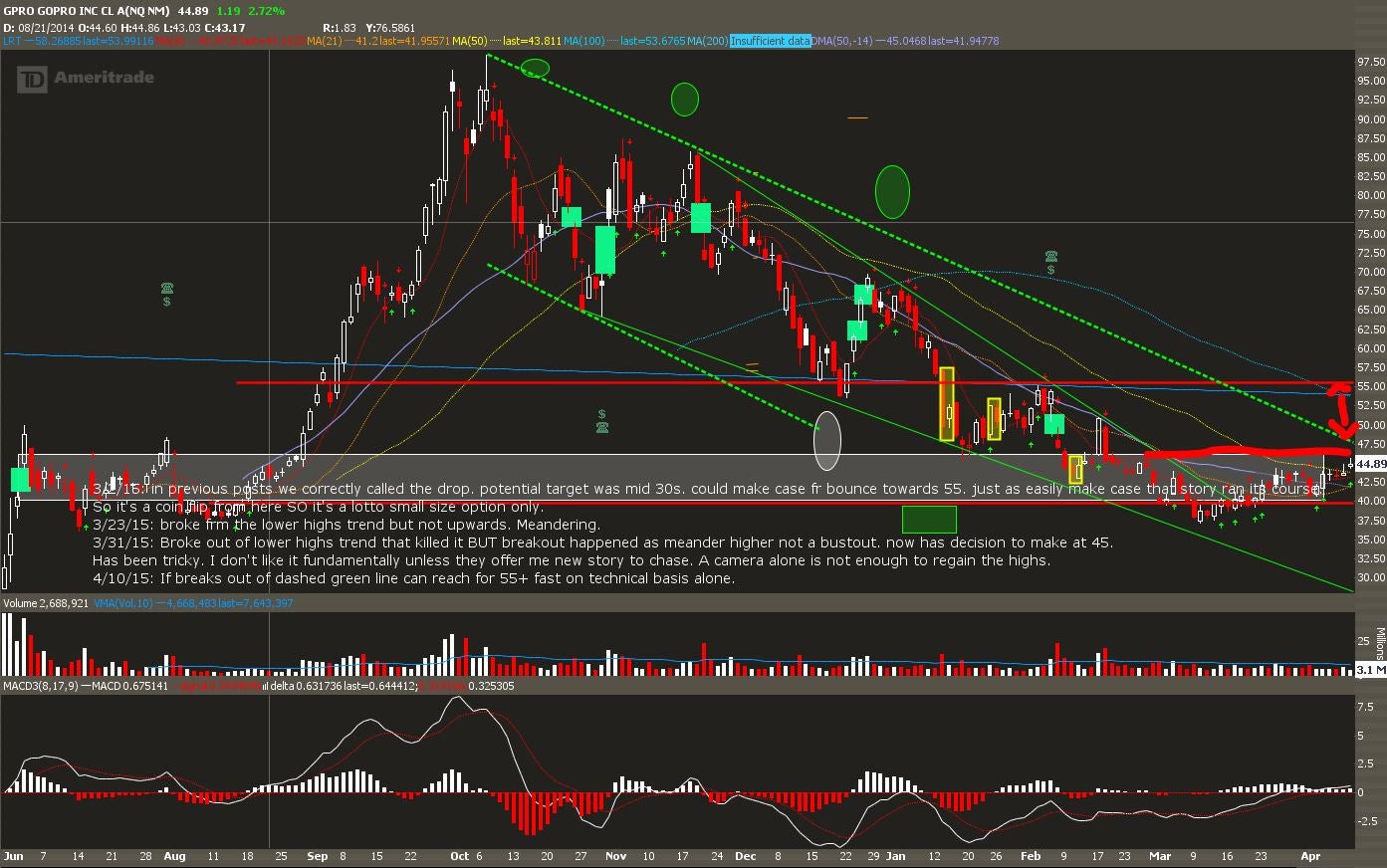 Tesla Motors Inc (NASDAQ: TSLA): Strong bounce last week on headlines and a short squeeze followed. There is a good chance that the squeeze has already run its course. This leaves the need for more headlines.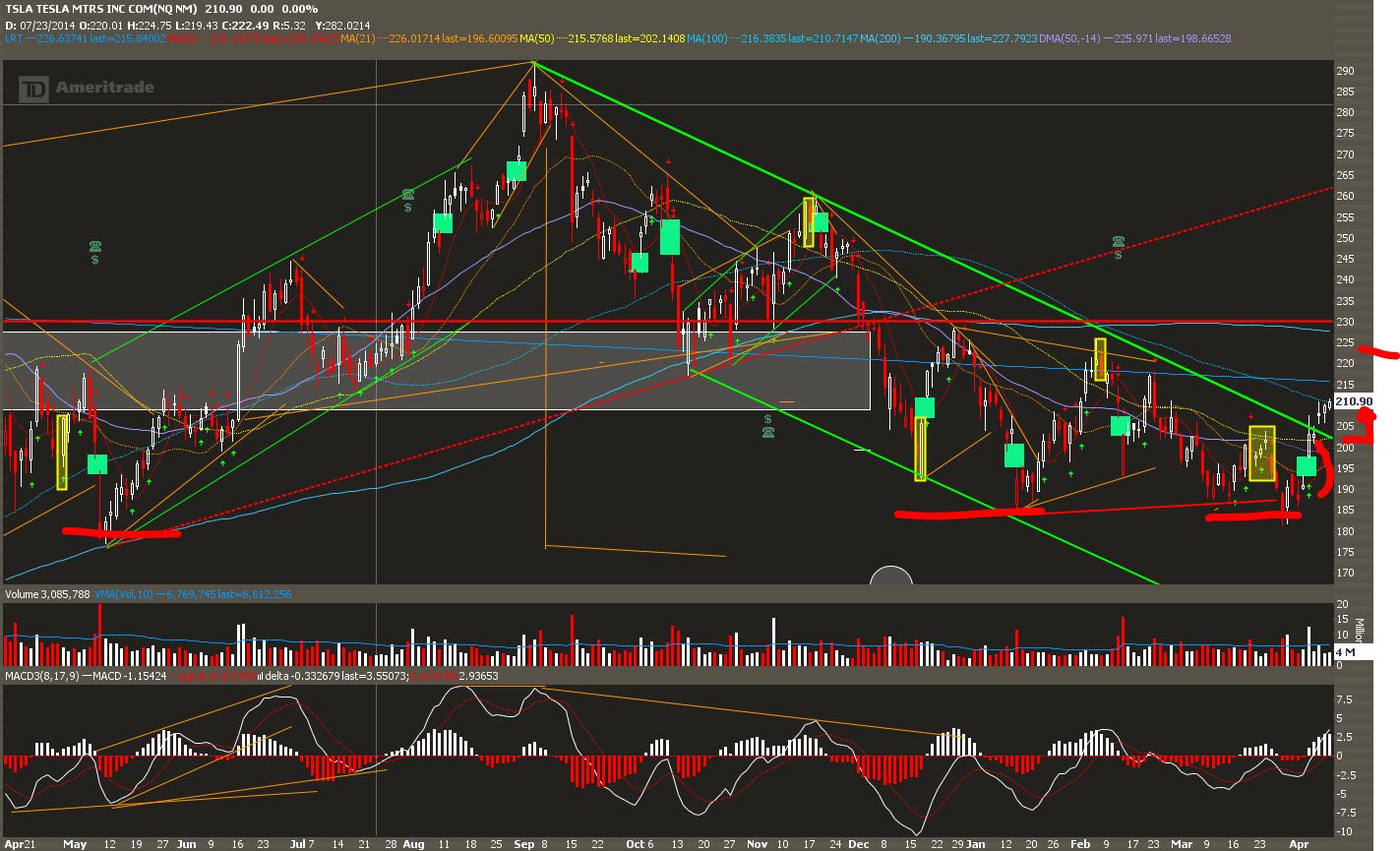 Check out the video below for a full recap of this week's options outlook:
Posted in: Previews Options Pre-Market Outlook Markets Trading Ideas Best of Benzinga