A Comprehensive Alibaba Earnings Preview In 8 Charts (And 1 Metric To Really Keep An Eye On)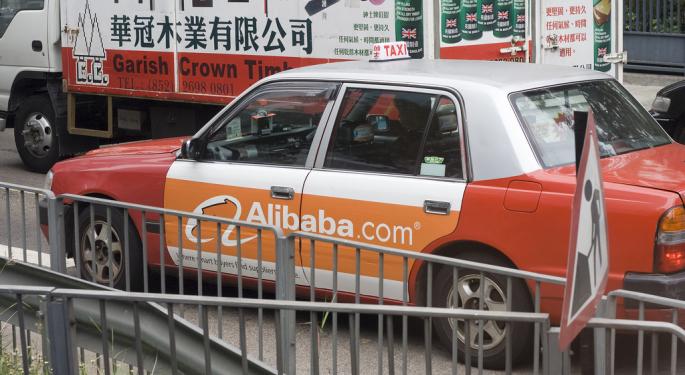 These graphs were produced by Capital Market Labs. Learn how the company is bringing the power of living data to the world of finance.
Alibaba Group Holding Ltd (NYSE: BABA) has earnings due out on Thursday, at the market open. Since going public, the stock is up 9 percent versus the S&P 500, which is up less than 2 percent.
There's a lot to focus on in this preview.
Let's start from 10,000 miles up, and look at all Internet retailing firms above $1 billion in market cap with cash from operations ($M TTM) on the y-axis and net income ($ TTM) on the x-axis.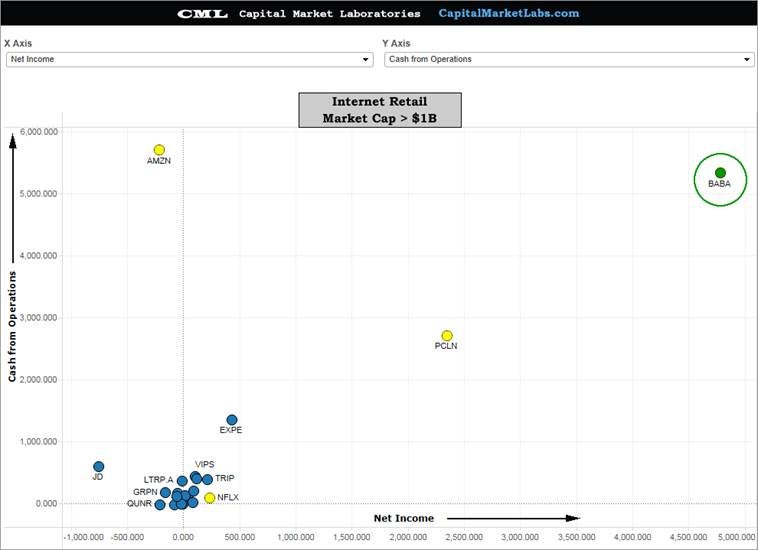 In terms of net income, Alibaba is on an island all by itself. In terms of cash from operations, Amazon.com, Inc. (NASDAQ: AMZN) actually has slightly higher values, but those differences are quite different, and if you believe it's earnings that matter, then in this case, Amazon does not.
Let's take this same peer group and this time, chart net income ($M TTM) on the x-axis and gross margin percent (TTM) on the y-axis.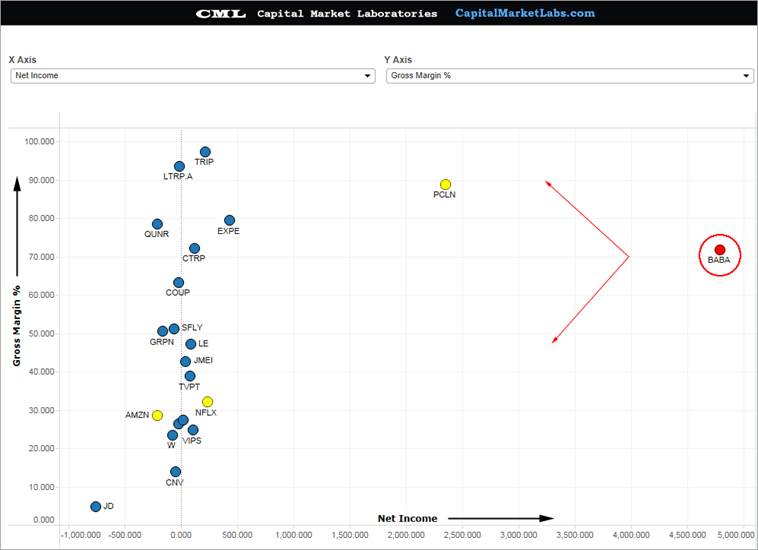 This is a powerful chart. It exposes how high Alibaba's gross margin percentage is...even as it has immense after-tax profits. This is a margin-driven business –- remember that.
Let's now focus myopically on Alibaba and plot total revenue ($M TTM) in the blue bars.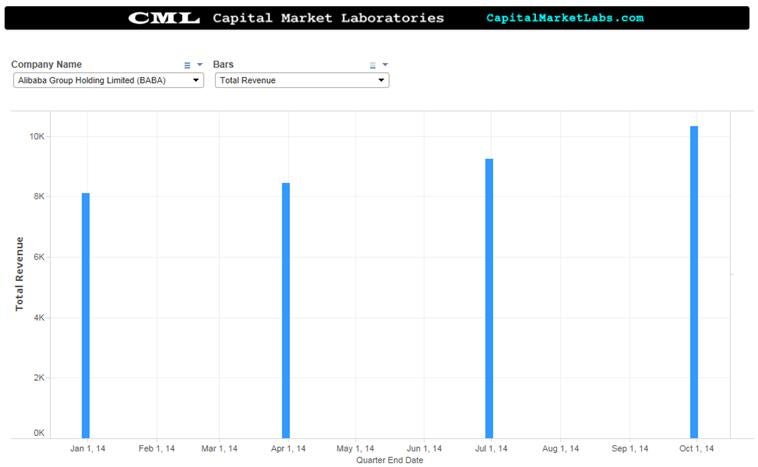 Alibaba has grown revenue from just over $8 billion (TTM) to now over $10 billion. That's large growth for a mega-cap, make no mistake.
Some context is necessary, though. Let's plot Alibaba and Amazon on the same chart, again focusing on revenue ($M TTM).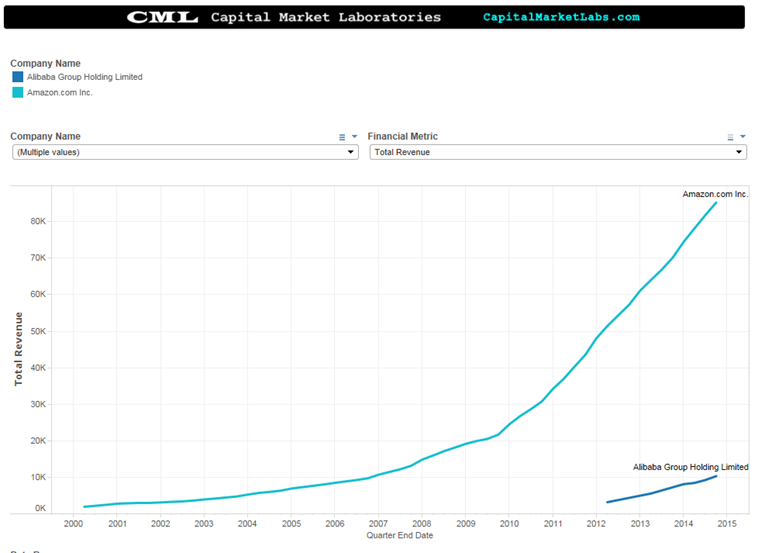 This isn't "good" or "bad," it's simply a bit of context. Amazon's revenue is nearly nine-times that of Alibaba.
Back to Alibaba, let's put net income ($M TTM) in the red line on top of that prior revenue chart.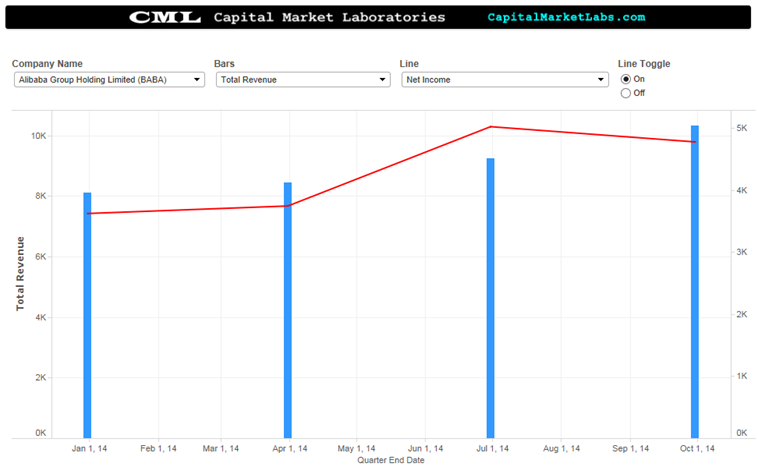 It's clear Alibaba has grown from ~$3.8 billion to now just under $5 billion in after-tax profits. Note the slow-down of late; it's hard to miss the flattening (and reduction) of the red line.
More on that in a second.
Let's now go back to a comparison between Alibaba and Amazon, this time for net income ($M TTM) in a time series.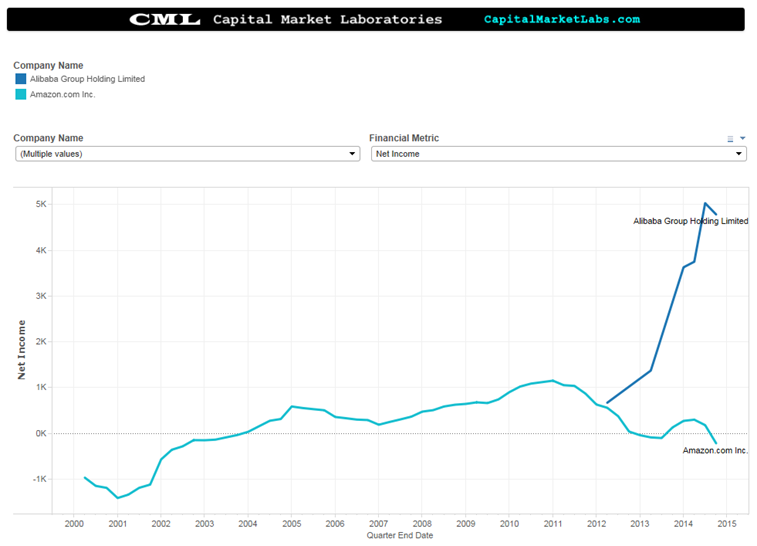 While the two companies differ pretty wildly in their mode of operations (and revenues), the bottom line is: Alibaba drives enormous after-tax profits, while Amazon simply…doesn't.
Next, let's turn to Alibaba and plot the firm's gross margin percentage in blue bars and research & development (R&D) per dollar of revenue (TTM) on the red line.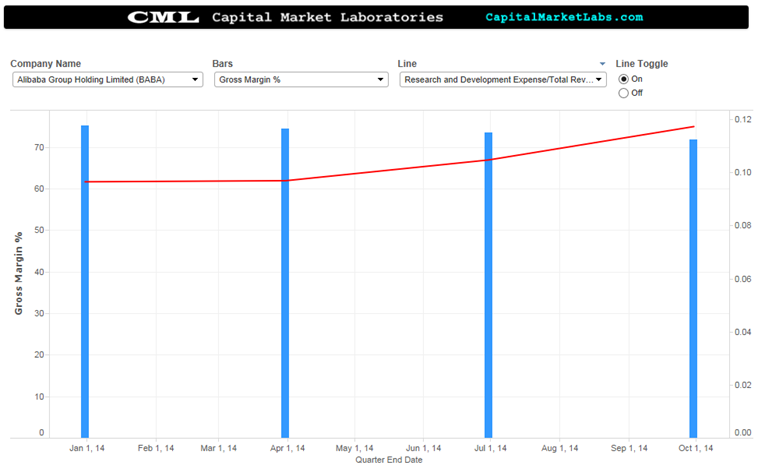 This is an interesting trend.
Alibaba's gross margin percent is decreasing, take note. At the same time, the firm is investing more in R&D both in nominal terms, and relative to revenue.
That's also worth noting. Investment in R&D, when it's controlled, can not only be good news, it might be life-saving news as the technological and competitive landscape changes. Alibaba is not falling asleep here.
In the final visual let's get down to the real focus of earnings, and plot operating expenses ($M TTM) in the blue bars and operating revenue per dollar of operating expense (TTM) on the red line.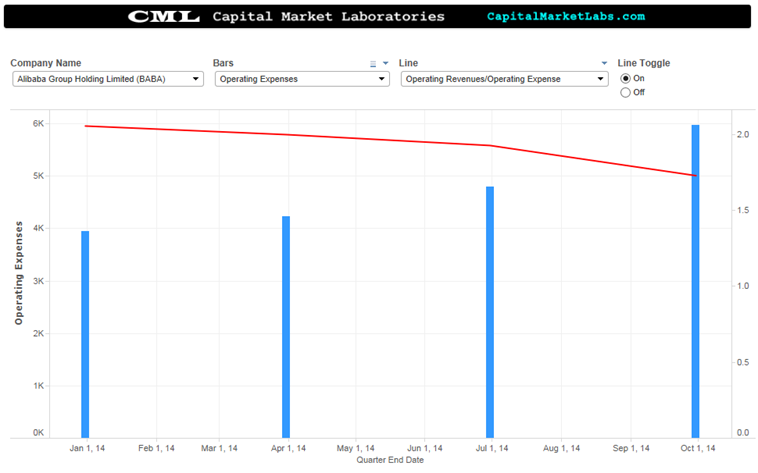 Take a second to understand this chart.
Alibaba's operating expenses are growing (blue bars), which is perfectly normal for a firm that is growing revenue and earnings. But, if one scales that rise in operating expense to revenue, it's clear the firm is becoming less efficient.
In plain English, the firm is spending more per dollar of revenue in expenses now than it was in the past, and the trend is pretty linear.
A ratio of 1.75 to 1 is still gigantic; please don't misunderstand the chart. But downward pressure on that margin, along with increasing R&D, decreasing gross margin percentage, and decreasing net income (TTM) is not a trivial trend.
This does matter. Alibaba does not exist in a vacuum and the competitive landscape is affecting it.
What To Watch For During Earnings
Revenue: Consensus is $4.46 billion. Any number above $4.9 billion would be absolutely huge. A number below $4 billion could spell a very bad day for the stock.
EPS: Consensus is for $0.75. Any number above $0.85 would also be huge…by a lot. A number below $0.39 could cause a sell-off, unless there were one-time items that the market decided were "OK."
What to really watch: See if Alibaba hits the EPS number by reducing R&D; that's not necessarily a good sign. Check gross margin percentage, another downtick would be hard to swallow.
Finally, check the operating revenue to operating expense numbers. Alibaba needs to stabilize or come clean about a changing mode of operation, and therefore, lower overall margins.
Ophir Gottlieb can be found on Twitter @OphirGottlieb
Image credit: JR, Flickr
Posted-In: Alibaba Alibaba earnings previewPreviews Tech Trading Ideas Best of Benzinga
View Comments and Join the Discussion!