Noncommittal Bulls, Lazy Bears: Options Outlook For The Week Of August 18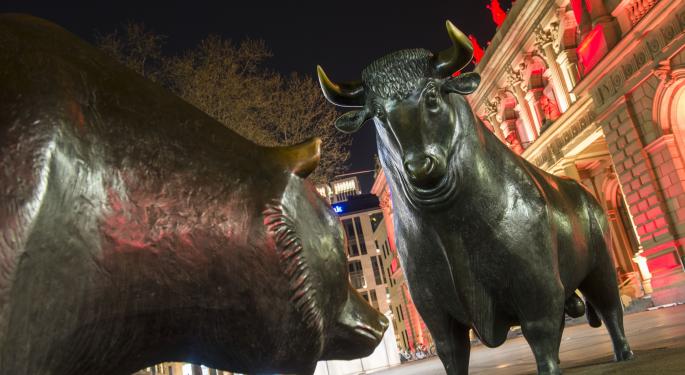 The strong open last Friday quickly faded to redness, with the Nasdaq holding strongest. Though a disappointment for the bulls, Friday capped a week that should comfort them -- traders peeked at a whoosh down and survived.
This Week's Outlook
The bulls hit the sell button as headlines of Ukraine destroying Russian convoys hit the wire. Understanding why allows traders to strategize this week.
The bullish view is that the attack was a temporary event and not one that changes the macro thesis. From this perspective, one should go long a few good tickers this week while hunting a few extended ones -- and there are plenty of those.
The bearish take on the drop is that the Ukraine event was merely a trigger to an underlying problem in the markets. Selling so fast following a trigger reveals a lack of conviction in the long market thesis. A strongly convicted bull would not be so quick to sell his or her position following one headline.
Related Link: Options Traders Still Need To Watch Geopolitical Risk
Coming into Monday's open without a new negative geopolitical headline should be positive markets. Chasing the opens can be painful, so letting the open wash out could turn out to be the right thing to do Monday morning.
Technically, the S&P is still trying to repair the broken rising wedge trend from a few weeks ago. The small caps are starting the next chop up leg of their seesaw trend of 2014. The Nasdaq is looking strongest, thanks to good reactions to earnings. The global thesis remains intact: Bulls want to run but are weak longs; bears are lazy and not pressing issue.
Note that the S&P is back to levels from which it broke down on July 31. The important part is that it appears to be breaking the downtrend that was going on before the crater on July 31. The NASDAQ, on the other hand, is close to recent highs. Left alone, they have some room to go.
Check out the video below for a full recap of this week's outlook:
Posted in: Previews Options Pre-Market Outlook Markets Trading Ideas Best of Benzinga