Nvidia Option Trader Bets $1.3M On Near-Term Upside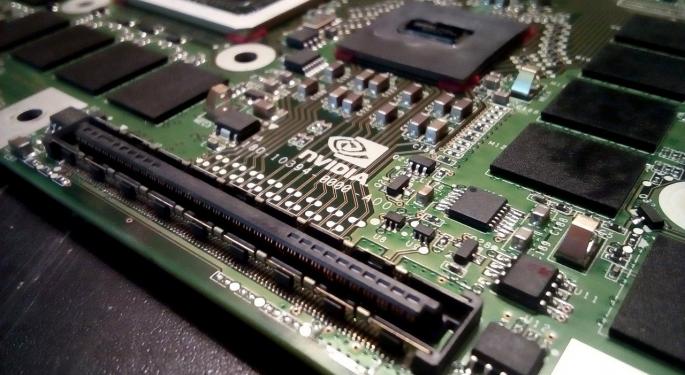 Shares of NVIDIA Corporation (NASDAQ: NVDA) traded slightly lower on Thursday, but the stock has been among the top performers in the market so far in 2020.
Despite concerns over the economic impact of a potential second wave of coronavirus infections, investors have been piling into Nvidia stock this year. Even with the stock up 55.7% year-to-date, one option trader made a big bet that there's more upside ahead in the next week.
The Nvidia Trades
On Thursday morning, Benzinga Pro subscribers received four option alerts related to unusually large Nvidia option trades:
At 9:30 a.m. ET, a trader bought 1,020 Nvidia call options with a $365 strike price expiring on Jun. 26. The contracts were purchased near the ask price at $13 and represented a $1.32 million bullish bet.
At 9:35 a.m. ET, a trade was executed for 300 Nvidia call options with a $370 strike price expiring on Friday. The trade was executed near the midpoint of the bid-ask spread at $4.55.
At 10:21 a.m. ET, a trader sold 346 Nvidia call options with a $380 strike price expiring on Friday. The contracts were sold at the bid price of 60 cents and represented a $20,760 bearish bet.
Less than a minute later, a trade was executed for 306 Nvidia call options with a $370 strike price expiring on Friday. The trade was executed near the midpoint of the bid-ask spread at $2.371.

Why It's Important
Even traders who stick exclusively to stocks often monitor option market activity closely for unusually large trades. Given the relative complexity of the options market, large options traders are typically considered to be more sophisticated than the average stock trader. Many of these large options traders are wealthy individuals or institutions who may have unique information or theses related to the underlying stock.
Unfortunately, stock traders often use the options market to hedge against their larger stock positions, and there's no surefire way to determine if an options trade is a standalone position or a hedge. In this case, given the relatively large size of the largest Nvidia option trade, there's certainly a possibility it could be a hedge on a large position in Nvidia stock.
Nvidia A Top Semiconductor Pick
The large call purchase comes the same day Bank of America analyst Vivek Arya reiterated Nvidia as one of his top semiconductor stock picks with secular growth potential due in part to its exposure to cloud computing. Arya said long-term investors shouldn't get too wrapped up in near-term cyclical semiconductor cycles.
"COVID-19 is an accelerant, and not a change-agent, for structural changes (movement to cloud, 5G adoption, telework, gaming, healthcare AI etc.) generally favoring growth semis," he wrote. Nvidia remains Bank of America's top large-cap semiconductor stock pick.
Earlier this week, a Bank of America gaming survey revealed that only 8% of PC gamers currently have GPUs capable of delivering performance on-par with the upcoming PlayStation and XBox console refreshes expected out in the second half of 2020. Analysts speculate the launch of the new consoles could trigger a major GPU upgrade cycle among PC gamers, creating a near-term boom in Nvidia demand.
At the same time, TechRadar reported Nvidia may also be working on an update for its lower-end GTX 1650 GPUs, which could pose an unexpected challenge to rival Advanced Micro Devices, Inc. (NASDAQ: AMD).
However, on Tuesday, Morgan Stanley downgraded Nvidia from Overweight to Equal-Weight and said there are better near-term opportunities for investors in semiconductor stocks more levered to a rebound in consumer spending.
Benzinga's Take
The nearly $1-million call purchase has a break-even price of $78, suggesting at least 3.2% upside over the next six trading sessions.
Given the extremely short-term nature of the trade, it's unlikely the trader is making a bet based on Nvidia's long-term fundamentals. Either the trader is anticipating a bullish catalyst to come sometime in the next week, or the trader is betting that the tech sector will gain some steam next week and Nvidia will lead the market higher.
Do you agree with this take? Email feedback@benzinga.com with your thoughts.
Related Links:
AIG Option Trader Bets $750K On More Downside Ahead
View Comments and Join the Discussion!
Posted-In: Long Ideas Options Markets Trading Ideas Best of Benzinga