Small-Caps, Small Fee With This ETF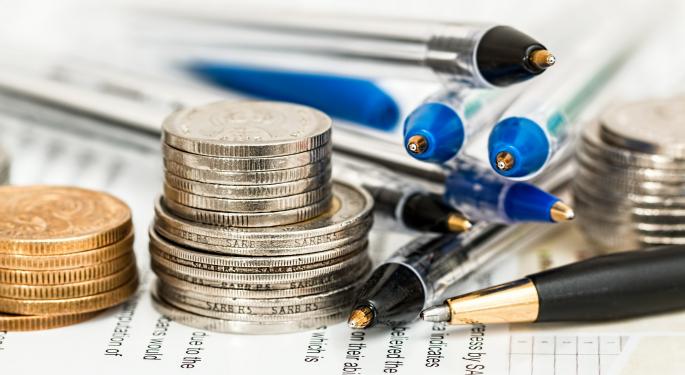 Investors love low-cost exchange traded funds. Fortunately, ETF fees are declining, giving frugal investors plenty of choices for accessing multiple asset classes. When it comes to cheap small-cap ETFs, the Schwab US Small-Cap ETF (NYSE: SCHA) is one of the cheapest.
With an annual expense ratio of 0.05 percent, or $5 on a $10,000 investment, the Schwab US Small-Cap ETF is slightly cheaper than the Vanguard Small-Cap ETF (NYSE: VB) and the iShares Core S&P Small-Cap ETF (NYSE: IJR).
SCHA tracks the Dow Jones U.S. Small-Cap Total Stock Market Index, a competitor to the widely followed Russell 2000 Index and the S&P SmallCap 600 Index. Last year, SCHA gained 14.9 percent, slightly beating the Russell 2000 while topping the S&P SmallCap 600 Index by 170 basis points.
Diversified And Efficient
"The fund offers well-diversified exposure to U.S. small-cap stocks by tracking the Dow Jones U.S. Small-Cap Total Stock Market Index," Morningstar in a note. "The index represents the bottom 15 percent of stocks by market cap in the total U.S. investable stock market. It holds about 1,750 stocks and extends further down the market-cap spectrum than its typical peer. But its average market cap is 20 percent larger than the Morningstar Category average's, likely because of a market-cap-weighting approach that pulls the portfolio toward the largest small-cap stocks."
Tilting toward larger small-caps can help reduce volatility. Last year, SCHA's annualized volatility was below that of the Russell 2000 Index and the S&P SmallCap 600 Index. Over the past three years, the Schwab fund's annualized volatility was also below the comparable metrics on those major small-cap benchmarks.
SCHA holds 1,747 stocks. The ETF allocates 17.7 percent to financial services stocks and almost 16 percent to the technology sector. The industrial and consumer discretionary sectors combine for 28 percent of SCHA's weight.
More Cost Savings
Investors looking to increase their savings with SCHA can access the ETF commission-free on the Schwab ETF OneSource platform. The fund features other cost efficiencies.
The fund has advantages that should reduce its transaction costs, which is important because smaller stocks tend to be more expensive to trade," said Morningstar. "First, it tracks a less popular index than peers, so there's less demand for liquidity when stocks are added or removed from the index. And its index applies buffer rules to mitigate unnecessary trades. These buffer rules, together with the fund's broad market-cap-weighting approach, have kept turnover well under the small-blend category average."
Related Links:
Investors Love This Commodities ETF
View Comments and Join the Discussion!
Posted-In: Charles SchwabLong Ideas News Broad U.S. Equity ETFs Small Cap Analysis Small Cap Trading Ideas ETFs Best of Benzinga