Is There A Bullish Opportunity In CarMax?
VantagePoint Trading Software is a forecasting tool that uses both end of day data and artificial intelligence to provide traders a forecast of market movement. These forecasts are 1-3 days in advance and help traders improve their timing on making trades and maximizing profit potential. The artificial intelligence software forecasts market movement for stocks, futures, Forex and ETFs.
This entry looks at CarMax, Inc (NYSE: KMX).
The VantagePoint Trading Journal On CarMax
The S&P 500 has had two down days in a row entering Wednesday. Using Artificial Intelligence forecasting software, we are continuing to look for value plays to the upside in strong sectors. Any overreaction is most likely an opportunity to the upside. Today, CarMax is in full focus. Here's the chart: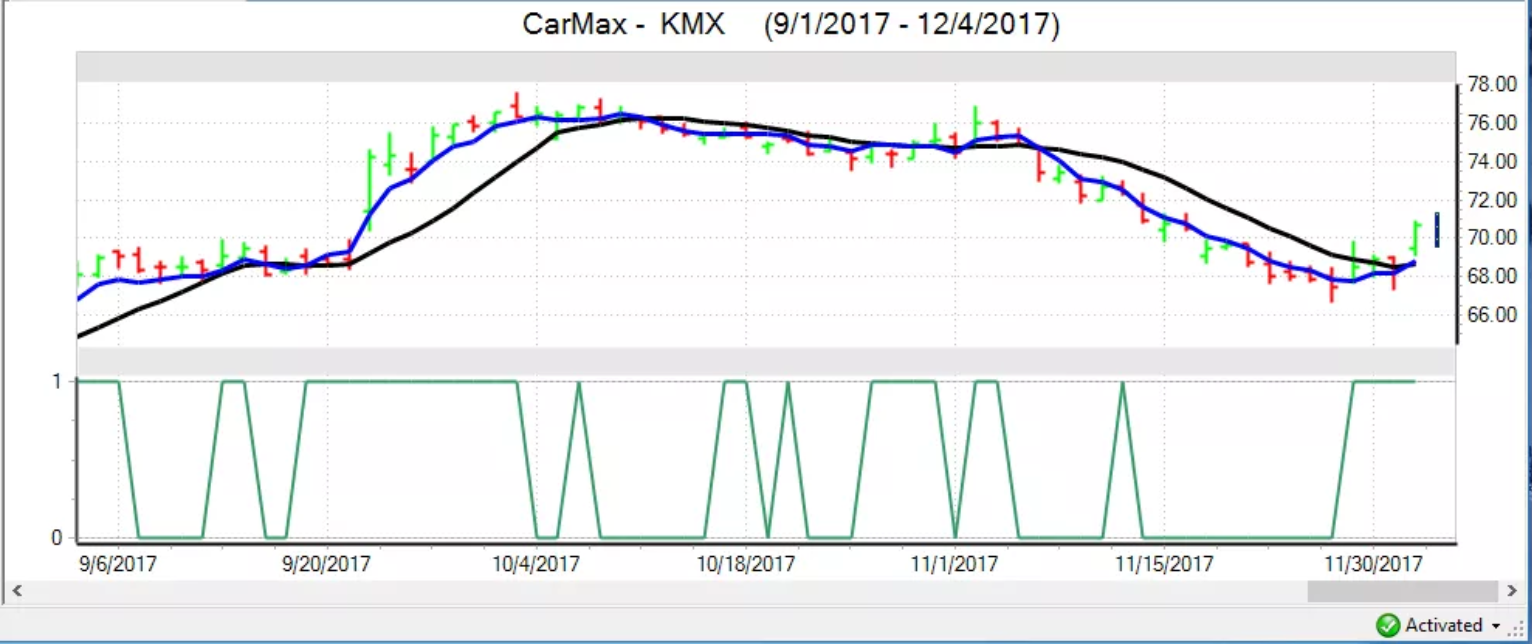 VantagePoint shows that CarMax could have formed a bullish crossover on Dec. 5.
Using the predictive indicators embedded within the VantagePoint platform and its predictive AI technology, we will point out two significant things:
We have a bullish crossover indicated by the blue predictive indicator line crossing above the black, simple 10-day moving average.
The VantagePoint propriety neural index indicator moving from the zero to one. This indicator measures strength and weakness for a 48-hour period. The move to one makes the case for a potential bullish scenario.
Potential Strategies
If you're bullish CarMax, the recent dip presents a buying opportunity for the stock outright. Or you could play it via options, such as with the purchase of a debit call spread.
The critical piece here is to identify a target price. We can determine a target price with three simple inputs. Those inputs are current price, time to expiration (expiration date), and at the money volatility for this time horizon. In this case, we will use a price of $70.71, an expiration of Dec. 15 and at the money volatility of 27.4 percent. This yields a target price of $73.55. We can consider the December 72/73.5 call vertical which is trading $0.50 presently. This spread has a maximum risk of $0.50 and a maximum reward of the width of the spread of $1.50 less any premium paid. In this case, that total is $1.00.
That gives us a reward to risk ratio of 2:1. Given the proximity of the spread to the money coupled with a short time to expiration (9 trading sessions), this risk/reward may be appropriate.
VantagePoint is an editorial partner of Benzinga
Posted-In: vantagepointLong Ideas Markets Trading Ideas
View Comments and Join the Discussion!