New ETF Focuses On China's Clean Environment Initiatives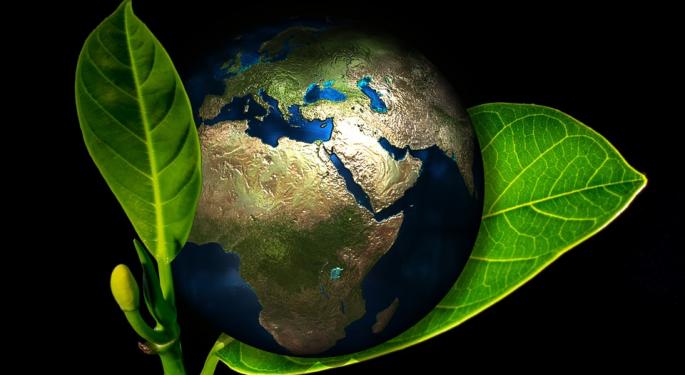 When it comes to the global environment, China often gets a bad rap. The country, the world's largest by population, is a major consumer and producer of scores of commodities that environmentally unfriendly to mine for and consume.
Then there are the constant quips about the air quality in China's major cities and the pictures of citizens there wearing surgical masks just to move around the city. All that considered, China is also a driving force when it comes to alternative, environmentally friendly energy sources. A new exchange-traded fund is looking to capitalize on China's dominant footprint in the alternative energy space.
The KraneShares MSCI China Environment ETF (NYSE: KGRN) debuted Friday. KGRN, the newest ETF from New York-based KraneShares, follows the he MSCI China IMI Environment 10/40 Index.
More About KGRN And The Index
KGRN's underlying benchmark "is comprised of securities that derive at least 50% of their revenues from environmentally beneficial products and services," according to KraneShares.
KGRN is home to 38 stocks. The new ETF's index "aims to serve as a benchmark for investors seeking exposure to Chinese companies that focus on contributing to a more environmentally sustainable economy by making efficient use of scarce natural resources or by mitigating the impact of environmental degradation. Constituent selection is based on data from MSCI Environment, Social, and Governance (ESG)," notes KraneShares.
KGRN can also serve as an interesting option for investors looking to gain exposure to China without focusing on large caps. The new ETF devotes barely more than 9 percent of its weight to large-cap companies with mid-caps accounting for 42.1 percent and small stocks representing 48.8 percent.
Sector Bets
KGRN features exposure to five sectors with utilities and real estate combining for almost 62 percent of the fund's weight. The industrial and technology sectors combine for over 30 percent while consumer discretionary is the ETF's smallest sector allocation at 8.3 percent.
"China is the world leader in total renewable energy capacity, at 28 percent of total global capacity," according to KraneShares. "China's goal is to spend $360 billion on renewable energy and achieve 50% commercial green building certification by 2020."
KGRN charges 0.79 percent annually, or $79 on a $10,000 investment.
Related Links:
Posted-In: Long Ideas News Sector ETFs Emerging Markets New ETFs Emerging Market ETFs Markets Trading Ideas Best of Benzinga
View Comments and Join the Discussion!