GeoInvesting's Storm Response Infrastructure Portfolio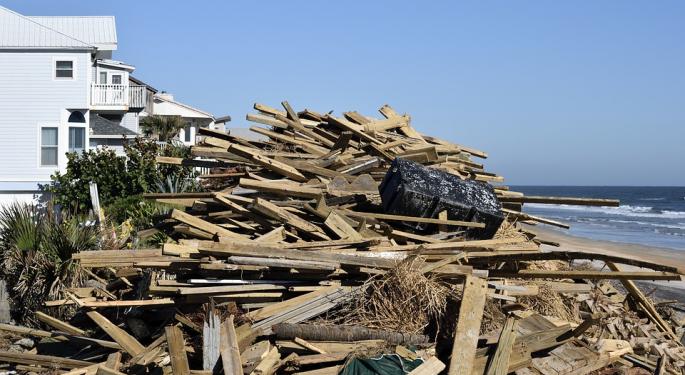 Disclosure: GeoInvesting is long in the mentioned stocks.
The South is still putting itself back together after a series of damaging storms. While traders have wrung out most of the short-term hurricane plays, there's at least one industry expected to yield continued gains.
"This is basically an infrastructure play," Maj Soueidan, co-founder of GeoInvesting, told Benzinga.
The sector has been in focus for the the last few years driven by positive spending trends, including a 2016 legislative measure for road and bridge repair. Storm damage will likely augment related revenues, Soueidan said.
So Who Exactly?
GeoInvesting has placed its faith in construction, building supply, remodeling and electric infrastructure.
In Florida, there's electric company Goldfield Corp (NYSE: GV) and building materials firm PGT Innovations Inc (NYSE: PGTI). In Texas, there's Sterling Construction Company, Inc. (NASDAQ: STRL) and Builders FirstSource, Inc. (NASDAQ: BLDR). BlueLinx Holdings Inc. (NYSE: BXC) and Huttig Building Products Inc (NASDAQ: HBP) are regionally involved in building supply materials.
"All these guys have some type of decent prospects of growth," Soueidan said. "If they were overvalued in the opportunity now, they might become undervalued because of revenue and profits they can get here."
The Bigger Picture
Domestic micro-cap firms, in general, could see a big boost in the opportunity to rebuild their home regions.
"It starts with these [infrastructure] companies and then it goes over to the appliance companies," he said. "It keeps going and going."
Nick Donato contributed reporting.
Related Link: As Hurricanes Blow Over, What Could Oil And Gasoline Prices Do Next?
Posted-In: Long Ideas News Short Sellers Commodities Events Exclusives Markets Tech Best of Benzinga
View Comments and Join the Discussion!