Trump's Border Wall: A Look At The Numbers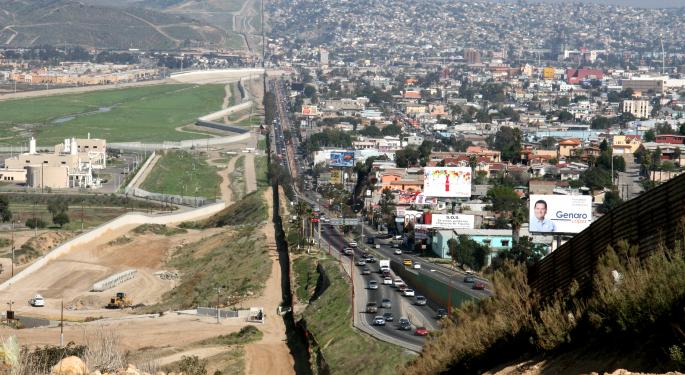 There are plenty of things for Americans who disapprove of President Donald Trump to criticize. So far, inaction is not one of them.
In his first week in office, Trump has already taken measures to follow up on several key campaign promises. On Wednesday, he is expected meet with the Department of Homeland Security to discuss the logistics of building a concrete wall along the U.S. border with Mexico.
Discussion of the border wall typically triggered some of the loudest cheers during Trump's stump speeches throughout the campaign season. Critics have blasted Trump's border wall plan as economically infeasible, but Trump has insisted that Mexico will pay for the construction of the wall.
The Cost
Statista recently put together the graphic below outlining the economics of the proposed wall. The latest version of Trump's vision includes a 1,000-mile-long, 40-foot-high wall that will stretch more than half the total length of the U.S./Mexico border.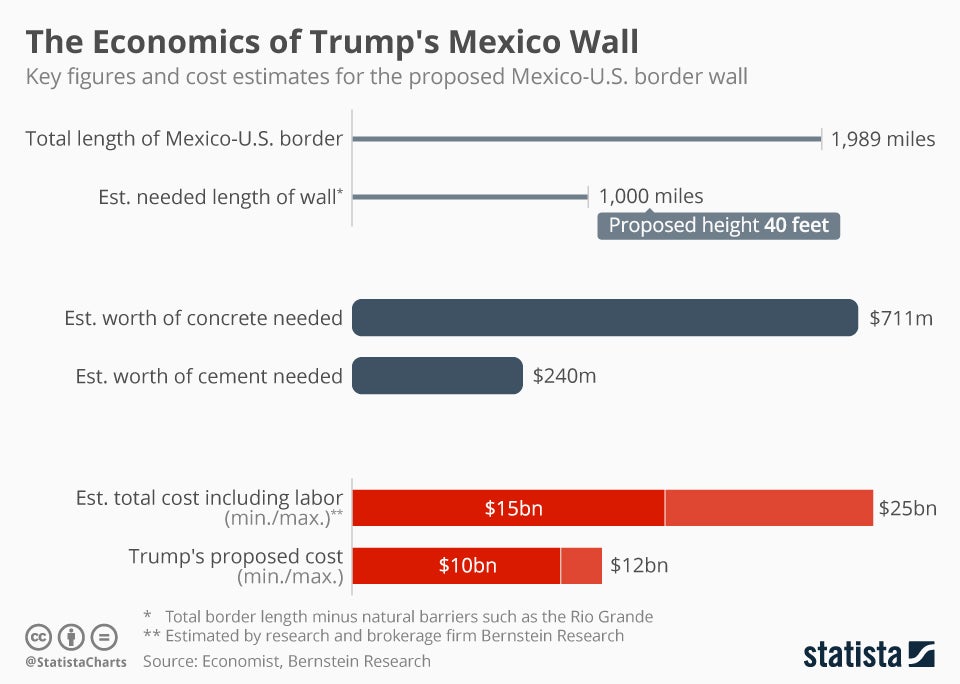 The border wall will require an estimated $711 million of concrete and $240 million of cement. However, those materials costs pale in comparison to the estimated labor costs of building the wall. Trump has said the wall would cost an estimated $10 billion–12 billion, but Bernstein Research pegs the actual number in the $15 billion–25 billion range.
Shares of materials stocks, particularly those in the concrete segment, are up on Wednesday ahead of Trump's anticipated announcement. Vulcan Materials Company (NYSE: VMC) is up 1.5 percent, Martin Marietta Materials, Inc. (NYSE: MLM) is up 2.9 percent, China Advanced Constructn Mtrls Grp Inc (NASDAQ: CADC) is up 4.0 percent and US Concrete Inc (NASDAQ: USCR) is up 3.3 percent.
Developing Story
Despite no tangible plans for repayment, as explained by Press Sec. Sean Spicer in Wednesday's press briefing, Trump stated in his first one-on-one interview with ABC News that Mexico will "absolutely" and "100 percent" pay for the wall.
Update: In a White House breaking news release at 1:37 p.m. EST, Spicer announced Trump's order of construction of the wall.
Image Credit: Mexico, US Border, By Sgt. 1st Class Gordon Hyde (http://www.ngb.army.mil) [Public domain], via Wikimedia Commons
View Comments and Join the Discussion!
Posted-In: Long Ideas News Emerging Markets Politics Events Global Markets Trading Ideas Best of Benzinga