Breaking With Tradition Works With This Bond ETF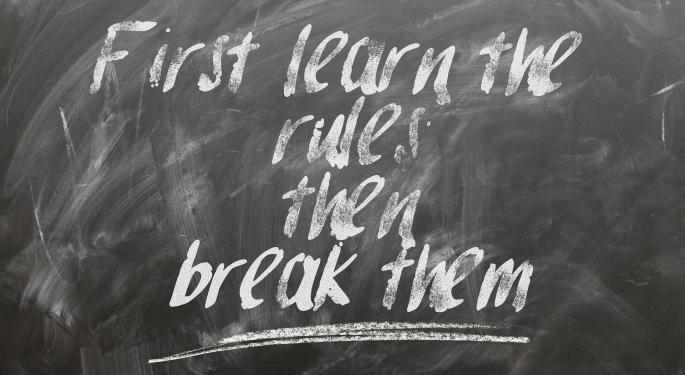 Traditional aggregate bond exchange traded and index funds often track the well-known Barclays U.S. Aggregate Bond Index.
That does not mean the Barclays U.S. Aggregate Bond Index cannot be improved upon with some adjustments. In an effort to meet investors' desire for increased income and yield without adding significant credit risk to the equation, some ETF issuers are reconfiguring the Barclays U.S. Aggregate Bond Index, or the "Agg" as it is also known.
Building On What Works
The WisdomTree Trust WisdomTree Barclays U.S. Aggregate Bond Enhanced Yield Fund (NYSE: AGGY) is an example of an ETF that uses some notable tweaks to deliver an alternative, perhaps a superior one, to traditional Barclays U.S. Aggregate Bond Index exposure. The $114.5 million AGGY follows the Bloomberg Barclays U.S. Aggregate Enhanced Yield Index.
AGGY attempts to beat the Agg by re-weighting that benchmark's holdings, meaning the WisdomTree offering is far from being another standard Agg-tracking fund.
Specific Enhancements
AGGY "divides the benchmark into 20 subcomponents based on maturity (short, medium, and long term), credit quality, and sector (government, corporate, and securitized). Each month it reweights the subcomponents to maximize yield, subject to a few constraints," said Morningstar in a recent note.
AGGY does deliver superior yield relative to standard diversified bond indexes, indicating there is compensation for the increased interest rate risk.
"Since our portfolio is in higher-yielding investment-grade (IG) bonds, the additional income we earn on these investments partially offsets the losses we incurred from assuming more interest rate risk," noted WisdomTree. "In fact, as of November 10, 2016, by assuming more credit and interest rate risk at the margin, the enhanced yield strategy had an income advantage over the Agg of 58 bps. All else being equal, the Agg would need to outperform by 55 bps per year to narrow this performance gap."
Does It Work?
Since coming to market in July 2015, AGGY has outperformed the traditional Agg. AGGY has an effective duration of 6.64 years and an embedded income yield of 2.87 percent, according to issuer data.
AGGY's tilt toward credit could serve investors well in the current fixed income environment.
"With economic growth still expanding, we believe that investors should continue to be over-weight in credit in their bond portfolios," said WisdomTree. "While credit is less 'cheap' than it was to start the year, we don't currently see many catalysts for why we should see a rapid deterioration in the markets' pricing of risk. Absent increased fears of recession, a marked deterioration in the health of IG corporations or an unknowable exogenous shock, we believe that an enhanced Agg strategy is worth the additional 0.20 percent uptick in volatility compared with the Agg."
Posted-In: Barclays U.S. Aggregate Bond IndexLong Ideas Bonds Specialty ETFs Top Stories Markets Trading Ideas ETFs Best of Benzinga
View Comments and Join the Discussion!