The Hottest Commodity On The Market Isn't Gold, It's Water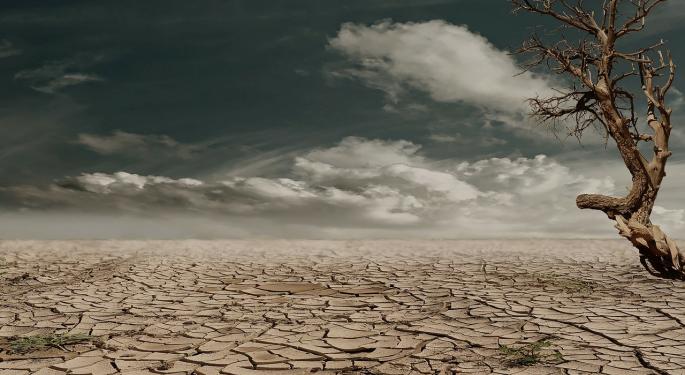 The near decade-long dry spell that has plagued much of California is not over. But even if it were, there are still plenty of investing opportunities for companies in the water business.
Trading gold and oil are two of the most popular commodities, but is investing in water going to be the next big thing in the markets? Some investors believe it is. Zacks Equity Research recently highlighted how investment in water is often overlooked despite it being something we must have to survive.
"Water stocks have long been underrated in the investment world, since the basic necessity of life is most often taken for granted. We certainly cannot imagine a world without technology, but can we even survive in a world without fresh water? In the wake of drought conditions in California and other states this year, people can no longer be oblivious of the situation." – Zacks Equity Research.
If you are looking to profit from some of the many businesses who benefit from drought and other water shortages, there are a number of ways to do it, with ETFs and stocks being two of the most common.
Who are the Water ETF Players?
For those who like ETF's, you are in luck. The two dominant players in the water space are the Guggenheim S&P Global Water ETF (AMEX:CGW) and PowerShares Global Water Portfolio (AMEX:PIO). According to Bloomberg, water ETFs are smart investments as they are fairly easy to understand compared to other commodities.
Guggenheim is up nearly 20% since August 2015 and approximately 65% over the last five years. PowerShares has fared slightly less than its counterpart, going 8% and 42% over the same periods. Two other players who are trying to vie for the top water-related investment fund are First Trust ISE Water Index Fund ETF (AMEX:FIW) and PowerShares Water Resource PORT ETF (AMEX:PHO).
Each ETF is slightly different, but they all focus on companies that help with water scarcity. When it comes to stocks, there is another level of research that must be done.
A Few Water Stocks to Consider
Investing in a water-based stock is not as easy as an ETF. You must do your research to find out where each one makes its revenue. Some will profit from products that help with water management while others make revenue from supplying the commodity in its purest form.
Returns for water stocks have varied significantly over the last year but here are a few on the top of my list. Note that I do not currently own any position in these companies.
California Water Service Group Holding (NYSE:CWT) – Up nearly 50% over the last year, CWT services have close to 500,000 customers in various cities in California. As a public service provider, it has the luxury of asking for rate increases from the government entities it serves. California is also one of the hardest hit states in the last decade when it comes to droughts, which means the company is unlikely to go anywhere soon unless it gets bought out by a competitor.
American Water Works (NYSE:AWK) – American Water Works is another water utility that supplies municipalities with water. One positive thing about AWK is that it's the largest investor-owned U.S. water stock, operating in over half of the states in the U.S. Their footprint gives them a little more diversity than CWT which hangs its hat on California weather and regulation.
Consolidated Water Co. Ltd. (NASDAQ:CWCO) – Consolidated Water is a desalination company that operates primarily in the Caribbean. I like CWCO, as it has some of the most extensive experience in building and operating reverse osmosis plants, something that many municipalities in the United States will be considering if drought conditions continue.
Lockheed Martin Corporation (NYSE:LMT) – Lockheed has stated it has developed similar technology to CWCO. It would also be more likely to win government contracts with its foothold in the United States compared to CWCO.
Posted-In: Long Ideas Commodities Opinion Markets Trading Ideas
View Comments and Join the Discussion!