How Brexit Could Be An Unlikely Gift To European Retailers Like Burberry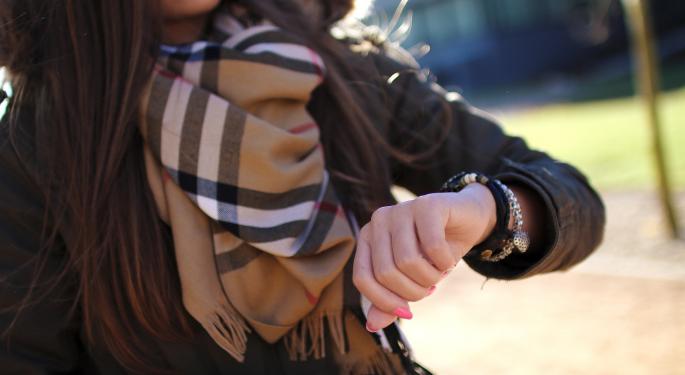 Burberry Group (BURBERRY GROUP UNSP ADR EACH REP 2 ORD (OTC: BURBY)) would be a beneficiary following the Brexit, according to Yahoo! Inc. (NASDAQ: YHOO)'s Yahoo! Finance writer Daniel Roberts.
Roberts, citing a note from RBC Europe, said, "[W]hile Brexit is 'a negative for the sector overall,' it is merely 'mixed" for Burberry Group.'"
"The real beneficiary of a weakening GBP should be Burberry," Roberts said, quoting analyst Rogerio Fujimori.
"Currency fluctuations tend to shift travel flows and luxury purchases around the globe: A weakening GBP may shift overseas tourist flows to the UK, which would benefit Burberry Group."
Roberts said Burberry's "higher costs may be offset by American tourists buying up Burberry threads in England," as it sees about 14 percent of its revenue in pounds, 15 percent of its cost of goods sold (COGS, in retail parlance), and 40 percent of its operational expenses.
Related Link: Baird's Stock Picks In Footwear And Fitness Amid Brexit Fallout
Luca Solca, luxury goods analyst at Exane BNP Paribas, explained to Business of Fashion that British brands that do a lot of business outside of Britain, could actually thrive post-Brexit: "If their costs are largely in pounds, but their revenues are in euros or dollars, the euros and dollars they would get from abroad would buy a larger amount of pounds."
It helps that Burberry, which had 2.5 billion in revenue last year (in pounds), is not just the U.K.'s largest luxury brand but by far its best-known luxury brand.
At time of writing, ADRs of Burberry Group were down 7.42 percent on the day at $13.98 USD.
Posted-In: Business of Fashion Daniel Roberts Exane BNP ParibasLong Ideas Eurozone Markets Media Trading Ideas Best of Benzinga
View Comments and Join the Discussion!