This Mining Company Has No Interest In Gold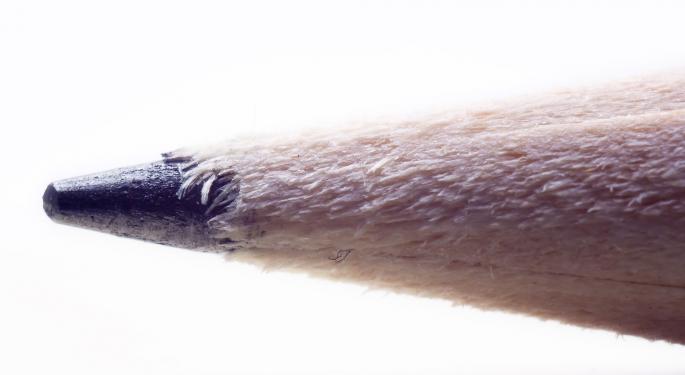 Mark Thompson runs Talga Resources Ltd. (ASX: TLG) (OTC: TLGRF), an Australian-based gold miner that is no longer interested in the coveted commodity. Instead, the company is now focusing on graphite — the exact same material used in pencils.
What Is Graphene?
According to Bloomberg, graphite can actually be converted into a material called graphene, which is not only stronger than steel but conducts electricity more efficiently than copper. It is also lightweight and flexible and a key component in batteries.
Turning Bullish
Thompson turned uber-bullish on graphene's prospects in 2011 when he examined the material and realized that the biggest component in lithium batteries is the graphite coating wires and anodes.
Related Link: Tanker Rates Down This Week: Here's Why
"After seeing the supply chain for batteries and the growth in electric vehicles, we knew we wanted to get into graphite," Bloomberg quoted Thompson as saying.
As such, his quest to mine the material has begun. He even discovered a seam of graphite in Sweden and acquired the mining rights from a Canadian company that was looking for copper and gold in the region. In fact, the graphite is so concentrated that Thompson's company can slice the material into blocks that are cheaper and easier to process when compared to low-cost producers in China.
Catalysts And Headwinds
"The biggest blockers of the graphene sector have been the cost of production and the lack of volume," said Simon Moores, managing director at Benchmark Mineral Intelligence, an industry researcher based in London. "The industry can't really get true volume consistently into the market, and this is a major problem for large purchasers."
Thompson hopes to solve this "major problem" and earn a lucrative profit while doing so. He estimates that his company can produce the material for approximately $352 a ton — a far cry from the estimated shipping cost of at least $30,000 a ton for the material.
The company is investing approximately $22 million in its Swedish mine and processing plant ahead of an expected surge in demand. Currently, lithium-ion batters consume around 80,000 tons of graphite a year and is expected to spike to 250,000 tons in 2020.
View Comments and Join the Discussion!
Posted-In: Batteries Benchmark Mineral IntelligenceLong Ideas Commodities Top Stories Markets Media Trading Ideas Best of Benzinga