Whoa Canada: A Potential Problem For Canada ETFs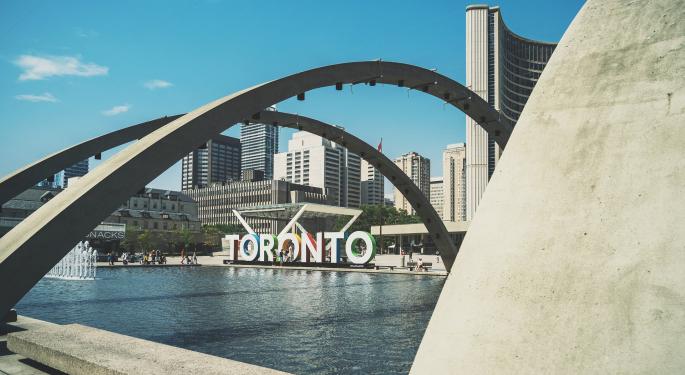 Thank rising oil prices for blowing away the notion, at least on a near-term basis, that Canadian and U.S. stocks are tightly correlated. Year-to-date, the iShares MSCI Canada Index (ETF) (NYSE: EWC) is up 12.7 percent, which is better than quadruple the returns of the S&P 500.
Indeed, the $2.75 billion EWC is sufficiently levered to the rebounding energy and materials trades. Those sectors are the second- and third-largest in EWC, combining for 32 percent of the ETF's weight. However, EWC and broader Canadian indexes could face some pressure courtesy of the country's financial services sector.
Related Link: Social Media Buzz About Canada Wildfires Could Spell Bad News
There are concerns about Canadian consumer credit as well as what is in store for the country's insurance providers following the recent Alberta fires. Additionally, Canadian banks are major lenders to oil producers there, exposing these firms to the whims of that commodity. The good news is that issue is viewed as manageable.
It's Not All Bad News
"Funded direct exposure to energy lending has been manageable, accounting on average for 2.3 percent of total loans and 33 percent total tier common equity tier 1 (CET1). Canadian bank exposures seem relatively higher as a percentage of CET1 compared to U.S. banks. Notably, banks have a sizable exposure to oil field services, which tend to have higher loss content than traditional energy and power companies. For Canadian banks, Fitch expects downward credit migration to impact earnings but not necessarily capital although risk weighted averages (RWAs) could increase," said Fitch Ratings in a recent note.
Canadian banks are, generally speaking, solid. During the global financial crisis, the country's largest banks – most of which also trade in New York, were beacons of stability and dividend growth at a time when U.S. banks were on the brink and slashing payouts.
Pay Attention To Possible Headwinds
However, potential headwinds for Canadian banks cannot be ignored, particularly by investors mulling a stake in EWC. The ETF devotes 41.3 percent of its weight to financial services stocks, nearly double its weight to energy names, and six of the funds top 10 holdings are banks or asset managers.
"Alberta and other oil provinces are showing signs of stress. In March 2016, Alberta's unemployment rate jumped to 7.1 percent (in line with the national average) compared to 5.9 percent in March 2015. For Canadian banks, exposure to Alberta and oil provinces on average has been 15 percent of Canadian loans. However, excluding insured mortgages, the figure declines to an average of about 8 percent," added Fitch.
View Comments and Join the Discussion!
Posted-In: Long Ideas Short Ideas Specialty ETFs Commodities Top Stories Markets Trading Ideas ETFs Best of Benzinga