Capitalizing On CapEx With This ETF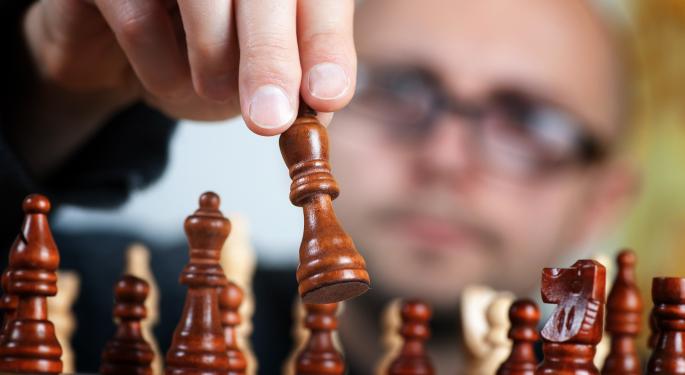 There are a myriad of ways big companies can spend large stockpiles of cash. There are shareholder favorites such as dividends and share repurchases. Acquisitions are old standbys, too. Or, much to Uncle Sam's chagrin, a company can keep large sums of cash (we're looking at you, technology sector) overseas to avoid paying what it perceives to be less-than-favorable U.S. taxes.
Some professional investors argue that the best use of a company's cash is to reinvest it back into the business. There is an exchange-traded fund for that: the Elkhorn S&P 500 Capital Expenditures Portfolio (NASDAQ: CAPX).
CAPX And The Efficiency Factor
CAPX debuted last year. The ETF follows the S&P 500 Capex Efficiency Index, a benchmark that ranks 100 S&P 500 member firms based on capital expenditure efficiency.
Related Link: Don't Ditch Defensive ETFs In Q2
"Efficiency of capital expenditures is measured through capital expenditures that have resulted in increased sales. Capital expenditures, which are a form of investment, are one of the ways in which a company's management can provide return on capital to investors," according to S&P Dow Jones Indices.
While CAPX may appear to be an ETF that addresses a niche concept, opening it to criticism from the ETF peanut gallery, consider this: There are more narrowly focused ETFs on the market and several funds dedicated to share repurchases. More importantly, over the past 90 days, CAPX has topped the S&P 500 by nearly 200 basis points.
Delving Deeper Into CAPX
None of CAPX's holdings command weights of more than 1.6 percent, but what may surprise investors is that the ETF's top three holdings hail from the energy sector and that sector accounts for 9.1 percent of the CAPX roster. Going back to last year, energy has been home to the most negative dividend actions in the S&P 500, suspended buybacks and severely reduced capital spending plans. Then again, those actions can be viewed as "capital efficient," explaining energy's status as CAPX's fifth-largest sector weight.
Financial services names account for nearly 22 percent of CAPX, its largest sector weight, followed by technology at 18.5 percent and healthcare at 17.9 percent. CAPX devoting its top two sector weights to financials and tech names is notable not because the S&P 500 does the same (tech followed by financials there), but because those sectors have been home to significant dividend growth in recent years.
Additionally, technology and consumer discretionary, CAPX's fourth-largest sector weight, have been the biggest drivers of the S&P 500 buyback binge over the past few years. Bottom line: Dividends and buybacks are not always "capital inefficient" as evidenced by CAPX's lineup.
Posted-In: S&P 500 Capex Efficiency IndexLong Ideas Broad U.S. Equity ETFs Specialty ETFs Top Stories Markets Trading Ideas ETFs
View Comments and Join the Discussion!