Castles In The SKYY: What's Up With The Cloud Computing ETF?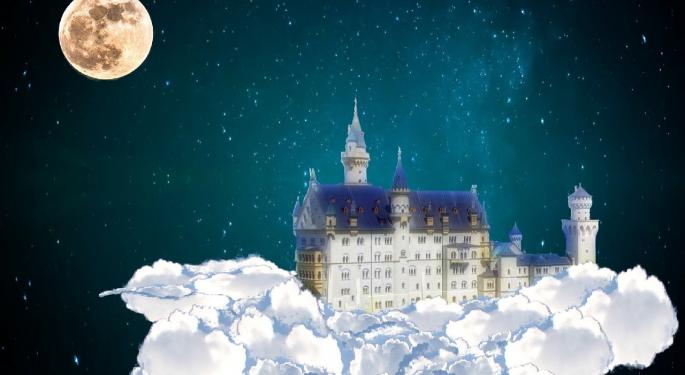 In the eyes of some so-called experts, the First Trust ISE Cloud Computing Index Fund (First Trust Exchange-Traded Fund II (NASDAQ: SKYY)) is the epitome of a niche exchange-traded fund. Niche or not, SKYY, the lone ETF dedicated to the cloud computing industry, is somewhat reflective of that industry's growth.
SKYY celebrates its fifth anniversary in July and currently has $517.2 million in assets under management. That is not too shabby for an ETF that some saw as having a potentially limited lifespan when it came to market in 2011.
SKYY, Cloud Computing And Tech
While SKYY's viability has been confirmed, the ETF is not delivering for investors this year. SKYY is down about 3.2 percent, lagging the Nasdaq Composite by 50 basis points. Making the cloud computing ETF's laggard status all the more glaring is that the Technology SPDR(ETF) (NYSE: XLK) is up almost 3 percent.
The rise of cloud computing is fueling industry consolidation as well as some pain for some of the remaining, smaller players in the group.
Related Link: Morgan Stanley: Shallower Cloud Transition May Leave Oracle As Legacy IT Vendor In New Cloud World

"Increased consumption of streaming services by end users, mean less sales for hard drive (HDD) manufacturers. Additionally, major clients are collaboratively driving the costs of their storage down, themselves. HDD manufacturing has already gone through intense consolidation with a graveyard of 'defunct' companies disappearing through bankruptcy and M&A. Short sellers are bracing for more pain in the sector given that all three of the remaining players have seen short interest spike in recent months," according to a Markit note.
Holdings
SKYY's 34 holdings have a median market value of nearly $24 billion, so this not an ETF dominated by small, weak cloud players. Rather, SKYY's 2016 struggles can partially be pinned on the FANG quartet. In order, Facebook Inc (NASDAQ: FB), Alphabet Inc (NASDAQ: GOOGL) (NASDAQ: GOOG), Amazon.com, Inc. (NASDAQ: AMZN) and Netflix, Inc. (NASDAQ: NFLX) combine for 15.3 percent of SKYY's weight.
Short Interest
Markit pointed out that short interest is rising in some names that are either cloud companies or those being adversely affected by the move to the cloud. However, only Rackspace Hosting, Inc. (NYSE: RAX) is among the SKYY holdings mentioned by the research firm.

"The major players in cloud services and storage have not only impacted the HDD makers but have squeezed smaller 'pure play' cloud businesses. Rackspace, driven by increased competition and pricing, pivoted their strategy and is now a partner to Microsoft and Amazon providing managed services using the companies' respective cloud infrastructure platforms. The company's shares have shed 57 percent in the past 12 months with short interest rising to above 5 percent of shares outstanding on loan," added Markit.

Image Credit; Public Domain
Posted-In: Long Ideas Sector ETFs Short Sellers Short Ideas Top Stories Markets Tech Trading Ideas
View Comments and Join the Discussion!