The Customer Relations Side Of Verint Solutions - Finding Back Office Solutions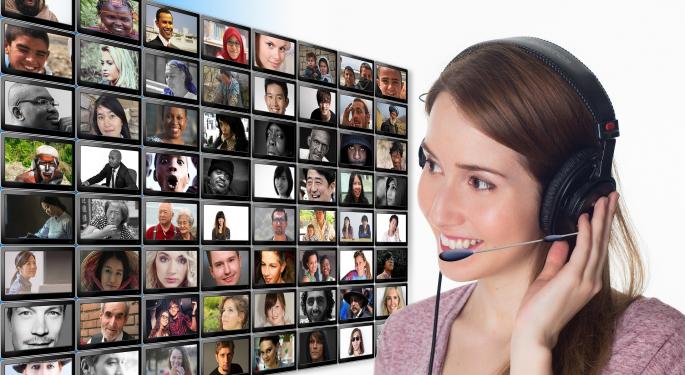 Whether it's a bank customer upset because they haven't heard about a loan they applied for or a CEO concerned about the volume of negative call-center traffic being generated, customer relations are a big deal for any company.
The back office, where much of the actual work gets done, has a huge impact on customer relations and actionable intelligence global leader, Verint Solutions, helps companies resolve their back office issues.
Verint Systems Inc. (NASDAQ: VRNT) Senior Vice President, Global Marketing, Ryan Hollenbeck, spoke with Benzinga about the company's back office solutions and more.
Related Link: These Two Analysts Remain Bullish On Verint Following Its Q3 Print
Benzinga: Before we dive into the topic at hand, to set the stage, what's Verint all about?
Ryan Hollenbeck: At the top line, it's about actionable intelligence. From there we ask, "What's the total addressable market for actionable intelligence technology?"
For us, that's all the massive information growth and big data sitting out there in all of these organizations and what we can do to help. To address that, we created an advanced actionable intelligence platform.
BZ: Can you break the platform down?
Hollenbeck: There are four key pillars to the platform – data capture, data processing, analysis engines and finally, what we like to call "engage and act."
Basically that's saying, "You've operationalized all this data, now what are you going to do about it?"
BZ: So, how did Verint create the platform and how is it maintained?
Hollenbeck: Verint has always been a growth technology company. We've grown through two means. One is organic innovation and the other, I call acquisition innovation.
The acquisition portion is important because some of the companies we're able to acquire bring technology and, in some cases more importantly, people to the Verint brand that help us expedite our strategic plan.
One example is speech analytics. We've been developing that for many years. We have that roadmap locked and loaded.
The bigger picture, however, is customer engagement optimization. This includes things like knowledge management and case management software, which we did not have. That's why a few years ago we acquired KANA Software.
BZ: What are some of the 'back office' challenges your customers face?
Hollenbeck: One area is what I call service operations. A whole world of opportunity and challenges sits out there. A lot of what happens in the back office has to do with efficiency gaps.
Contact (call) centers are organized around technology like what we provide and have been for many years. Things such as quality monitoring software, workforce scheduling software, e-learning and coaching analytics and dashboards.
When you get into a back office operations environment, these things are not always present. That's not to say those folks aren't working hard. There may just not be the same discipline of technology and supporting operational improvements.
BZ: What's the Verint solution?
Hollenbeck: Our (Verint) technology understands what's happening in the back office. We have something called desktop and process analytics. That helps companies understand what's actually happening at the desktop of operational personnel.
In a call center, for example, everybody is scheduled almost down to 15-minute increments. That's done using what we call a workforce management system. In the back office the same is not necessarily true. You come in and you have something like Outlook. You can organize your schedule around it but not with the same level of discipline.
We understand the type of tasks that need to be completed in that back office environment and help balance out the workload.
BZ: Ultimately, what makes Verint unique when compared with the competition?
Hollenbeck: I think we're deep in a discussion around one thing which is our ability to provide actionable intelligence related to back-office service operations. That's a unique capability from our standpoint.
We can uniquely provide not just the optimization tools to make your personnel more effective, but we can also provide the technology to engage with the customer. We have email response management, web chat, knowledge management software and case management software. In addition to the engagement and the workforce optimization we also have analytic software.
Analytics can be the beachhead for understanding what's happening in the organization. You can uncover the patterns and trends that really matter. That's a unique way to think about the problem that these organizations face, which is providing more personalized and effective customer engagement.
Related Link: Benzinga's Top Initiations
BZ: It looks like we've come full circle. Ultimately it boils down to the customer, then?
Hollenbeck: We like to use fancy terms like "customer churn" but customers get upset and they leave. Sometimes they get so upset they don't even tell you they are leaving.
Sometimes the customer who is upset is actually saying, "I want you to make this right. I don't want to leave. I just want you to make it right, now!"
Verint technology gives companies the predictive analytics they need to discover they might be on the verge of a big problem.
A phone call or email is only the customer facing part of it. The noncustomer facing parts of the customer experience are also crucial.
At the time of this writing, Jim Probasco had no position in any mentioned securities.
Image Credit: Public Domain
Posted-In: KANA Software Ryan Hollenbeck Verint SolutionsLong Ideas Exclusives Markets Trading Ideas Interview Best of Benzinga
View Comments and Join the Discussion!