Aviation Firms Look To Benefit From Lifted Sanctions In Iran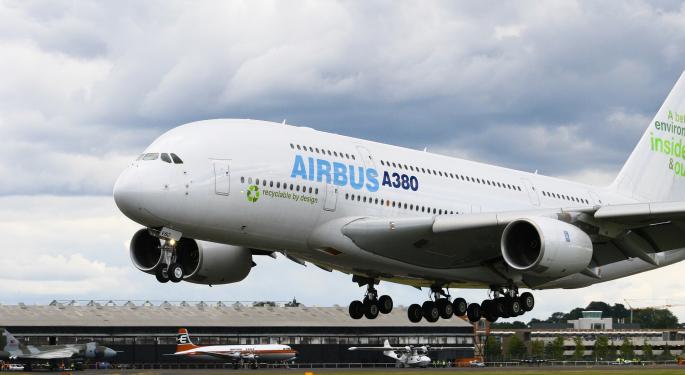 Last week, world powers made good on their promises to lift sanctions that have squeezed the Iranian economy for years in exchange for Tehran's promise to curb its nuclear activity.
With loosened trading restrictions finally in place, Iranian leaders got down to business quickly by making deals with Western firms in hopes that the nation can attract foreign investments. One of the first industries set to benefit from the lifted sanctions is transport, namely aviation, which has suffered over the past few years as outdated equipment weighed on the sector.
Airbus To Benefit
European airplane manufacturer Airbus (AIRBUS GROUP SE UNSPON ADR EA REPR 0.25 ORD (OTC: EADSY)) snapped up the new business quickly, announcing a deal to sell 114 new and used aircraft to Iran.
Related Link: European Airlines Look For Ways To Grow In A Mature Market
However, over the weekend, rival American firm Boeing Co (NYSE: BA) appeared to be interested in getting in on the action as well, after Iran announced plans to buy even more planes in an effort to refresh the country's aging fleet and expressed an interest in considering Boeing models.
A Big Opportunity
At the moment, Boeing is unable to make any deals with Iran due to U.S. restrictions, but the company hasn't ruled out the possibility of working together with the U.S. government to craft a lawful deal.
Tehran represents a huge opportunity for airplane manufacturers, as the country's commercial airlines are still flying planes with an average age of around 27 years. This has made them incompatible with international safety standards and stifled the country's airline industry. However, with sanctions being lifted and Iran working to foster a relationship with the West, many are expecting tourism to boom over the next decade. The nation is expected to spend billions over the next decade updating and expanding its airport and refreshing its airlines, making it a lucrative opportunity for Boeing.
Image Credit: Public Domain
Posted-In: Long Ideas News Eurozone Travel Global Markets Trading Ideas General Best of Benzinga
View Comments and Join the Discussion!