Hey LeBron, Is The Bottom In For Crude Oil?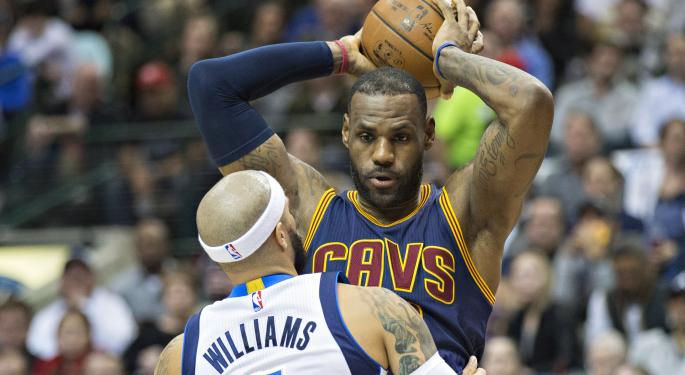 LeBron James can do a lot of things. Play basketball, drive a lifetime endorsement deal, fund 10,000 college scholarships, and even act in a movie. But ask him about where the bottom is for crude oil and he is as clueless as the next guy. That is really no surprise though is it? I mean come on, even those finance professionals at Goldman Sachs thought it would go to $200 per barrel. Now it is well on the way to 1/10th of that.
So when will the bottom show up in oil? I do not know either, but I do see some price levels that could be important that are right around the corner from the current price. Let's look at the chart below.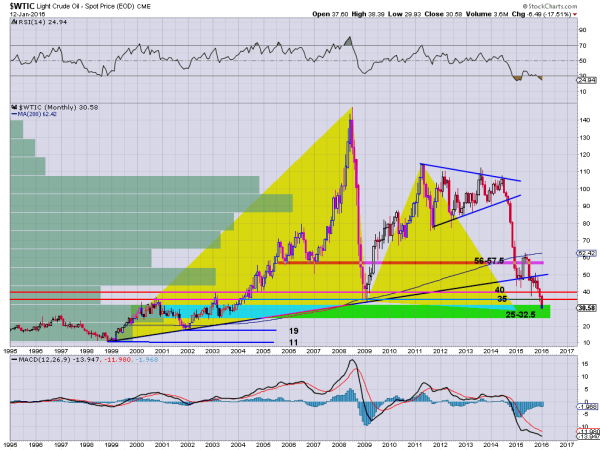 This monthly chart going back 20 years offers a lot of information. The first thing to note is that the price action has built a bullish Bat harmonic and is reaching its Potential Reversal Zone. This pattern highlighted by the two yellow triangles would look for a reversal higher to at least $60. If it holds up. That would also put the price back near the 200 month SMA at 62.42, a spot that had acted as support many times over 20 years. Even if it was to continue lower a retest of 62 first would not be out of the question.
Looking to the left the void in price history from $44 to $32.50 makes it easier to understand how after a long move lower there can still be a free fall. There was no one to defend the prices in between. But now there is a lot of price history from $25 to $32.50. Maybe it does hold here and reverse. But there is no other evidence for that right now.
Oil looks oversold from the momentum indicators, but as traders say, "oversold can get oversolder." So looking even lower, the next support levels under $25 come at $19 from the 2001 low and then $11 from 1999. Can you imagine $11 per barrel oil?
Want to learn more about Dragonfly Capital Views?
Dragonfly Capital Views Performance Through December 2015 and sign up here
The preceding article is from one of our external contributors. It does not represent the opinion of Benzinga and has not been edited.
Posted-In: Long Ideas Commodities Markets Trading Ideas Best of Benzinga
View Comments and Join the Discussion!