3 CEOs Who Made Headlines In 2015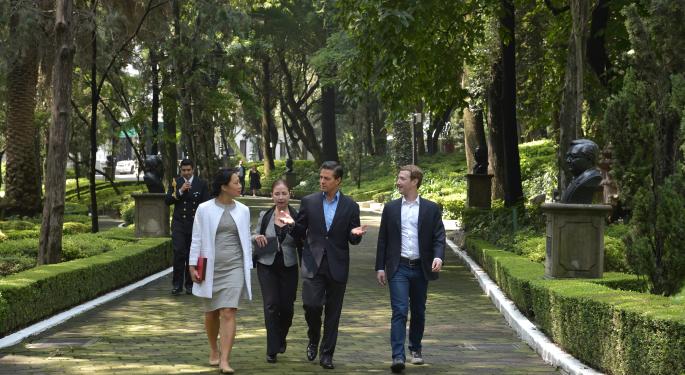 While a company's financials may be one of the most important factors when it comes to making investment decisions, the person at the helm can make or break a firm's image in the public eye.
This year, the private sector was full of scandals, crises and high-stakes decisions that cast the limelight onto some of America's most powerful CEOs. Here's a look back at three CEOs who made headlines this year.
Martin Shkreli
Former hedge fund manager Martin Shkreli founded Turing Pharmaceuticals in February of 2015 and acquired a majority stake in KaloBios Pharmaceuticals Inc (NASDAQ: KBIO) in November.
Related Link: The 25 Worst Performing CEOs In The Country
Shortly after Shkreli took over as CEO at KaloBios, things began to go sideways, and KaloBios filed for bankruptcy just one month later. Shkreli's downfall was acquiring Daraprim, an antiparasitic drug. Daraprim had no generic version and under Shkreli's control, its price rose from $13.50 per pill to $750 per pill. When his decision was questioned by both regulators and the media, Shkreli said he didn't care about the burden the price hike placed on consumers.
Just days later, Shkreli was arrested for securities fraud charges unrelated to the Daraprim fiasco. He has been accused of running a Ponzi-like scheme, but Shkreli says he has been unfairly targeted due the negativity that followed his decision to raise Daraprim prices.
Martin Winterkorn
This year, former Volkswagen AG (ADR) (OTC: VLKPY) CEO Martin Winterkorn found himself in the spotlight after the German automaker was found cheating on its emissions tests.
The company had been installing faulty sensors that were made to fool emissions testers on its diesel cars, angering the Environmental Protection Agency, as well as the firm's customer base.
While the investigation is still ongoing, many blame Winterkorn, saying he fostered a corporate culture of deceit. Winterkorn expressed shock that such misconduct had been going on under his leadership, but just days later he announced his resignation.
Mark Zuckerberg
While the previous CEOs on this list earned their spot for negative attention from the press, CEO of Facebook Inc (NASDAQ: FB) Mark Zuckerberg was one of the most talked about CEOS this year, for good reason.
Related Link: First Jobs Of The Biggest Tech CEOs
He has been working to expand Facebook's reach by creating new programs and investing in worthwhile projects like Free Basics, an effort to connect underserved populations in remote locations around the world to the Internet. Although Free Basics has been widely criticized as violating net neutrality principles, many believe he will be able to iron out the program's problems in the coming year.
Zuckerberg has managed to grow Facebook's revenue by 41 percent year-over-year and also made a name for himself as a philanthropist. At the beginning of December shortly after his first child was born, Zuckerberg announced that he and his wife would give away 99 percent of their Facebook shares, worth some $45 billion, to Chan Zuckerberg Initiative, LLC., a charity set up by the two.
Image Credit: "Visita de Mark Zuckerberg a Los Pinos (2)" by Presidencia de la República Mexicana - Visita de Mark Zuckerberg a Los Pinos.. Licensed under CC BY 2.0 via Wikimedia Commons.
Posted-In: Chan Zuckerberg Initiative LLC Daraprim Environmental Protection AgencyLong Ideas News Top Stories Markets Trading Ideas Best of Benzinga
View Comments and Join the Discussion!