The BRICs Have Built A Rally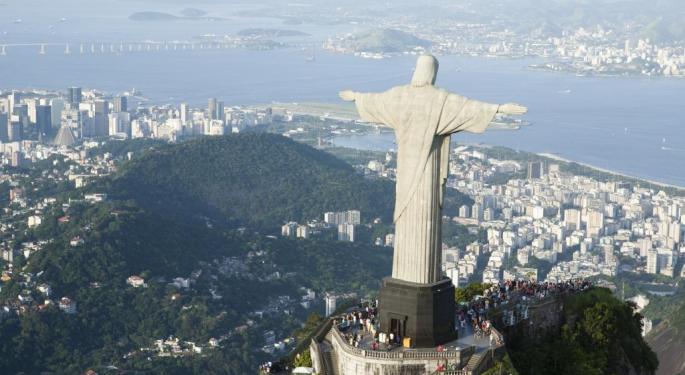 In a moment of financial market irony, it appears that a major investment bank is turning its back on BRIC-based investments just as many investors are bidding the region higher.
Earlier this week, Goldman Sachs' asset-management unit folded its money-losing BRIC fund, which invests in Brazil, Russia, India and China, and merged it last month with a broader emerging-market fund.
According to a Bloomberg story, Goldman Sachs said in an SEC filing that it pulled the plug on the nine-year-old product because it doesn't expect "significant asset growth in the foreseeable future."
The irony is doubled by the fact that it was one of Goldman's own analysts, Jim O'Neill, who coined the BRIC acronym 14 years ago that ushered in an unprecedented investment boom. However, as Bloomberg suggested, the biggest emerging markets are now sputtering: Russia and Brazil have fallen into recessions. China, long an engine of the world's growth, is poised for its weakest expansion since 1990.
Yet other investors are seeing something they like in the region, with stocks in Brazil and China in particular expanding — and lifting related equities investments.
The BRICS Building motif has gained 3.5% in the past month. In that same time period, the S&P 500 has risen 3.2%.
Over the past 12 months, the motif has lost 11.1%; the S&P 500 is up 2.3%.
Brazilian stocks, as a whole, just completed their biggest advance since April as the country's large banks sparked a run-up on speculation that they're too cheap to pass up amid forecasts of growing profits.
The country's benchmark index had tumbled from its peak in May as Latin America's biggest economy heads toward the longest recession since 1930s and the government struggles to revive the nation's finances. Traders are now trying to find companies that are better able to withstand the headwinds, such as lenders, Fernando Goes, an analyst at brokerage Clear Corretora, told Bloomberg.
"Banks are still among the market's favorites because their operations are very resilient," Goes said. "There are some good opportunities for those willing to dig deeper."
Financial stocks continued to advance in November after Itau Unibanco Holding SA (NYSE: ITUB), the region's biggest lender, reported better-than-forecast earnings. Clearinghouse Cetip SA surged after confirming it had been approached by exchange operator BM&FBovespa SA for a possible merger. Consumer goods and pharmaceutical products maker Hypermarcas SA rose the most on record following its agreement to sell its personal-care and beauty unit to Coty Inc.
As Bloomberg noted, the deals are a positive sign in a country rocked by recession, a sweeping corruption scandal and a political crisis that's fueling calls to impeach President Dilma Rousseff, issues that made the real the world's worst performing major currency this year.
The Hypermarcas deal shows buyers are starting to find good opportunities in Brazil after the selloff, according to Clear Corretora analyst Raphael Figueredo.
"This year is already lost, so investors are excited about long-term prospects," Figuredo told Bloomberg. "There are still a lot of uncertainties on the radar, but good opportunities may pop up."
Bargain-hunters also seem to have focused on China. Since September 22, the Shanghai Composite Index has climbed nearly 20% — nearly offsetting its dramatic plunge of 32% between June and September.
As CNNMoney pointed out, a positive sign of the comeback is that the rally is being led by Chinese blue-chip stocks – and not speculative momentum names.
Alibaba Group Holding Ltd (NYSE: BABA), for example, has shot nearly 41% higher just since the end of September. And the company itself showed a level of confidence by announcing last month that it planned to buy the remaining stake in Youku Tudou that it didn't already own. (Alibaba has a 9.8% weighting in the BRICs Building motif).
CNNMoney also noted that the Chinese rally wasn't derailed by the country's most recent GDP results, which were less than fantastic, relatively speaking — growth slowed to 6.9% in the third quarter, the slowest rate since the 2008-2009 financial crisis.
Still, the number was a bit higher than what economists were expecting, and for now, has been enough to keep the uptrend going. "The key question, of course, is when China will be able to say that it has 'stopped the rot' in terms of slowing economic momentum," David Kelly, chief global strategist with JPMorgan Funds, wrote in a report Monday.
CNNMoney suggested that one way to do that is to send signals that more stimulus is on the way.
It's widely expected that China's government and central bank will do more to keep the economy and stock market from slowing much further, CNNMoney said.
That could provide more spark to Chinese equities, which have a 66.2% weighting in the BRICs Building motif.
International investments involve additional risks you should be aware of, which include differences in financial accounting standards, currency fluctuations, political instability, foreign taxes and regulations, news that can trigger volatile conditions, and the potential for illiquid markets.
The content contained herein is for informational purposes only and is not a solicitation or a recommendation that any particular investor should purchase or sell any particular security. Motif does not assess the suitability or the potential value of any particular investment. You are responsible for understanding the risks involved with investing in securities and for all investment decisions you make. Investments in small cap companies and companies within a particular sector involve additional risks unique to those companies which you should be aware of before making any investment decision. The information contained herein is obtained from sources believed to be reliable, but its accuracy or completeness is not guaranteed. Performance of motifs are for informational purposes only and is not not based on results you could expect to achieve. See how returns are calculated.
Posted-In: BRIC Countries BRICs investmentLong Ideas Trading Ideas Best of Benzinga
View Comments and Join the Discussion!