12 Ways To Invest In Airlines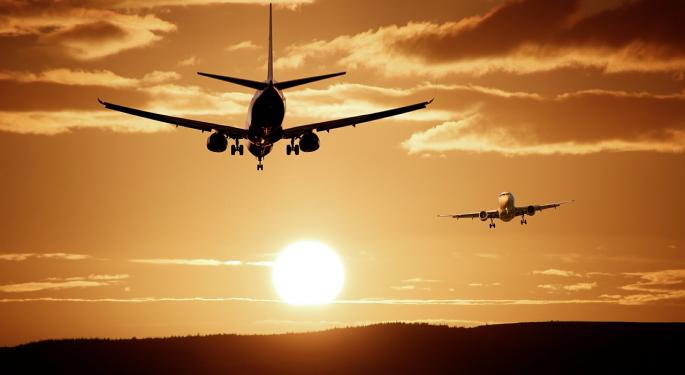 Airline stocks have been performing exceptionally well this year, as low fuel prices have lowered many companies' margins. Passenger numbers have also been on the rise; improving unemployment rates have given many families more spending power.
As a result, many traders are looking to the industry to capitalize on its growth. Despite some safety concerns that arose following aircraft accidents, the sector has been a magnet for success.
1. U.S. Global Jets ETF (NYSE: JETS)
U.S. Global Jets ETF tracks companies that work within the airline industry. The fund is made up of businesses like aircraft manufacturers, airports, airport service providers and of course, airlines.
While the fund provides a more diversified option by following the industry as a whole, it also hasn't benefitted from the same lofty gains as many airline stocks have. Still, JETS has outperformed the SPDR Dow Jones Industrial Average EDF (DIA) so far this year, gaining 7.16 percent compared to 0.67 percent.
Related Link: A Basket Of Airline Stocks Expected To Beat The Rest
2. American Airlines Group Inc (NASDAQ: AAL)
American Airlines became the largest international airline in the world in 2013 when the company merged with US Airways. The deal came at a time when American Airlines had filed for bankruptcy and the airline industry was suffering.
However, since the two combined, the new company has been turning impressive profits. Over the past year, shares of American Airlines have gained 12.45 percent, making it an attractive buy for investors looking for a solid, well-known company that can deliver returns.
3. United Continental Holdings Inc (NYSE: UAL)
Over the past year, shares of United Continental Holdings have gained 14.16 percent, as the firm's passenger numbers picked up amid improving economic activity in the United States. The airline, one of the four largest in the nation, has been under some pressure over the past three years; its mechanics union has been demanding new contracts and flight attendants who began at the company before United Continental Holdings and Continental Airlines merged have struggled to fit into the new company.
However, in October, United announced that it had reached a tentative agreement with its mechanics and that it was working to come to similar terms with the cabin crew.
4. Southwest Airlines Co (NYSE: LUV)
Southwest Airlines is another of the United States' top four carriers. The firm has emerged as a major moneymaker for investors – its shares have risen 35.27 over the past year.
Investors have praised the company's business model for its simplicity and efficiency, something that has kept passengers loyal. The firm flies direct routes, providing passengers with a better experience and making it a popular choice for domestic flights. Not only that, but Southwest is able to save millions in maintenance costs as the company only flies Boeing 737 aircraft.
Related Link: Thanksgiving Could Be Busiest For Air Travel Since The Recession
5. JetBlue Airways Corporation (NASDAQ: JBLU)
JetBlue Airways is popular choice for investors who believe in low-cost models. One of the few remaining low-cost carriers in the United States, JetBlue has been expanding its route network to include more popular destinations. In February, the firm announced it was planning non-stop service from Baltimore to Fort Lauderdale set to begin in November.
Not only is JetBlue increasing its route network, but the company has significantly higher cashflow growth than most of its peers.
6. Ryanair Holdings plc (ADR) (NASDAQ: RYAAY)
Ryanair has made its name as the largest low-cost carrier in Europe. The firm operates with a similar model to that of Southwest, offering direct flights and using only one type of aircraft.
Ryanair shares have gained 46.79 percent over the past year, and the company has continually increased its passenger numbers and expanded its route map. While some are hesitant to invest in a European airline at a time when the region's economy is still struggling to return to growth, others have seen the company as a worthwhile way to enter the eurozone market while the European Central Bank is still injecting more stimulus into the economy.
7. Virgin America Inc (NASDAQ: VA)
Virgin America, a firm partly owned by British billionaire Richard Branston, launched an IPO to much hype in 2014. However, since that time, investors began to abandon the stock on worries about the company's financial stability. Virgin America shares are down 13.71 percent in the year-to-date after investors pulled their money out of the stock due to an investor update forecasting a slowdown in revenue and rising operating costs.
However, Virgin's latest earnings report beat expectations and showed that the firm was able to increase its adjusted net income by more than 70 percent year-over-year.
8. Alaska Air Group, Inc. (NYSE: ALK)
Alaska Air Group is an often overlooked stock in the airline industry, as the firm doesn't represent a huge part of the U.S. market.
However, Alaska Air Group operates both passenger and cargo services throughout Alaska and has been praised by analysts as a good buy for investors looking to add the airline industry to their portfolio. Alaska Air Group has continuously released solid earnings reports and the firm's financials look relatively stable. Shares have also performed well over the past year, rising 45.43 percent.
9. Hawaiian Holdings, Inc. (NASDAQ: HA)
Hawaiian Holdings has emerged as a popular choice for investors in the airline industry as the firm has received positive ratings from several analysts. Zacks' rankings put Hawaiian Holdings on top of the Airline Transportation industry regarding factors like growth, value and momentum. Hawaiian Holdings shares have gained 107.44 percent over the past year, and the firm has consistently delivered strong earnings growth.
10. Delta Air Lines, Inc. (NYSE: DAL)
Delta Air Lines is another strong player in the U.S. airline industry; the firm offers both domestic and international routes. One of the nation's largest carriers, Delta has a firm grasp on the market and has seen its margins improve from fuel cost savings.
The firm has cut down on its schedule to underperforming destinations and addressed the negative impact a strong dollar has had on its bottom line. Many expect that fuel savings will help Delta offset the issues a stronger dollar presents; strong growth is expected to continue in the future.
Related Link: Wall Street's Patience Running Thin With Airline Stocks
11. Spirit Airlines Incorporated (NASDAQ: SAVE)
Spirit Airlines is another low-cost carrier in the United States, but the firm has been struggling this year. Unit revenue declined in the third quarter and is expected to continue falling in the quarter to come.
Many investors have pulled their money out of Spirit amid worries about the firm's profitability. The company's pre-tax profit margin beat out many of its peers at 26.9 percent, presenting a bright spot in the company's financials.
Over the past three months, shares of Spirit Airlines have lost 41.8 percent, making it a good play for investors looking for a cheap entry point. However, many analysts recommend caution when it comes to Spirit since the firm's low-cost model has been under pressure from larger carriers that have been able to match prices on some of the airline's routes.
12. Tiger Airways Holdings Ltd. (OTC: TAIRF)
For investors with a stronger stomach for risk, Tiger Airways is a budget airline based in Asia. The company follows the footsteps of European budget travel carriers like Ryanair by offering passengers the chance to travel throughout the region at the lowest possible price.
Tiger charges for things like extra luggage and food, but ticket prices are significantly lower than rival carriers' prices. Over the past year, Tiger Airways shares have risen 16.98 percent, and the firm has earned several accolades for its size and consistent record of on-time flights. However, as the firm operates in Asia, investors should be wary of the recent decline in emerging markets and ongoing turmoil in China – factors that could make betting on Asian stocks risky.
Image Credit: Public Domain
View Comments and Join the Discussion!
Posted-In: Long Ideas Emerging Markets Eurozone Travel Top Stories Markets Trading Ideas General Best of Benzinga