Eventual Rate Hike Could Keep Insurance Stocks Sizzling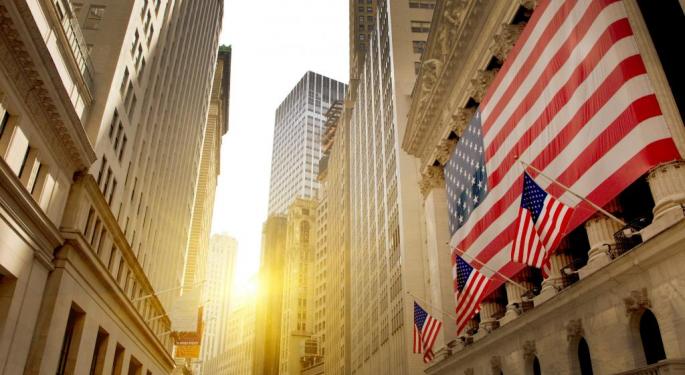 So much for the suspense on a possible interest rate boost this week by the Federal Reserve.
Last Friday, the Fed acknowledged that it inadvertently published a confidential staff forecast that was prepared for a key meeting of its policy-setting committee in June. The documents included estimates for inflation, unemployment, economic growth—as well as the influential federal funds rate.
In the forecast, the Fed staff estimated that the fed funds rate would be 0.35 percent during the fourth quarter. Right now, the rate is between 0 and 0.25 percent—the same level it has been since the financial crisis.
That little tidbit tells us a couple of things. First, it suggests that the Fed has no plans to raise interest rates when its policymakers meet this week. Second, the forecast suggests that a hike could occur in September, given the staff prediction of a 0.35 percent prevailing fed funds rate during the fourth quarter. Although the released forecast doesn't spell out precisely when or how that could happen.
Some economists—and even some Fed officials—have argued for liftoff in December or later. Yet the guessing game on when the Fed will raise rates tends to ignore one simple fact: outside of the Fed, interest rates (including on the secondary market) have already been on the rise.
The anticipation of the interest rate rise has to do with multiple signs of an improving U.S economy. As just one example, the number of Americans filing initial applications for unemployment benefits fell to a 42-year low last week in the latest sign the labor market is poised for further gains.
The rise in rates appears to be lifting the stocks of an array of financial services firms. The Property Casualty Insurance motif, for example, has gained 5.1 percent in the past month. In that same period, the Standard & Poor's 500 has lost 1.61 percent. Over the past 12 months, the motif has increased 22.5 percent, compared to just 4.5 percent for the S&P 500.
A few stocks included in this motif include Travelers Companies Inc (NYSE: TRV), Progressive Corp (NYSE: PGR), W. R. Berkley Corp (NYSE: WRB) and Alleghany Corporation (NYSE: Y).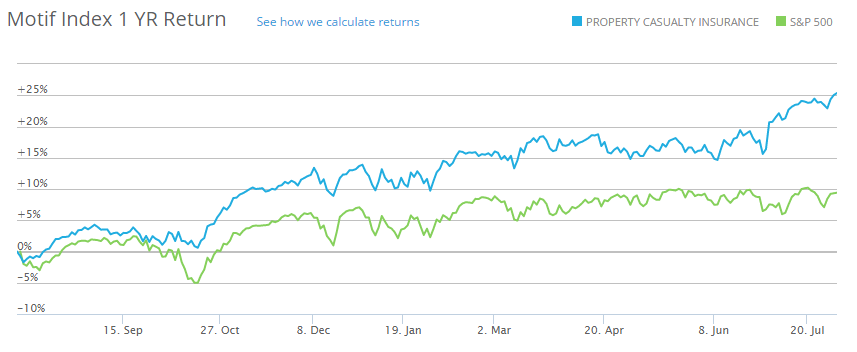 Interest rates are a key performance driver for life insurance companies. Rates affect margins, hedging costs, and product sales. Lower interest rates directly affect the margins of insurers, whose product pricing is based on expected long-term average rates.
Rising interest rates, on the other hand, are beneficial because insurers can derive income from investing premiums in corporate and government bonds. Yields and coupons on these bonds tends to rise in response to the rise in the federal funds rate and banking interest rates. This lets life insurers invest their premiums at higher yields, earn higher investment income, and increase profit margins.
Increasingly, investors have turned to financial services equities, including insurance, as rates have trended higher. Like Dave Mazza, a State Street Global Advisors vice president and head of research, told TheStreet.com, "If investors believe that long-term interest rates will move higher along with a steepening yield curve, this will be a further boost to insurance stocks."
In addition, insurance stocks have another advantage connected to rising interest: Due to the fact that foreign revenues account for a smaller percentage of U.S. insurers' business, the industry's equities can be worth considering as the dollar climbs.
A rate hike by the Fed may be off the table for now, but the real-time actuality of rising rates could continue providing a lift for insurance stocks.
The content contained herein is for informational purposes only and is not a solicitation or a recommendation that any particular investor should purchase or sell any particular security. Motif does not assess the suitability or the potential value of any particular investment. You are responsible for understanding the risks involved with investing in securities and for all investment decisions you make. Investments in small cap companies and companies within a particular sector involve additional risks unique to those companies which you should be aware of before making any investment decision. The information contained herein is obtained from sources believed to be reliable, but its accuracy or completeness is not guaranteed. Performance of motifs is for informational purposes only and is not not based on results you could expect to achieve. See how returns are calculated.
View Comments and Join the Discussion!
Posted-In: insurance stocksLong Ideas Economics Trading Ideas Best of Benzinga