How To Trade Micron And China's Semiconductor Plan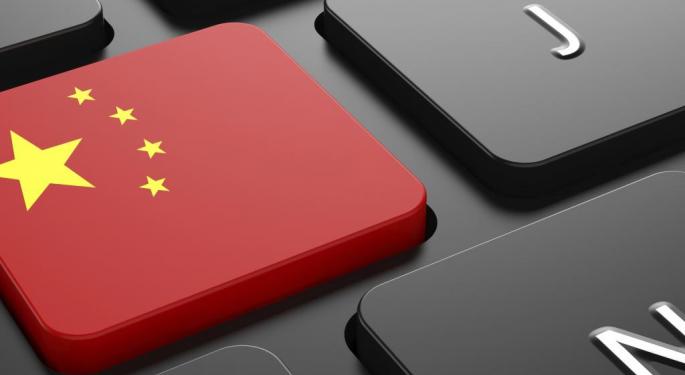 This article originally appeared on Moneyball Economics.
Back in February we outlined the Chinese government's semiconductor focus.
To net it out, China's consumption of semiconductors is outpacing its efforts to develop competitive products. The capital outflow is massive and growing. Only mixed results can be seen after years and various efforts to jump-start the domestic design of semiconductors. The next step is to buy companies. In the past, we've suggested ways to front-run this direction.
Micron Technology, Inc. (NASDAQ: MU) was not one of the companies because of cost: at $20 billion, Micron was above the earmarked $10 billion budgeted by the Chinese government. Then Tsinghua Group – fronting for the Chinese government – made a $23 billion play for Micron.
A Really Smart Bid
The MU deal never had a chance to pass federal scrutiny. DRAM (dynamic random-access memory) is found in almost everything electronic and only a handful of companies produce it (Samsung and MU are the largest). Coupled with the strategic value, the Tsinghua/government relationship muddies the waters. But there was a great reason to try anyway.
Micron had a market cap of $32 billion just five weeks ago. The last two weeks it had fallen to as low as $18 billion. It was a prime opportunity to purchase a company with a great product line, cutting edge technology and valuable assets at a fraction of the cost to build. This was an example of focus and determination.
The swiftness of the bid indicates that Tsinghua has a shortlist of target companies, and money is not an issue.
How To Play Semis?
The smart way to front-run is not to buy SOXX or similar ETFs. Five companies make up 40 percent of the holdings. Also, those companies won't reap the benefits of semiconductor bidding wars because the US will block acquisitions as too strategic.
Tier B companies are where China will have to settle for now, as stepping stones to acquiring Intellectual Property. Think along the lines of Advanced Micro Devices, Inc. (NASDAQ: AMD) and Xilinx, Inc. (NASDAQ: XLNX).
This is where you'll see the most value, the most bang for your buck.
The preceding article is from one of our external contributors. It does not represent the opinion of Benzinga and has not been edited.
Posted-In: Long Ideas Tech Trading Ideas Best of Benzinga
View Comments and Join the Discussion!