Goooaaal: A 'World Of Sports' Portfolio That Beats The Market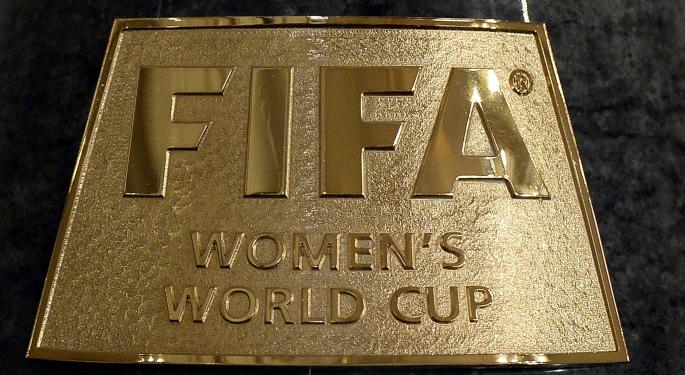 It may be officially time to add the women's World Cup final to the list of major televised sporting events.
As the Fox network bluntly put it, the American team's win over Japan earlier this month was "the highest metered market rating ever for a soccer game in the US on a single network."
Just to be clear – that's men or women's soccer: That Sunday night's game shattered viewing records for any kind of soccer in the US.
According to preliminary data from industry website TV Media Insights cited by NPR, some 17 million US viewers tuned in to the 7 p.m. EDT start of Sunday's game, a number that grew to nearly 22 million an hour later – and reached nearly 23 million by 8:30 p.m.
As NPR explained, those figures are comparable to Game 7 of the 2014 World Series, which attracted 23.5 million viewers.
Hosted in Canada, the tournament has brought a succession of ratings wins for Fox, which aired games on its main channel as well as Fox Sports 1. Along the way, NPR noted, the women's game has drawn compliments for lacking the elaborate histrionics elite men display as they attempt to draw referees' calls.
As Bloomberg News reported, the popularity of this year's tournament underscores the growing audience for soccer in the US, especially among young viewers and women. Fox made its coverage a flagship summer event, attracting sponsors like Fiat Chrysler Auto (NYSE: FCAU) and Samsung Electronics (OTC: SSNLF), and delivering record audiences, including doubling the female audience as compared with four years ago. Even before Sunday's final, network executives said ratings were substantially higher than they expected, Bloomberg said.
"Fox was smart to put their money in soccer today and for the foreseeable future," Daniel Durbin, director of the Annenberg Institute of Sports, Media and Society at the University of Southern California, told Bloomberg. "It's on the upswing and I wouldn't be at all surprised, four years from now, to see the next World Cup finals numbers dwarf the numbers for the World Series."
However, the weekend's winners weren't only on the pitch. A Fortune.com article earlier this week said that Nike Inc (NYSE: NKE) reaped a huge branding benefit via social media. According to marketing firm Amobee Brand Intelligence, Nike was the most mentioned brand in World Cup-related tweets leading up to and during the game among 2.87 million tweets.
Just as nice: Between June 6 and July 5, Amobee reported that Nike was 121 percent more associated to the World Cup than adidas AG (ADR) (OTC: ADDYY) – not so great for Adidas, the official apparel sponsor of the FIFA World Cup. Nike, however, was a sponsor of the women's team, and in this case, that proved the more powerful deal, Fortune.com said.
For Nike, any future boon could be a case of icing on the cake. The company recently posted fourth-quarter earnings that easily surpassed analysts' estimates, telling investors that net income rose to $865 million from $698 million a year earlier.
According to Bloomberg, the company has fueled growth by investing in innovation and introducing scores of new products each year. The company has also benefited from fashion trends shifting toward casual and comfort – what is now dubbed "athleisure" (yes, yoga pants).
Indeed, the growth in athletic apparel has helped lift the stocks of many sporting goods and apparel manufacturers. The World of Sports motif has gained 29.4 percent in the past 12 months. In that same time period, the S&P 500 has increased 4.2 percent.
Over the past month, the motif has risen 3.3 percent; the S&P 500 is down 1.2 percent.
Posted-In: World Of SportsLong Ideas Trading Ideas Best of Benzinga
View Comments and Join the Discussion!