California's Water Crisis Presents Opportunities For These Publicly-Traded Companies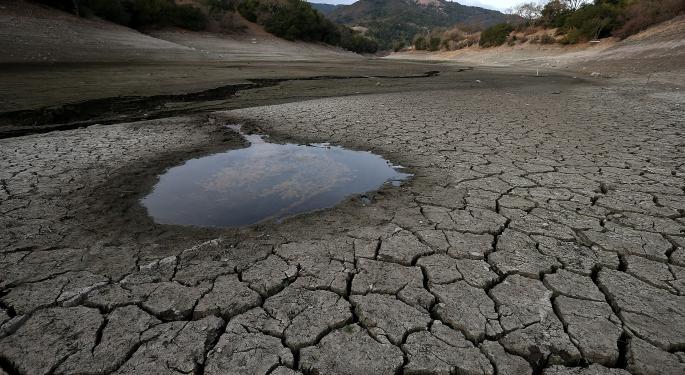 A crisis is a problem with a lot at stake but it can also be an opportunity, one in which will benefit select investors. California's drought and water restrictions could boost the revenue of a few companies, including one TSX Venture-listed name.
All of this is going to come at a cost. However, this means there are companies poised to profit from providing the water solutions California needs. Already, state-owned properties are being fitted with smart water systems that use less water. At some locations these smart water systems have lowered usage by 50%, allowing existing water reserves to flow further and quench more thirsts.
This growing risk of a limited water supply has created a lot of investment in anything water related by large banking institutions and the world's billionaires. This list includes the likes of Goldman Sachs, Morgan Stanley, Blackstone Group, The Bush Family, and T. Boone Pickens. The total value of the water industry in the United States alone is more than US$450 billion.
So which companies might benefit from California's water crisis? First, the different sub categories within the water industry must be known. Citibank has identified 10 top trends, which include: Desalination Systems, Water Reuse Technologies, Produced Water/Water Utilities, Membranes for Filtration, Ultra Violet Disinfection, Ballast Water-Treatment Technologies, Forward Osmosis used in Desalination, Water-Efficiency Technologies and Products, Point of Use Treatment Systems, and Chinese Competitors in Water. These sub sectors all have great potential in addressing California's drought problem and, as a whole, water-related companies may soon see its demand as well as its share price increase.
While these categories are a good starting point, looking for companies that are already active in mitigating the effects of this drought or are currently part of California's water market might be a good indicator of which will profit most. Some of the names that may benefit from this crisis include: Israel Chemicals, which has partnered with Poseidon Resources and is currently constructing a US$1 billion desalination plant in Carlsbad; American Water Works Company (NYSE: AWK) is one of the largest water companies in the United States, which provides drinking water and waste water services to 47 states. Its revenue has increased 25% from US$2.4 billion in 2009 to US$3 billion in 2014. California Water Service Group (NYSE: CWT), meanwhile...
Click here to continue reading out opportunities from California's water crisis...
View Comments and Join the Discussion!
Posted-In: California California drought DroughtLong Ideas Trading Ideas Best of Benzinga