What's Agilent Worth Now?
Agilent Technologies Inc (NYSE: A) reported Q2 fiscal 2015 non-GAAP revenues and earnings roughly in line with guidance and analyst expectations. Prudena's models estimate value per share of approximately $34, almost 20 percent below the current market price of $42.37.
Agilent will require strong long term growth to justify its current valuation, which will be difficult to achieve with Agilent's modestly positive outlook and market catalysts. Speculation regarding M&A activity is likely driving the discrepancy in valuation.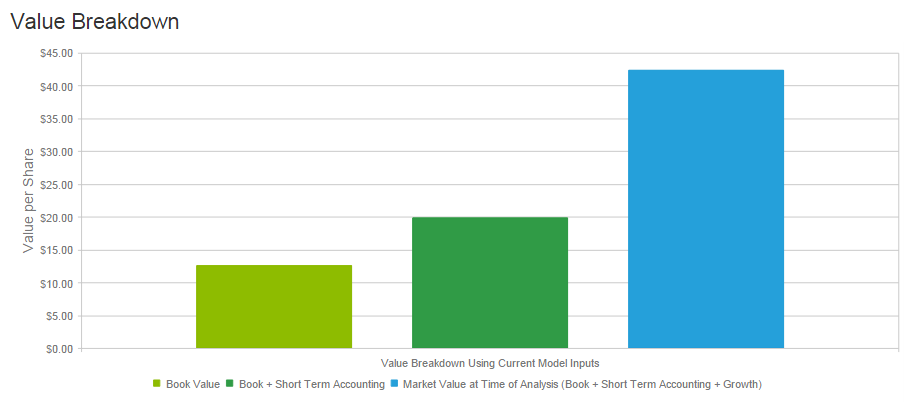 Prudena's model assumes a required rate of return of 7.42 percent. Current market price of $42.37 implies long term residual earnings growth of 5.81 percent, which is very high. Long term EPS growth would have to be approximately 6.29 percent to achieve this level of residual income.
Prudena's Monte Carlo simulation estimates an average share value of $34.10. The distribution is skewed to the right, indicating asymmetric upside potential. Prudena's models suggest that Agilent is overvalued by 19.5 percent.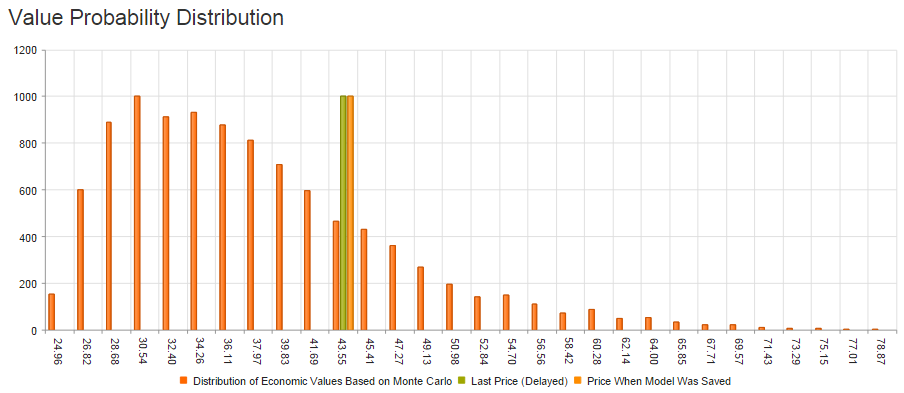 The Bull Case
Agilent is among the leaders in life sciences and diagnostics especially in analytical laboratory tools. . Gas chromatography is expected to grow at CAGR of 7.2 percent between 2014 and 2019. As chromatography is one of the key platforms of Agilent, the company is set to benefit from the positive outlook of the industry. The company has ample cash, around $2.1 billion, to achieve growth through acquisition. Excess cash also creates a potential for more buybacks.
The acquisition of Cartagenia, a provider of cloud-based software and services for clinical genetics and pathology labs, will increase Agilent's footprint in clinical labs and expand the company's breadth of solutions for customers. Since 2008, around 100 labs have signed up to use Cartagenia's services. Agilent is also a frequently rumored acquisition target, and acquired companies are typically bought at a premium to market value.
The Bear Case
Industry outlook is positive, but modestly so. Agilent's sales and earnings growth are trailing behind the industry, signaling a potential loss of market share. Free cash flow relative to earnings is not particularly strong, either recently or historically.
Foreign exchange fluctuation can cause volatility due to Agilent's considerable exposure to foreign revenue, and a strong dollar has significantly harmed Q2 2015 results. Valuation is aggressive for Agilent's historic and projected growth profile.
Conclusions
Agilent reported earnings 2Q FY 2015 on Monday, May 18. The company earned $0.25 per share versus $0.41 one year ago. Income from continuing operations grew from $0.12 in Q2 FY 2014 to $0.26 in the most recent quarter. Non GAAP income from continuing operations of $0.38 just missed analysts estimated EPS of $0.39.
Net revenue of $963 million was 3 percent lower than 2Q 2015, though revenues grew 4 percent when adjusted for inflation. On the call, the company noted strong order growth, but says it was unable to convert that order strength into revenue during the period. For Q3 2015, company guidance calls for revenue between $995 and $1015 million and non GAAP EPS of $0.38 to $0.42. For the full fiscal year 2015, the company expects between $4.05 billion and $4.11 billion in revenue and non-GAAP earnings of $1.67 to $1.73 per share.
Full year guidance was unchanged from previous estimates.
The most recent quarter offered some clarity regarding Agilent's operations after spinning off Keysight and exiting certain business lines. However, Q2 results did little to justify the rich valuation Agilent's shares have in the market. The stock still appears almost 20 percent overvalued with no clear operational catalyst to drive fundamental appreciation. Speculation about M&A adds uncertainty to the narrative and represents upside opportunity for investors, likely driving prices higher.
Contributors: Ryan Downie, Soid Ahmad
NOTE: The Morning Monte is high-level, and any investment requires a deeper analysis than is presented here. The comments in the Morning Monte are intended to help guide your research and ground you in the fundamentals of the company. In no way should the comments in The Morning Monte be taken as advice to buy or sell a particular equity. Some of the statements are forward looking. As such, these statements are speculation--so beware! The comments represent the views of the author and are not necessarily the views of PRUDENA™.
Have a comment? Please Contact Us.
The following article is from one of our external contributors. It does not represent the opinion of Benzinga and has not been edited.
Posted-In: agilentLong Ideas Trading Ideas
View Comments and Join the Discussion!