How Are Investors Valuing DISH Network?
DISH Network Corp (NASDAQ: DISH) reported Q1 2015 earnings on Monday, May 11. Revenue missed by less than 1 percent and EPS nearly doubled consensus estimates. While the financials were strong relative to analyst forecasts, the release and conference call confirmed that pay-TV continues to decline amid competition and changes to video media consumption.
Prudena's models show that the majority of DISH valuation is attributable to the company's large wireless spectrum holdings. The current price of $65.92 is based on significant speculation but appears fair based on fundamentals and market value for the wireless assets.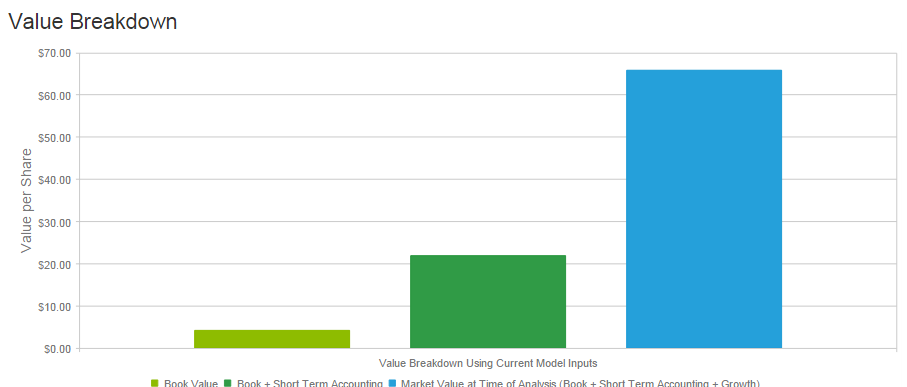 Prudena's models are insufficient as a standalone tool for the valuation of DISH, but they offer some very useful insight for establishing a target price. Assuming a required rate of return of 8.1 percent, Prudena's fundamental growth model and Monte Carlo simulator estimate intrinsic value per share at approximately $22. Substantial headwinds for the pay-TV provider space put downward pressure on long term residual earnings growth potential, which is offset slightly by the opportunity of SlingTV.
DISH currently trades at $65.92, so it would seem that shares are massively overvalued relatively to intrinsic fundamental value. The current market price implies 5.9 percent long term residual earnings growth. Prudena's model is useful for predicting value based on discounted returns on book value, eschewing speculation. $22 is probably a fair price for Dish Network's current book of business, but the model fails to account for DISH's sizeable wireless spectrum assets, as their current market value is not captured on the balance sheet.
Their spectrum holdings function almost like real estate, and analyses featured in such sources as Barrons, the Wall Street Journal, Fierce Wireless, and Investors.com suggest that Dish Network's spectrum could be worth $25-50 billion. It is unclear how the TV service provider intends to monetize these assets, but the current resale value could represent $47 per share in value after tax, based on the low end of that range. Added to Prudena's model outputs, wireless spectrum assets could push the stock's worth to $69 dollars.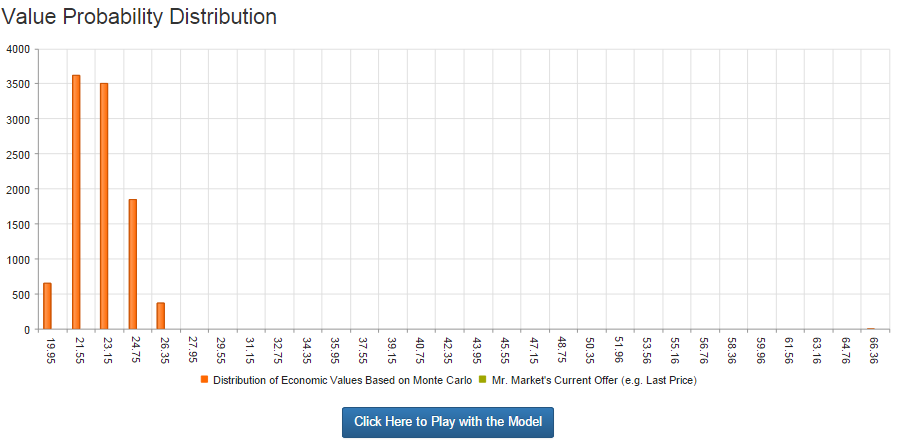 The Bull Case
Dish Network is one of the largest pay-TV companies with 14 percent share of the total pay-TV subscribers. The number of subscribers for the company has remained relatively stable in recent years despite a rise in alternative video delivery technologies. As satellite TV generally attracts subscribers from rural areas where wireline services are less prevalent, alternative delivery is not affecting satellite TV service provides as deeply as cable companies.
Dish's investment in wireless spectrum is a hedge against the anemic growth performance of its pay-TV services. The company is the fifth largest spectrum holder with command over 80 MHz that translates into 12 percent of the industry's spectrum capacity, which analysts estimate is currently worth between $25 billion and $50 billion. Dish may be able to generate additional value from its spectrum by partnering up with a wireless carrier or using a wholesale strategy. The launch of Sling TV is another positive development. Over-the-top content services are growing rapidly, and Sling TV is a differentiated proposition as Internet TV is complimented by access to popular TV channels.
The Bear Case
The television provider market is competitive and becoming more complicated by the rise of over-the-top content and IPTV. Dish is also somewhat smaller than its most direct competitor, DirecTV. Changes in the video consumption habits of consumers and rise of alternative delivery platforms are taking a toll from pay-TV market. IPTV and Google's Fiber ambitions are a long-term threat to the conventional pay-TV players. IDC believes that the U.S. multi channel pay-TV market will continue to face subscriber erosion in coming years. Infonetics recently cut its 2017 pay-TV industry revenue forecasts from $401 billion to $260 billion. Negative subscriber growth may also impact pricing power. If SlingTV is successful, it will likely cannibalize the pay-TV revenues as subscribers shift from pricier pay-TV to a low price internet TV service. Spectrum monetization strategy is also unclear, and ineffective monetization may hurt Dish's valuation. Finally, Dish's gross margin is the lower than that of Comcast and DirecTV.
Conclusions
DISH released Q1 2015 earnings on Monday, May 11. Revenue of $3.72 billion represented annual growth of roughly 3 percent, but fell just short of analyst consensus forecasts of $3.73 billion. The company reported EPS of $0.76 versus $0.38 a year ago and the $0.42 expected by analysts. Non-recurring non-operating income was responsible for a portion of the earnings beat. Total subscribers declined sequentially and annually, falling to 13.8 million versus 14.1 million one year ago. Subscriber churn also grew relative to the prior year. Average revenue per customer increased to $86.01 from $82.36 in 2014 due to higher subscription fees.
Monday's results confirm the narrative that DISH will struggle with the declining pay-TV industry. Investor focus will turn to Dish Network's management of this decline, the growth of their new over-the-top offering SlingTV, and the monetization of their wireless spectrum assets. It is not immediately clear how DISH will monetize their wireless spectrum assets.
Prudena's models can only provide a portion of the insight required for valuation. Dish Network's market price is heavily influenced by the value of the company's wireless spectrum assets, which have market values well above their accounting value. The current price of $65.92 is comparable to the $69 implied by the sum of Prudena's model estimates and spectrum market value. While this valuation is speculative and may be unsuitable for basic value investors, the wireless spectrum assets cannot be ignored.
Contributors: Ryan Downie and Soid Ahmad
About Prudena
NOTE: The Morning Monte is high-level, and any investment requires a deeper analysis than is presented here. The comments in the Morning Monte are intended to help guide your research and ground you in the fundamentals of the company. In no way should the comments in The Morning Monte be taken as advice to buy or sell a particular equity. Some of the statements are forward looking. As such, these statements are speculation--so beware! The comments represent the views of the author and are not necessarily the views of PRUDENA™.
Have a comment? Please Contact Us.
The preceding article is from one of our external contributors. It does not represent the opinion of Benzinga and has not been edited.
Posted-In: Dish valuationLong Ideas Trading Ideas
View Comments and Join the Discussion!