Lowe's Grinding Through A Corrective Consolidation: Where Does Support Show Up?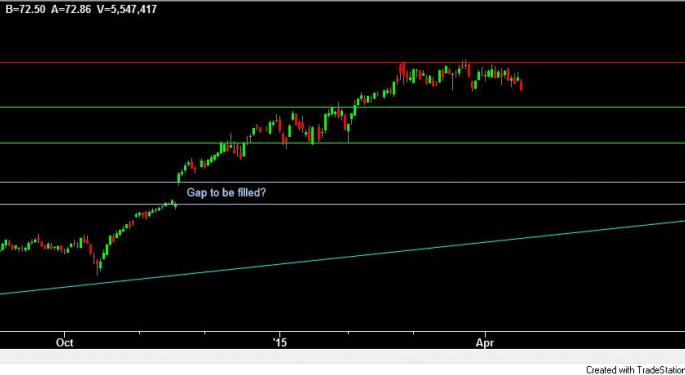 Lowe's Companies, Inc. (NYSE: LOW) shareholders have been rewarded with nearly a 300 percent return off of the late-2011 corrective lows. The rally since those lows has seemed to pick up steam as time has gone by – -until the peak was made in late February. Now, the stock is going through an obvious corrective phase.
As with all corrections, the question is, "How far will the stock fall before more waves of buying enter the fray?" Let's take a quick look at the fundamentals and technicals to get a better idea of what the future holds in store.
What The Bulls See
4.8 percent net profit margins that spin off over $4 billion in positive levered free cash flow annually.
Good management effectiveness metrics: A return on assets of 9.36 percent and a return on equity of 24.73 percent.
Reasonable valuations: A PE of around 18 versus estimated revenue and EPS growth for the coming year of 4.6 percent and 19.30 percent, respectively, an enterprise value of $82.06 billion versus a market capitalization of $69.5 billion and a price-to-sales ratio of 1.25.
An annual dividend yield of 1.2 percent.
Related Link: Home Depot Shares Begin To Correct: How Low Will They Go?
What The Bears See
A pricey price-to-book ratio of 7.13 (although relatively cheap versus the 12+ P/B sported by Home Depot).
A debt-laden company: Cash of $591 million versus total debt of $11.37 billion, a debt-to-equity ratio of 114.04 percent and a current ratio of only 1.08.
The Technical Take
Technicians note that Lowe's stock is correcting right now and has key support down at the January closing high of $70.50. If that level fails to hold up, the next stop down for Lowe's will likely be the horizontal line support at $66.08.
The truly bearish of Lowe's out there may be eyeballing a potential fill of the upside gap at $58.53 to $61.23 (which occurred on November 19, 2014). Resistance for the stock comes in at the twice-tested $76 level. Above that, it is clear air.
Overall…
Lowe's shows up as being less expensive than its rival, Home Depot, based on many valuation metrics. However, based on the financial strength and name brand strength of Home Depot, the valuation difference may be justified. Technically, Lowe's at least presents prospective buyers some clear entry points to consider. If the company can continue to grow and pay off its debts a bit – the valuation gap between it and Home Depot may narrow.
The bears are betting on tough times coming for the economy and that Lowes' balance sheet may become a burden too tough to bear.
Stock chart:

Posted-In: Lowe'sLong Ideas Short Ideas Dividends Technicals Trading Ideas
View Comments and Join the Discussion!