Warren Buffett: 'We Now Have The Right Person To Succeed Me As CEO'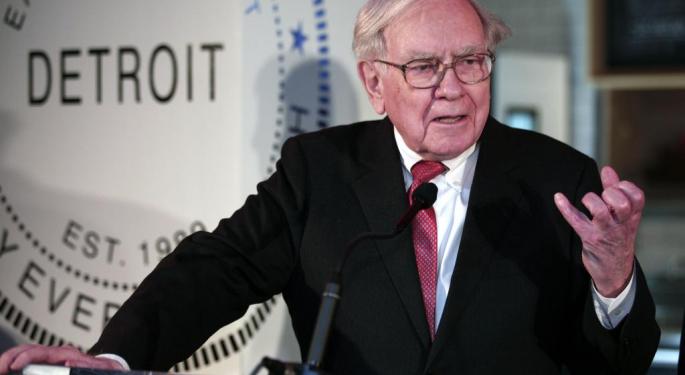 Berkshire Hathaway Inc. (NYSE: BRK-A) (NYSE: BRK-B)'s Warren Buffett addressed shareholders in an annual letter for the 50th time this morning.
To commemorate the anniversary, the iconic billionaire wrote a special column in his shareholder letter titled, "The Next 50 Years at Berkshire." After warning that his predictions could be wrong, Buffett explained that these ideas are what he'd tell his family today if they asked about the future of Berkshire Hathaway.
On potential financial problems:
"I believe the chance of any event causing Berkshire to experience financial problems is essentially zero. We will always be prepared for the thousand-year flood; in fact, if it occurs we will be selling life jackets to the unprepared.
Related Link: 11 Key Quotes From Warren Buffett's New Shareholder Letter
"Berkshire played an important role as a "first responder" during the 2008-2009 meltdown, and we have since more than doubled the strength of our balance sheet and our earnings potential. Your company is the Gibraltar of American business and will remain so."
On future shareholder gains:
"The bad news is that Berkshire's long-term gains – measured by percentages, not by dollars – cannot be dramatic and will not come close to those achieved in the past 50 years. The numbers have become too big.
"I think Berkshire will outperform the average American company, but our advantage, if any, won't be great.
"Eventually – probably between ten and twenty years from now – Berkshire's earnings and capital resources will reach a level that will not allow management to intelligently reinvest all of the company's earnings. At that time our directors will need to determine whether the best method to distribute the excess earnings is through dividends, share repurchases or both. If Berkshire shares are selling below intrinsic business value, massive repurchases will almost certainly be the best choice."
On future leadership:
"To further ensure continuation of our culture, I have suggested that my son, Howard, succeed me as a non-executive Chairman. My only reason for this wish is to make change easier if the wrong CEO should ever be employed and there occurs a need for the Chairman to move forcefully. I can assure you that this problem has a very low probability of arising at Berkshire – likely as low as at any public company."
On what his successor will need:
"My successor will need one other particular strength: the ability to fight off the ABCs of business decay, which are arrogance, bureaucracy and complacency. When these corporate cancers metastasize, even the strongest of companies can falter. The examples available to prove the point are legion, but to maintain friendships I will exhume only cases from the distant past."
On the Berkshire structure, and the ideal age of a CEO:
"Fortunately, the structure our future CEOs will need to be successful is firmly in place...Our directors believe that our future CEOs should come from internal candidates whom the Berkshire board has grown to know well.
"Our directors also believe that an incoming CEO should be relatively young, so that he or she can have a long run in the job. Berkshire will operate best if its CEOs average well over ten years at the helm."
On his confidence in a successor:
"Both the board and I believe we now have the right person to succeed me as CEO – a successor ready to assume the job the day after I die or step down. In certain important respects, this person will do a better job than I am doing."
On life after Warren and Charlie:
"All told, Berkshire is ideally positioned for life after Charlie and I leave the scene. We have the right people in place – the right directors, managers and prospective successors to those managers. Our culture, furthermore, is embedded throughout their ranks. Our system is also regenerative.
"To a large degree, both good and bad cultures self-select to perpetuate themselves. For very good reasons, business owners and operating managers with values similar to ours will continue to be attracted to Berkshire as a one-of-a-kind and permanent home."
And lastly, on shareholders:
"I would be remiss if I didn't salute another key constituency that makes Berkshire special: our shareholders...I am a lucky fellow to have you as partners."
Posted-In: Long Ideas News Management Events Trading Ideas Best of Benzinga
View Comments and Join the Discussion!