Bill Ackman Thinks Valeant Is 'Incredibly Disciplined,' And Says He'd Own McDonald's If 3G Capital Was In Charge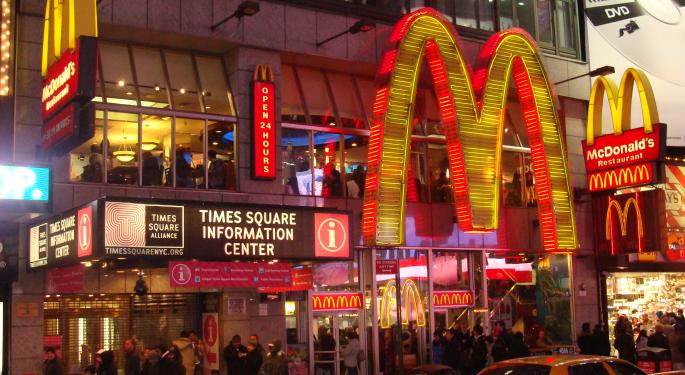 Pershing Square's Bill Ackman was recently interviewed by Bloomberg's Stephanie Ruhle at the Harbor Investment Conference in New York on Wednesday. During the interview, Ackman talked about what he learned from Ray Dalio and shared his opinion on Zoetis Inc (NYSE: ZTS), Valeant Pharmaceuticals Intl Inc (NYSE: VRX) and McDonald's Corporation (NYSE: MCD).
Lessons Learned From Ray Dalio
"I learned a lot. I mean I really didn't know how he did what he does," Ackman said.
"I'm not sure I completely understand at this point. But it's remarkable how he's built his company and his organization and his approach."
Pershing Square And Zoetis
When asked how his relationship with Zoetis has evolved now that he has someone from Pershing Square on the board, Ackman replied, "That's going great."
"So Bill Doyle from our team joined the board. Bill [...] was in the healthcare business. He was at J&J (Johnson & Johnson) for a meaningful period of time, and we've had a very nice relationship with Zoetis and the board."
He continued, "I think the board and management share all the same goals we have and to make this a more valuable, more profitable company. And I think they've done a very good job since the company was spun-off. And I think there's a lot of potential."
What Does Valeant Mean To You Right Now?
"Valeant [is] a very well-run, incredibly disciplined company," Ackman answered. "I mean we spent, really, almost a year working very closely, as closely as you could work with another public company. And we had a call -- literally, a call at 6:00 p.m. every night.
"We really got to know each other, and it was a great experience. So we think very highly of them," Ackman concluded.
Related Link: Barclays Initiates Coverage On Valeant Pharmaceuticals
What's Your View On McDonald's?
"I think the board did the right thing in making a change in management. I don't know anything about the new CEO, though," Ackman said.
When asked if his interest in McDonald's would change if it was run more like Burger King, a sentiment Ackman had expressed previously, he replied, "Oh, for sure."
He concluded, "If 3G [Capital] ran McDonald's, we'd own the stock for sure. And I'd be happy to tell you that."
Image credit: Public Domain
Posted-In: Bill Ackman Bill Doyle BloombergLong Ideas Hedge Funds Media Trading Ideas General Best of Benzinga
View Comments and Join the Discussion!