This Is Why Lululemon Is Up 70% In Four Months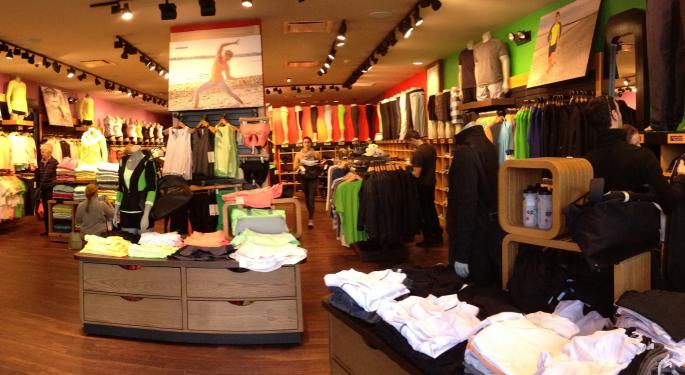 These graphs were produced by Capital Market Labs. Learn how the company is bringing the power of living data to the world of finance.
For the first nine months of 2014, Lululemon Athletica inc. (NASDAQ: LULU) stock was down nearly 25 percent, under-performing peers and the market. But since September, the stock is up nearly 70 percent.
Let's look at a group of visuals that explain the remarkable turnaround.
First, let's start simple, with an all-time revenue chart (TTM).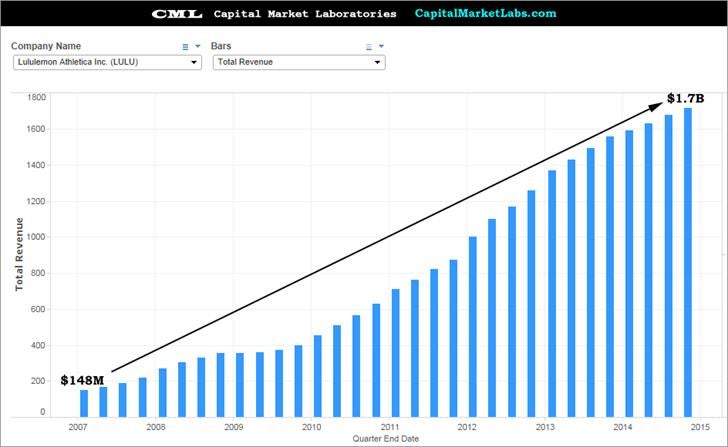 Lululemon has expanded revenue from $148 million to now over $1.7 billion. Let's build on this chart and add cash from operations on top in a red line.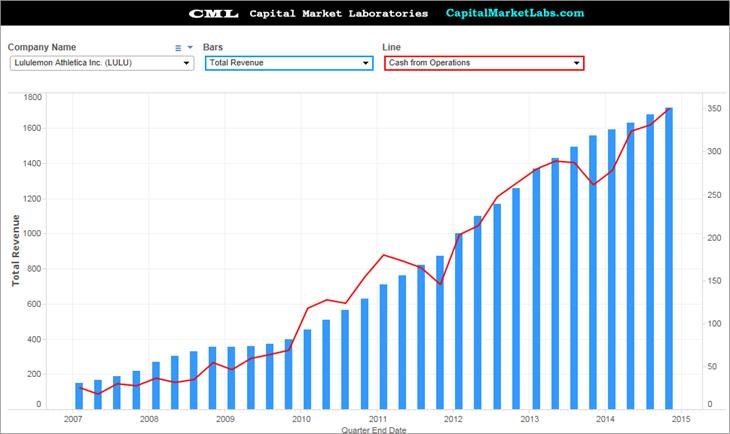 Not only have cash from operations grown from ~$40 million to now over $350 million; check out the last few quarters. There's an abrupt spike.
In fact, in the next chart, let's just focus on cash from operations for the last year.
Charted below are one-year cash from operations growth percentage (this is a chart of growth).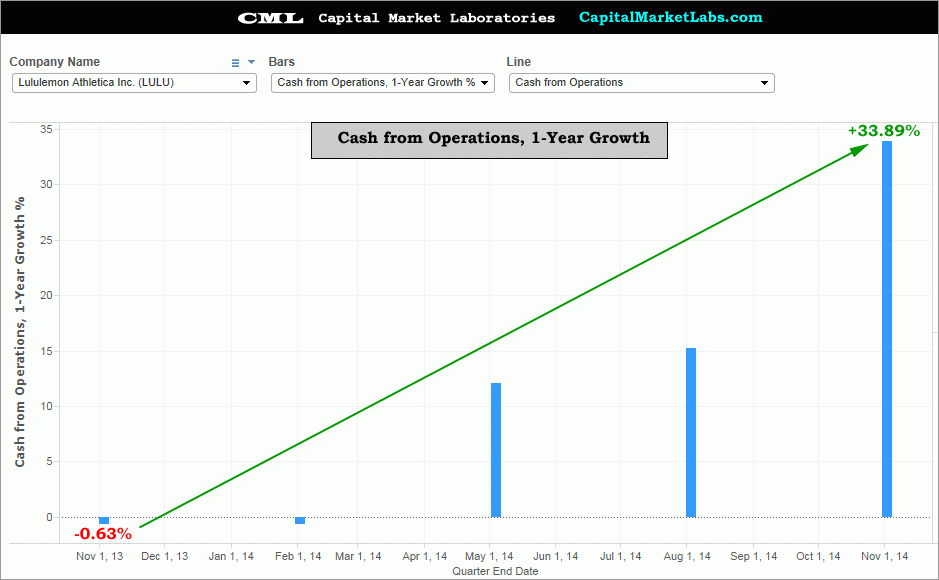 Through the end of 2013 and the first part of 2014, Lululemon was showing negative to mediocre growth. But, in the most recent filing and then looking back twelve months, there's a huge uptrend in growth in cash from operations.
This is data point No. 1 that explains a stock price appreciation.
Let's start comparing Lululemon to peers. In the chart below, there's cash ratio on the x-axis and total same store sales growth on the y-axis.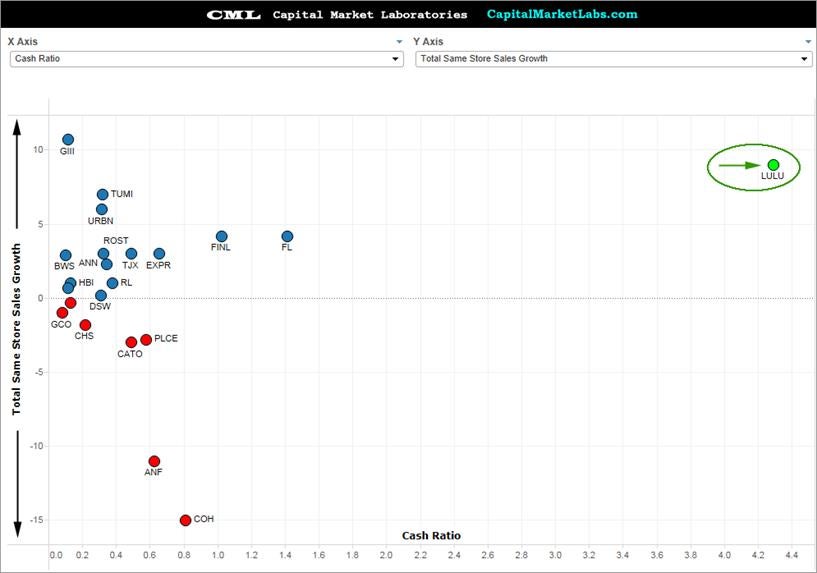 Lululemon has the largest cash ratio by a huge amount and the second largest same store sales growth. That's data point No. 2 for the equity price appreciation.
Next, let's keep the x-axis the same and look at store closings on the y-axis.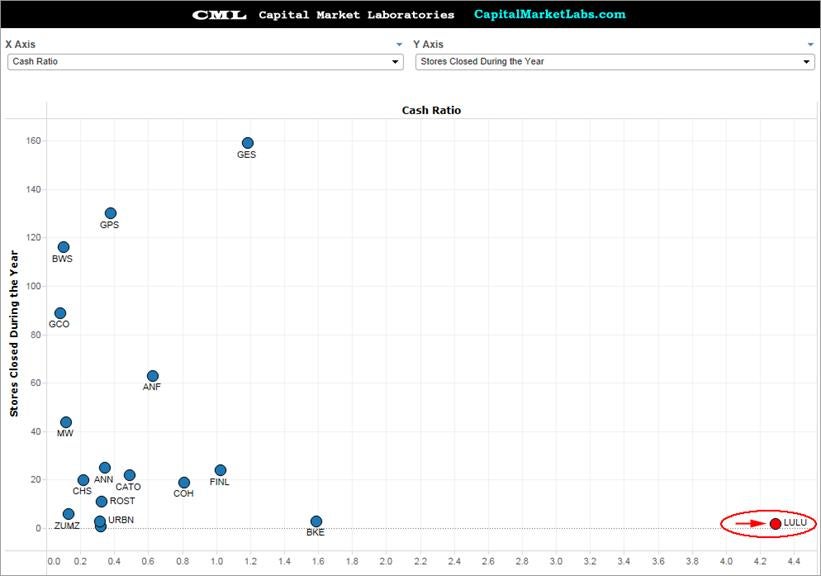 Lululemon has closed just two stores in the last year, while peers have closed up to 160.
Finally, let's turn to operating margin percentage from retail operations on the y-axis.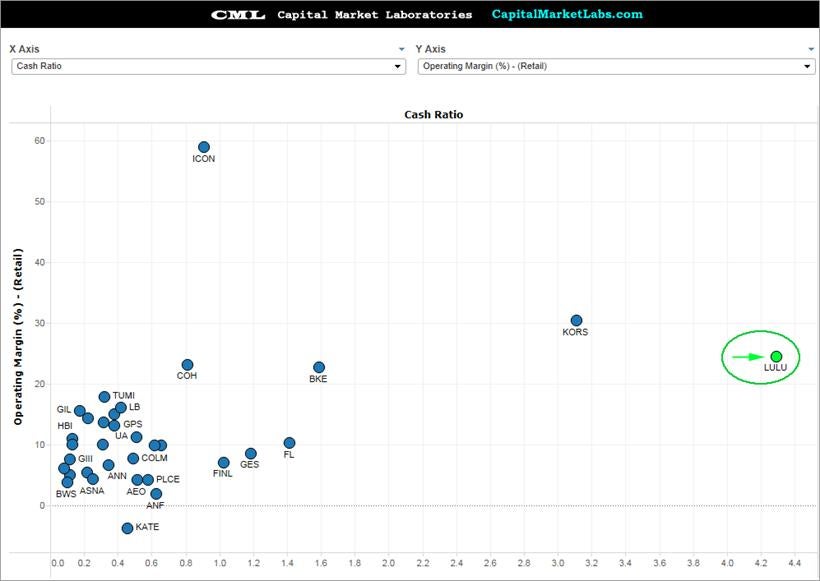 Lululemon has the third-highest operating margin percentage of all peers, including those in the luxury realm.
Lululemon has seen an abrupt growth in cash from operations, has the largest cash ratio relative to peers, shows same store sales growth larger than almost every peer, is closing fewer stores than all peers and has exceedingly high operating margins from retail operations.
Or, in English, Lululemon stock is up 70 percent in four months.
Ophir Gottlieb can be found on Twitter @OphirGottlieb
Image credit: Westport Wiki, Wikimedia
Posted-In: Long Ideas Trading Ideas Best of Benzinga
View Comments and Join the Discussion!