Drogen: 4 Ways 'Fast Casual' Is Stealing Market Share From Fast Food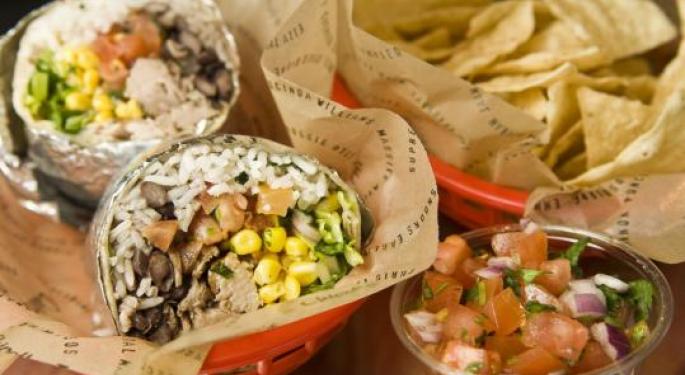 There is no doubt 2014 has been a great year for the consumer, but as the economy continues to strengthen, there has been a noticeable divergence in consumer dining trends.
Casual dining restaurants such as Chipotle Mexican Grill, Inc. (NYSE: CMG), Cheesecake Factory Inc (NASDAQ: CAKE) and Buffalo Wild Wings (NASDAQ: BWLD) continue to steal market share from traditional fast food joints.
One prominent example is the decline in McDonald's Corporation (NYSE: MCD)'s profits this year, with expectations for the fourth quarter dropping significantly over the last two months. The Estimize consensus for Q4 EPS has gone down to $1.26 from $1.40 back in October, while the Wall Street consensus dropped to $1.21 from $1.36.
Here are a few of the reasons we believe McDonalds and its fast food peers such as Yum! Brands, Inc. (NYSE: YUM) are struggling (along with a couple of graphics):
*Note, right axis correlates with U.S. Unemployment, left axis correlates with MCD EPS.
1. A stronger economy and the return of consumer confidence. With the economy improving and the employment situation getting progressively better, consumers are feeling confident enough to trade up to casual dining restaurants from fast food. In times of economic prosperity, consumers tend to swap inferior goods for normal or even luxury goods, a trend we have seen this year as consumer confidence has returned to pre-recession levels.
The chart above goes back to 2009 and shows that during the recession, McDonald's enjoyed eight double digit quarters of EPS growth (Q3 2009 - Q2 2011). At the same time, average quarterly unemployment was above 9 percent, the highest US unemployment had been since the early 1980s recession.
2. Record low gas prices. The affordability of filling up a gas tank has been helpful for all retailers. Consumers don't mind going out more often when the price of gas is at record lows, today falling below $2.50 a gallon nationwide. Many industry analysts believe the net positive effect of lower gas prices will be more prominent for restaurants than for other retailers.
There is some concern on a regional level, particularly in Texas, that any further decline in oil could impact employment, and therefore have a reverse effect on the restaurant industry. This remains to be seen.
3. Health conscious consumer. People are generally more concerned with their health these days, and that includes being more selective with what goes into their bodies. Many casual dining restaurants offer more healthy options as compared to fast food places, which have tried to get on the bandwagon, but that has only worked to varying degrees.
Many of the healthier options offered at McDonald's, such as salads, are more expensive, sometimes too much so for the typical customer. And let's be honest, who goes to McDonald's for a salad? As the fast food chain's menu has bloated to over 100 items in an attempt to appeal to a broader audience, costs have become a growing concern. McDonald's announced just last month it would trim its menu by eight items, which have yet to be announced.
This is a trend also unfolding for casual-dining restaurants, which are narrowing their offerings to focus on the cuisines they do best.
4. Negative impact from weakness in Europe and China. While many casual-dining chains mainly operate domestically, fast food giants such as McDonald's and Yum! derive a large portion of their sales abroad. As the European economy remains soft, and China continues to decelerate, these multinational chains will see the biggest negative impacts in 2015.
In the third quarter, both of these companies reported weakness in these regions that also related to food quality and supply chain issues.
Image credit: WearedCScholars, Flickr
The preceding article is from one of our external contributors. It does not represent the opinion of Benzinga and has not been edited.
Posted-In: fast casual fast food market share Market ShareLong Ideas Trading Ideas Best of Benzinga
View Comments and Join the Discussion!