A Technical Look At 4 High-End Retailers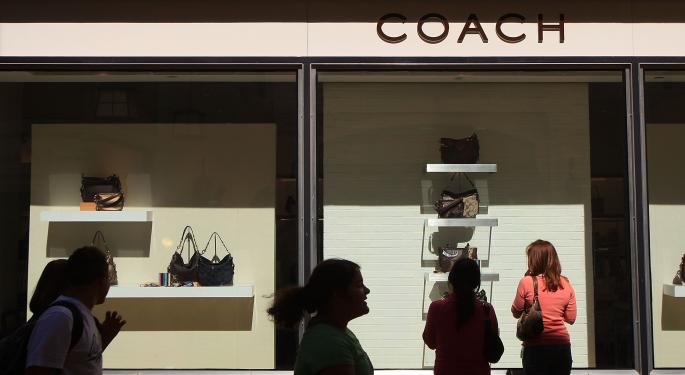 High-end retailers sport some of the most respected brands in the world, but what do they offer investors?
There are four names, in particular, worth watching.
Michael Kors
Shares of Michael Kors Holdings Ltd (NYSE: KORS) have been in a steady downtrend that was intensified by investors' negative reaction to recently-announced earnings and "comps."
From a purely technical perspective, Michael Kors appears to have support at the October low of $68.55. Below that, additional projected support would not come into play until below $65.
If support holds, however, technicians believe Michael Kors shares can make it up to Fibonacci retracement resistance beginning at $80.96. With resistance and support nearby, it seems like an attractive reward-to-risk ratio on a long-side trade.
Fundamentally, the company has a very clean balance sheet and a mix of expensive and cheap valuation metrics. This appears to be more of a technical play right now, though, both from a single stock as well as a sector perspective.
Related Link: A Technical Look At These 4 Retailers
Ralph Lauren
Ralph Lauren Corp (NYSE: RL) shares have ripped higher after completing what looks like a nearly perfect "abc" downside correction during the mid-October market troubles.
Now, the stock is overbought on the daily chart and is bumping right into horizontal line resistance at $175.74. Even if shares maintain their overall bullish lean going forward, it would be perfectly normal to see a pullback in price to around $166-$167.
The pattern, however, is far more bullish than that of Michael Kors.
Fundamentally, the company sports a price-to-earnings ratio of 17 versus estimated EPS growth of 15 percent or so for 2015 -- not overly pricey for a retail stock.
The balance sheet isn't as pristine as Michael Kors', but it's still respectable.
Overall, this chart paints a fairly neutral picture of the high end consumer and points out that retail companies' operations are a huge factor in stock market success.
Coach
Coach Inc's (NYSE: COH) stock chart is more reminiscent of Michael Kors' chart than Ralph Lauren's. This chart also does not paint a pretty picture of the high end consumer.
Like Michael Kors, however, the stock may already be washed out and ready for a bounce. The stock has key support at $32.46 on the weekly chart and has multiple layers of resistance starting at the recent peak of $37.60.
Kate Spade
Kate Spade & Co (NYSE: KATE) shares appear, technically speaking, to have completed an "abc" downside correction on the daily chart back in October; they've been in rally mode since.
Support comes in at current levels around $29.89 and has "gap fill" support at $28.33 and $26.92. Resistance comes in at the horizontal lines of $31.89 and $33.88.
Fundamentally speaking, this company appears to be the most expensive and has the shakiest balance sheet metrics of its three aforementioned peers.
Stock chart:


Posted-In: luxury retailers technical analysisTechnicals Trading Ideas Best of Benzinga
View Comments and Join the Discussion!