3 Retailers For A Potentially Robust Holiday Season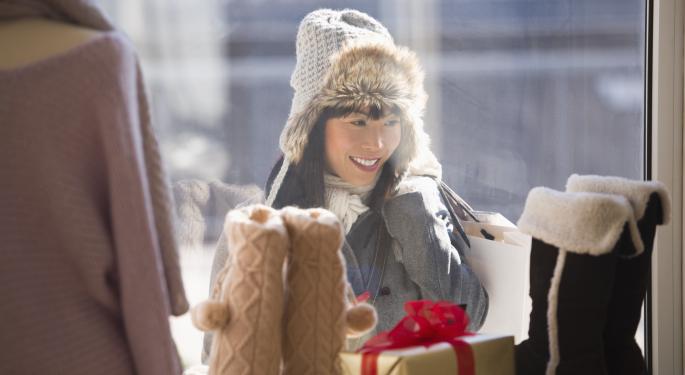 The holiday season is about to kick off, and the estimates for this year's sales are huge.
In late September, Deloitte LLP forecast holiday sales to increase by 4.5 percent this year, well above the 2.8 percent in 2013. On Tuesday, the National Retail Federation estimated holiday sales would increase by 4.1 percent. For a reference point, the 10-year average gain for holiday sales year over year is 2.9 percent.
The strengthening economic situation is expected to encourage consumers to open their wallets and enjoy the holiday season.
Related Link: New ETF For International IPOs
A few stocks that could benefit from holiday sales meeting or exceeding the estimates are listed below.
Macy's, Inc. (NYSE: M)
Macy's is one of the largest retail stores in the country and is a destination for millions of holiday shoppers.
Despite Macy's reputation and historical success, ITG has downgraded the company based on forecasts that revenue is tracking below consensus this quarter, which ends in November. Nonetheless Macy's is well positioned heading into the holiday season.
With a current yield of 2.1 percent and a Price-to-Earnings Growth (PEG) ratio of 1.05, the retail giant offers an attractive valuation and dividend. Despite an unchanged six-month yield, Macy's stock is up 35 percent over last year. Technically, the stock has important support at the $56 area.
Burlington Stores Inc (NYSE: BURL)
Burlington is a retailer of branded apparel products in the U.S., including everything from women's wear to baby products and footwear.
Burlington posted solid numbers in the second quarter; comparable stores' sales increased by 4.7 percent and net sales increased by 8.3 percent. The retailer also recorded revenues of $2.19 billion, an increase of 7.4 percent year over year.
Burlington is up 41 percent over the last 12 months and 31 percent in the last six months. Even after the rally, it boasts an attractive PEG ratio of 0.73. On the chart, Burlington is pulling back from an all-time high and should hold support at the 50-day moving average.
L Brands Inc (NYSE: LB)
L Brands is a specialty retailer of women's products that operates in two segments, Victoria's Secret and Bath & Body Works. Being the biggest in the industry and having an incredibly loyal customer base are some advantages L Brands enjoys over its competitors.
After posting second quarter fiscal earnings above estimates, L Brands raised its full-year earnings projections to $3.03-$3.18 per share for fiscal 2014 from $3.00-$3.15. LB hit an all-time high of $68.61 during the last week of September. The stock is up 10 percent over the last year and 16 percent over the last six months. The stock should also find support at its 50-day moving average.
While there could be a bevy of winners from various subsectors in retail, these three stocks could offer investors exposure to three unique areas within the retail market.
Posted-In: Burlington Stores holiday season L Brands macy's retail salesLong Ideas Trading Ideas Best of Benzinga
View Comments and Join the Discussion!