Apple Inc. Looks To Hold Up Above Support While The Market Rattles Around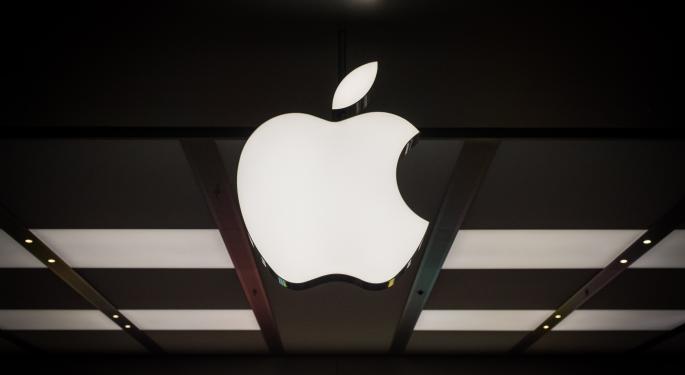 Apple Inc. (NASDAQ: AAPL) stock looks to be in the midst of a routine pullback in an overall bull market for the stock.
Technicians draw the line of demarcation between "bullish" and "bearish" for the price chart at $95.45; above it, Apple is bullish and below it is short-term bearish. With the iPhone release behind Apple and bugs and product issues in the forefront, how much short-term weakness will shareholders have to tolerate?
What The Bulls See
Relatively cheap valuation metrics: a PE of just under 14 while revenue and earnings growth for 2015 is expected to come in at 11.7 percent and 14.2 percent, respectively; and an enterprise value that narrowly eclipses the market capitalization -- $596.39 billion versus $593.88 billion, and a price-to-sales of only 3.39.
Impressive net profit margins of more than 21 percent.
A nearly perfect balance sheet: cash of $37.93 billion versus total debt of $31.04 billion, a current ratio of 1.47 and a total debt-to-equity ratio of 25.67 percent.
Huge positive levered free cash flows of more than $37 billion annually.
A price chart that is technically bullish with strong relative performance recently and plenty of layers of support, including the long-term uptrend line at around $86.
Related Link: Ebay Inc Still Has Key Resistance To Conquer Before Chart Turns Truly Bullish
What The Bears See
A pricey price-to-book of 4.99.
Plenty of downside to the uptrend line, but only if "correction support" at $95.45 fails.
Technical Take
Technicians note that Apple stock appears to be in the midst of the "c" leg of an "abc" correction to the downside with a projected target of $95.45. The overall technical picture for them appears to be very positive, however. They note that as long as the "correction support" at $95.45 holds up, the next sizable move for Apple should be to the upside with targets in the $105-$111.50 range.
If that support fails, however, a move down to the uptrend line at around $86 should follow.
Any break and close below the $95.45 level may not only spell trouble for Apple, but also perhaps for the broader market.
Stock chart:

Posted-In: AppleLong Ideas Technicals Movers Trading Ideas Best of Benzinga
View Comments and Join the Discussion!